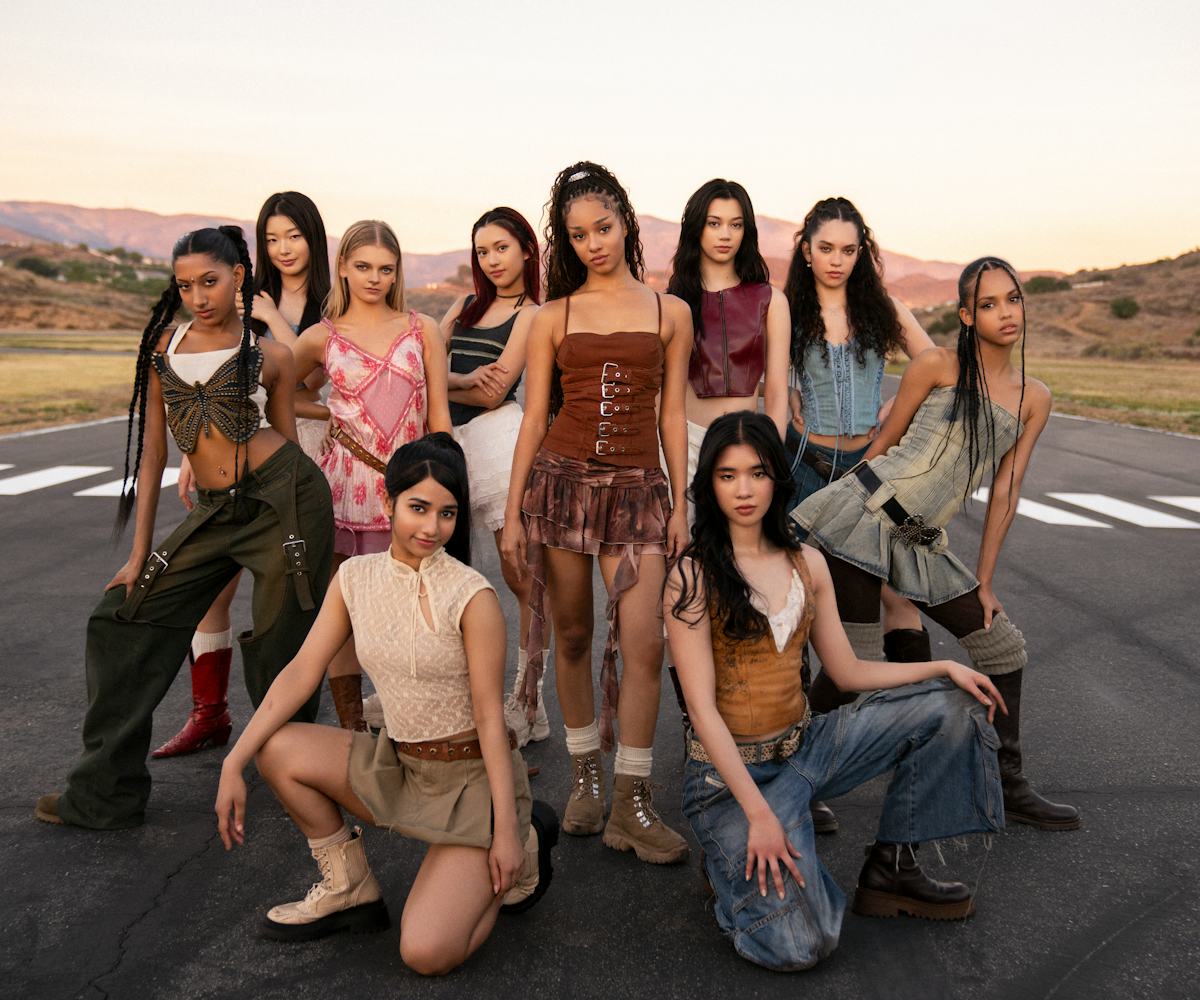 Rahul Bhatt
The Top 10 Of 'Dream Academy: The Debut' Are Rooting For Each Other
The finalists of HYBE and Geffen Records' new competition project talk friendship and growing as performers.
As off-screen staff sort out what mics and cameras will be on during this interview, five puppets enter my Zoom screen. A few of the 10 finalists from the competition project The Debut: Dream Academy are holding small stuffed animals, a moment of playfulness ahead of what may be the most important week of their lives.
Since August 2023, Daniela, Lara, Megan, Sophia, Manon, Emily, Ezrela, Samara, Marquise, and Yoonchae have been participating in The Debut: Dream Academy, a first-of-its-kind competition put on by the record labels behind BTS and Olivia Rodrigo, HYBE and Geffen Records. The prize? To become a member of the world's first global girl group to be trained by the K-pop method. Across three cover challenges, performing songs and dances from Robyn, NewJeans, Paramore, Le Sserafim, Spice Girls, and more, the original 20 hopefuls hailing from as far as Thailand and Switzerland have now been whittled down to these 10 finalists.
"Right now we are focused on the finale," says 19-year-old Daniela. "We're just trying to get through it and make the best out of our last performance. If any of us or whoever makes it into the group, I just hope for an amazing group of girls. I hope that we can be successful and put out great music."
The Debut: Dream Academy has been a unique experience so far: unlike other make-the-band competition shows popularized by K-pop in recent years, it wasn't broadcast in episodic format. Instead, fans learned about and voted for their favorite members via social media and performance videos shared across YouTube and TikTok. A Netflix docuseries offering more insight into the experience is set to come out in 2024. During our Zoom, camera people filming our interview sporadically walk in and out of the frame.
On Nov. 17, The Debut: Dream Academy will announce the winners of the competition and the subsequent new members of the girl group. Ahead of the finale, NYLON caught up with the top 10 to chat about their experience thus far, becoming close friends, and their dreams if they win.
This interview has been edited for clarity.
NYLON: How are you all feeling?
Sophia (The Philippines): We are tired, but we are pushing through it. I think we're all really excited. Especially in rehearsals, since it's the last few days until the live show. We're all really optimistic and super excited.
Emily (USA): I feel like this journey has definitely been a long one. I think with the finale coming up, it's just kind of a surreal feeling of realizing we went through all of those challenges together and we're here together. I feel like we're all just really excited for the live finale to see where this journey takes.
Now that you all know each other so well, would you mind introducing the person sitting next to you?
Manon (Switzerland): Lara is Indian-American, and the first word that comes up in my mind when I think about her is "astrology." And [she is] super kind and super gorgeous.
Lara (USA): Megan is an amazing dancer. She's Chinese-American, and she's super fierce. She's super nice and extremely funny.
Megan (USA): Marquis is super fierce when it comes to performing. She's such a sweet shy girl, but her performance is kind of almost a complete opposite. She's beaming from confidence. She's from Thailand, and she's one of the sweetest girls on this entire planet.
Marquis (Thailand): Daniela's an amazing dancer. I love her so much. She has such a bright energy and, once again, when it comes to performing, she's just so fierce, so energetic, and she has amazing stage presence.
Daniela (USA): Manon is beautiful and she's super empathetic. She's always looking out for others, she's always looking out for me. She's just one of the sweetest humans I've ever met, and she's from Switzerland.
Yoonchae, 15, from South Korea.
Sophia, 20, from Philippines.
Samara, 17, from Brazil.
Megan, 17, from USA.
Emily: Sitting to the left of me is Ms. Sophia Laforteza. She's Filipino, and she's literally one of the strongest girls I know. She's so hardworking and she's inspiring. She's always pushing us to work hard and chase our dreams. I feel like everyone needs a Sophia in their life.
Sophia: Sitting across from me is Samara from Brazil, and she has one of the most amazing voices I've ever heard in my entire life. I can never get sick of it. Every time she sings, it just hits you in the feels. She's so impactful, not just through her voice, but as a person as well. I think she's so sweet. She's very funny, and I feel like she has a personality that I'm very drawn to. She loves reading. When you start talking to her, she's such an amazing person.
Samara (Brazil): Ezrela is an amazing person. I'm so glad that I met her. She is one of the most kind souls that I've ever met, and she's so sweet and so cute. I love her.
Ezrela (Australia): I'm sitting next to Yoonchae, from Korea. Yoonchae, to me, is one of the bravest people I've ever met. She's so young, yet she's doing so much. She's learning this whole language and she's already so good at it. She's such a fast learner, and she's one of the funniest people I know and one of the smartest people I know. She's a very funny person.
Yoonchae (South Korea): (Translated from Korean) Emily is an incredible dancer. Of all the people that I've seen, she's the best dancer. She is really funny. I just see her face and I can't help smiling.
What's been the most memorable moment from the experience so far?
Manon: I think the latest moment that was really memorable was when we got to hear a song that all 10 of us are on. That was a really special moment, just hearing all of our voices together. It meant a lot to all of us, and that's really, really sentimental.
Sophia: I feel like we all feel welcome and comfortable in the space of the [recording] studio, and it just tells you that this is where we want to be.
Marquise, 17, from Thailand.
Manon, 21, from Switzerland.
Lara, 17, from USA.
Ezrela, 20, from Australia.
Do you feel you've grown as performers throughout the course of the competition?
Lara: I think [the competition] has shaped me into who I am because I came into this not a dancer at all. I'm a singer. A lot of us came in with some skills that weren't as developed and we trained so hard. We had amazing, incredible teachers [and] we got to learn from each other and watch each other perform, and we would help each other as well. So I really used that time and became a dancer here, and I feel like that's such a huge thing. And also just the sisterhood that we've created. It is so hard when you're not in it to even explain, but we are going through such an intense, but also life-changing and amazing experience that we are just so close with each other and we rely on each other.
How does it feel to potentially be joining HYBE's roster of girl groups including the likes of Le Sserafim and NewJeans?
Sophia: It's an honor in itself.
Lara: I think this group is going to be revolutionary, really just with the message that it's sending. All these girls from different ethnicities and different backgrounds coming together. I really feel like it will change the world. So to be part of something like that, it's surreal and it's such an honor.
"We are going through such an intense, but also life-changing and amazing experience."
You all have talked about it in some of the videos we've seen so far, but how do you all feel about becoming a representative of your culture, your backgrounds, and your countries during this competition?
Manon: I think it's an amazing opportunity HYBE is giving us, especially for me personally. I'm from Switzerland, which is a really small country and there's not a lot of people representing Switzerland out there, so it's amazing. I think we all are so proud to represent our countries and share our cultures, and it's so fun to be in this group and hear about the other girls' cultures.
What have you all learned from one another?
Lara: We teach each other different words in our own languages, which is really fun. Yoonchae, she's taught us so much Korean. We've taught her a lot of English.
Sophia: Food is, I feel like it's the best part, personally. Every time we find a restaurant somewhere and it's from our culture, it's the best. So we get to share that with each other and it becomes a bonding moment as well.
Daniela: Sophia cooks for us all the time. She's the chef of the house, and she makes the best things ever.
Samara: I love her cookies.
Daniela: Her blondies.
Emily, 17, from USA.
Daniela, 19, from USA.
What's your hope if you are able to make the final lineup?
Manon: I think we all just really want to make a positive change in this world and touch people with our music and make people happy with the music we're going to put out.
Daniela: Right now we are mainly focused on the finale. We're just trying to get through it and make the best out of our last performance. I do hope for success in the future later if I do make it into the group, if any of us or whoever makes it into the group. I just hope for an amazing group of girls, and I hope that we can be successful and put out great music.
A few weeks ago, you all went to Lotte World and in the video you guys got very excited to see K-pop group Enhypen. Now that you're on the verge of entering this realm of celebrity yourselves, how are you feeling about people looking up to you in that sort of way?
Lara: I feel like it's not just that it's exciting, but it's a big responsibility that we have. I think that for a lot of us, representing our people and our ethnicities and our background, being that representative is such a big reason of why we're here. I think this is something that we've all dreamed of and we've always wanted. To share our music and inspire fans around the world. I think for all of us, the little versions of us are screaming [inside] and we're so excited. I can't believe this is our life right now.
The finale for 'The Debut: Dream Academy' airs Nov. 17 on YouTube.