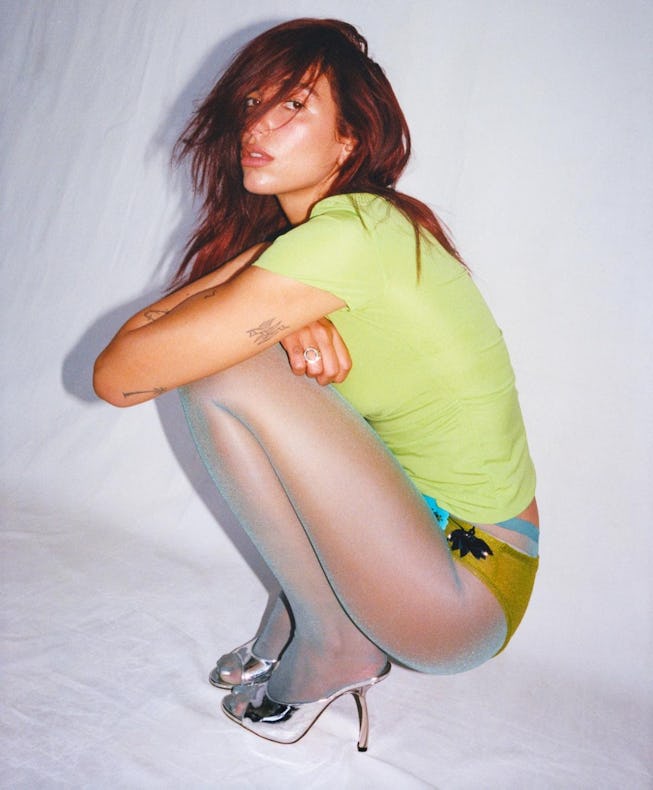 Dua Lipa's "Houdini" Is Disco Magic
Disco has become the pop star's signature sound. That's great (for now).
When Dua Lipa's Future Nostalgia arrived during deep lockdown in 2020, it was like a thirst-quenching rain. The world was a mess. Inside, we were all, too. But at least we had 13 new glittery and groovy disco bops that we could dance to in our living rooms and kitchens (as cringe as it may be to think about it now). Either way, the album became a hit and a cresting wave that Lipa gleefully and triumphantly continued to ride nearly two years after its release with a bajillion date world tour and award show appearances.
It turns out disco is the pop star's signature sound now. Her contribution to the official Barbie movie soundtrack, "Dance The Night," was another sparkling disco number complete with stylish strings and bass, smooth enough to go down like a cocktail and hit the top of the charts in the U.K. And now, so too is the delectable lead single of her long-awaited follow up to Future Nostalgia. After years of teasing new music and embarking on side-quest adventures (like starting a boutique podcast, service newsletter, and book club), she's finally released "Houdini," another disco-fueled hit with a bass-line and beat so monstrously funky it nearly seems to toe the line into house music.
"Houdini" reinforces just how natural Lipa sounds with disco. But what ultimately makes the track so fun are its lyrics, which playfully riff on Lipa as being a magician of the night: "I come and I go/ Tell me all the ways you need me/ I'm not here for long/ Catch me or I go, Houdini." "I come and I go" is a simple but brilliant line in and of itself, one that builds on her knack of writing lyrics which play into the visual-ness of concepts, like being so enamored you're levitating; she's coming and going, but she's also coming and going...
Of the song, Lipa explained that "Houdini" is actually about ghosting — which makes the wordplay with the magician of illusions even more satisfying. "This track represents the most light and freeing parts of my singledom," Lipa writes in a press release. "'Houdini' is very tongue-in-cheek, exploring the idea of whether someone is really worth my while or if I'll ghost them in the end. You never know where something may take you, that's the beauty of being open to whatever life throws your way."
"Houdini" is a promising start to Lipa's next era as she no doubt tries to prolong and match the fervor she stirred with Future Nostalgia. But the world and dance floors are also no longer locked down anymore, and one has to wonder if she'll be able to evolve beyond a sound that's become so comfortable and second nature to her. She has a stacked list of people behind-the-scenes helping her out: Caroline Ailin, Danny L. Harle, Tobias Jesso Jr., and Tame Impala's Kevin Parker — all people who served as "core collaborators" on her new album, per a press release. (Parker and Harle specifically produced "Houdini.") Hopefully, they've also build new sonic playgrounds for Lipa to explore.
As for Lipa herself, she's simply calling the new record one that focuses on lightness and joy: "A lot of this album was written in those joyous moments of absolute chaos and how I moved through the world with lightness and optimism of whatever the outcome may be."