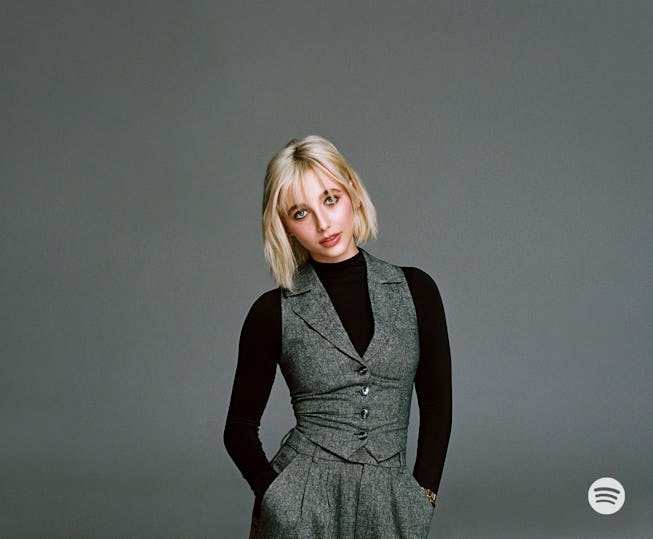 Spotify/Max Montgomery
Emma Chamberlain Is Officially Moving to Spotify On February 23 (Exclusive)
The "Anything Goes with Emma Chamberlain" podcast will be exclusive to Spotify and feature both video and guests.
Noted home decor queen Emma Chamberlain is officially moving again — well, sort of. Following the announcement late last year that the Gen Z superstar had inked a streaming deal with Spotify to be the new home for her popular podcast "Anything Goes with Emma Chamberlain," NYLON can exclusively reveal that the deal will kick off on February 23, when all new and existing episodes will solely be available on the streaming service.
"Spotify has always been my go-to for exploring music and podcasts," says Chamberlain. "As I created Anything Goes, I fell more in love with the podcasting world because it was the best medium for me to communicate with listeners in a genuine, positive way." At Spotify, Chamberlain joins the likes of Alex Cooper's "Call Her Daddy," who inked a similar deal with the service several years ago. Like Cooper, Chamberlain will now be expanding her podcast to include video. "My partnership with Spotify is rooted in our mutual passion for innovating and will allow my podcast to evolve in ways that wouldn't have been possible anywhere else," Chamberlain adds. "I'm inspired to grow my show, Anything Goes, into something even bigger through the addition of video episodes, interviews, and more, and I'm honored to have Spotify by my side."
"There is no doubt that Emma Chamberlain is a true innovator and trailblazer, so we are ecstatic that she chose Spotify as her exclusive home," said Max Cutler, VP, Head of Creator Content and Partnerships for Spotify. "Combining her unique voice with our state-of-the-art tools and global reach is a game-changer. We are excited to partner with Emma to explore fresh new formats and introduce video for the first time, which will evolve how listeners around the world engage with the podcast, and deepen her connection with fans."
The special video episodes are something of a tribute to old-school Chamberlain fans, who first became addicted to the star with her YouTube vlogs when she first began her career. At Spotify, she will also be interviewing guests for the first time — though based on any clips from last year's Met Gala red carpet, there's no doubt she'll be a natural.
Check out the podcast trailer below.