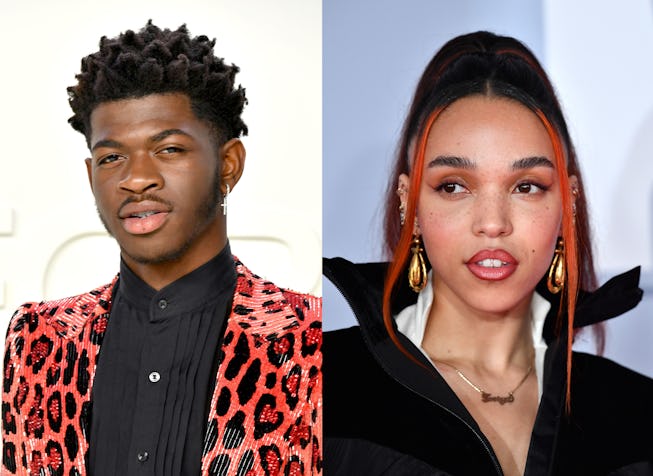 Photos via Getty
FKA Twigs And Lil Nas X Say They Talked About Video Copying Allegations
Lil Nas X was accused of copying scenes from Twigs' 2019 "Cellophane" video.
Amidst the frenzy that Lil Nas X's symbolic, Satan-seducing video for new single "Montero (Call Me By Your Name)" has caused, there have also been critiques that the artist stole some of the visuals from FKA Twigs.
In particular, the scene in "Montero" where Lil Nas ascends up into the heavens before sliding down a pole into hell, has been compared to Twigs' 2019 "Cellophane" video from her album Magdalene. Andrew Thomas Huang, the director of the "Cellophane" video, spoke out about it on Instagram, writing on March 27, "Intentional or not, capitalizing on other artists' work happens and we need to discuss the scale and magnitude of power asymmetries in this industry."
Now, both Twigs and Lil Nas have spoken on the subject, writing on Instagram that they shared a conversation about it. "[sic] i want to show love to @fkatwigs & @andrewthomashuang ! the 'cellophane' visual is a masterpiece," Lil Nas wrote. "i was not aware that the visual would serve as inspiration for those who worked on the effects of my video. i want to say thank u to twigs for calling me and informing me about the similarities between the two videos, as i was not aware they were so close. was only excited for the video to come out. i understand how hard you worked to bring this visual to life. you deserve so much more love and praise."
For her part, Twigs thanked Lil Nas for their "gentle [and] honest conversations" and "for acknowledging the inspiration cellophane gave you and your creative team in creating your iconic video!" She added, "i think what you have done is amazing and i fully support your expression and bravery in pushing culture forward for the queer community. legend status."
Twigs then acknowledged the contributions that sex workers have made to her own art, writing, "most importantly i would like to thank sex workers and strippers for providing the physical language to make both videos possible," and linking to Swarm Hive, a "grassroots sex worker-led collective fighting criminalization, supporting sex workers & engaging in solidarity across issues of justice."
As Huang wrote in his Instagram note, "Music videos are a labor of love. The demand for content pushed by major labels renders our work disposable and pits artists against each other, particularly women and QBIPOC creators." It's nice to see Twigs and Lil Nas were able to work things out, without needing to tear each other down.