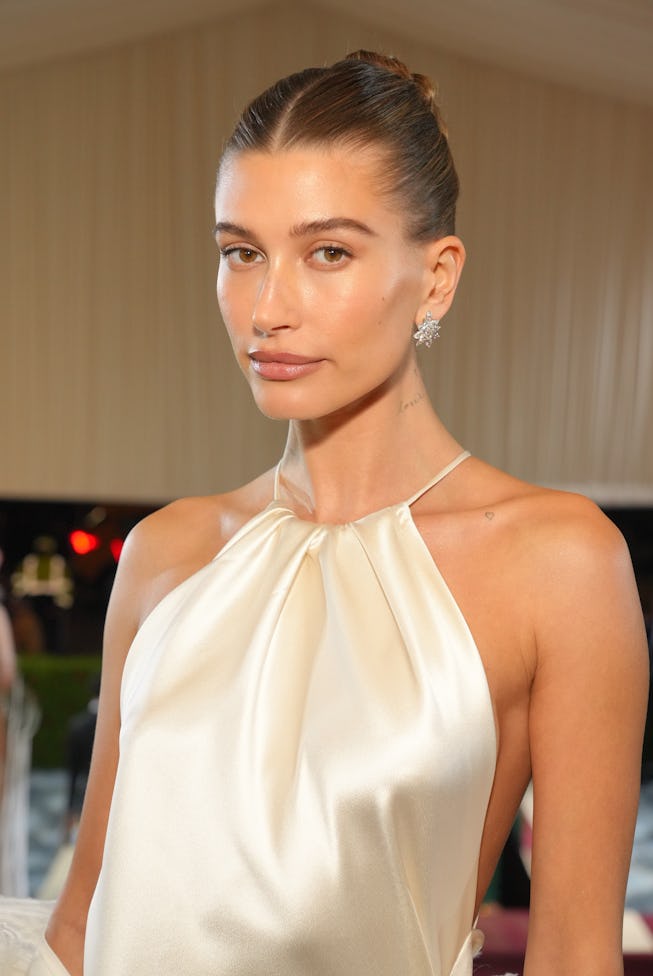 Kevin Mazur/MG22/Getty Images Entertainment/Getty Images
Hailey Bieber Says "It's All Love" Between Her And Selena Gomez
She spoke on her marriage to Justin Bieber for the first time on the 'Call Her Daddy' podcast.
Call Her Daddy's latest guest is none other than Hailey Bieber. The Rhode Skin founder appeared on the show on Wednesday, September 28th to kick off the hit podcast's second season. In a tell-all interview with host Alex Cooper, Bieber pushed back against long-standing criticism of her marriage to Justin Bieber.
After discussing the comments she's endured over the years — largely from fans of her husband's ex, Selena Gomez — she said, "You don't have to like me, but you don't have to say anything either. Because behind this person that you're looking at on a screen is a person with a brain and a heart and issues that I face."
The 25-year-old model, née Baldwin, married Bieber in 2018 after an on-again-off-again relationship. The couple started dating in 2015, then broke up for a couple of years — during which Justin was rumored to be dating Gomez – before Hailey and Justin got engaged and eventually tied the knot. While some were happy for the young duo, fans of Bieber and Gomez alleged that Hailey was to blame for their breakup.
"Your husband was in a very public relationship," Cooper said during the interview. She later asked, "Were you ever with Justin, romantically, at the same time as [Gomez]?" According to Bieber, there was no overlap. She said, "When [Justin] and I started hooking up, or anything of that sort, he was not ever in a relationship ever, at any point."
"It's not my character to mess with someone's relationship," she continued. "I would just never do that. I was raised better than that. I'm not interested in doing that and never was. I think that there are situations where you can still kind of have back and forth with someone, but even that was not the situation. I can say period, point blank, I was never with him when he was in a relationship with anybody. That's the end of it."
Of Bieber and Gomez's years-long relationship, Hailey added: "I know for a fact that it was the right thing for them to close that door … I know that it closed a chapter and I think it was the best thing that could have happened for him to move on and be engaged and get married and move on with his life in that way."
She also said she's spoken to Gomez since she and Justin married, saying: "It's all respect. It's all love. That's also why I feel like well, if everybody on our side knows what happened, and we're good, and we could walk away from it with clarity and respect, then that's fine."
"This is so crazy, I've literally never talked about this ever," Hailey said later in the interview. "A lot of the hate and perpetuation comes from like, 'Oh you stole him.'" Later she explained that she hopes their conversation clears the air once and for all. "It's about people knowing the truth," she said. "Because there is a truth."