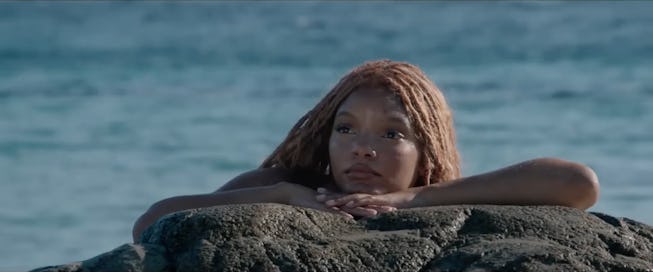 YouTube/Disney
Halle Bailey's Version Of "Part Of Your World" Is As Great As You'd Think
Jodi Benson would give her seal of approval.
Jodi Benson's "Part Of Your World" is arguably one of the most beloved Disney songs of all time, and while no one is here to usurp that title, there is a new version of the classic to add to the canon. Finally, after months (years, even!) of waiting, Halle Bailey's rendition of "Part Of Your World" is here — and obviously it's as great as you'd think.
Bailey's version of the song stays pretty faithful to the original; it's still backed by rich orchestration and the lyrics are kept the same (unlike "Kiss The Girl" and "Poor Unfortunate Souls" which allegedly had some of the lyrics changed). The biggest difference is, of course, Bailey's delivery in the song. As one-half of the Grammy-winning duo Chloe x Halle (we know she has the pipes!), she injects a hefty dose of charged emotion to the song's lyrics and delivers a very grand vocal finale. All in all, we think there's no doubt Benson would've given her seal of approval.
Of the iconic song, Bailey said her intention with her re-recording was to stay as close to the original as possible while adding her own flair. "The song 'Part of Your World' means so so much to me," she told Apple Music's Zane Lowe. "I mean ever since I was a little girl, this movie in general has meant so much to a lot of us, but this song has really stuck with me since I was small [...] So when you are redoing a song that's already great, You just have to really try your best to honor the original, as well as not be afraid to make it your own. So that's truly what I tried to do."
Alongside the song's release, Disney also released a lyric video that shows off some new clips from the film. It offers a closer look at the expansive underwater world the film takes place in, including Ariel's many sisters, scenes from Ariel's transformation into a human with legs, and a quick flash of her romantic boat date with Prince Eric.
Little Mermaid will finally wash into theaters on May 26, after nearly five years in the making. Bailey, whose casting did not come without some controversy, has described the experience as difficult. "It has been the toughest experience being away from everything and everyone I've ever known, to feeling self doubt/loneliness, but also feeling such freedom and perseverance as I've reached the end," she previously wrote on Instagram. "This experience has made me so much stronger than I ever thought I could be."
Talking to Lowe, Bailey added how long the production process has been has only added to her anxiety around the release. "I'm a little bit nervous just because this has been so long in the making. I mean, I have I auditioned for this film when I was 18 and I turned 23 this year. So it's been a long wait and the suspense has been killing me," she said. "But now that it's finally here, I'm like, whoa, I can't believe it. And it's a very, very big pinch me moment. I'm so excited. And I just can't wait for people to see what we did to this film."