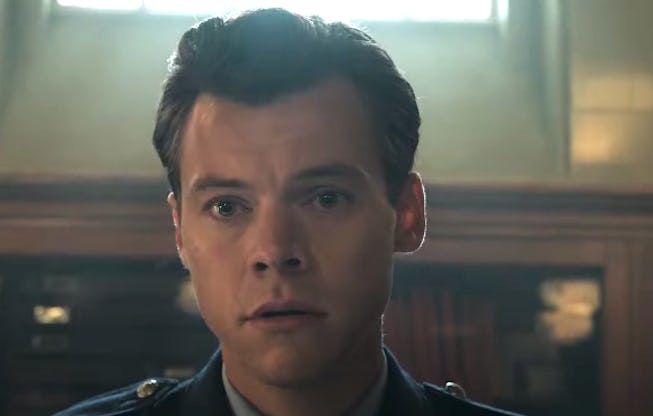 Amazon/Freevee
Harry Styles Stars In Tragic 'My Policeman' Trailer
Styles plays a closeted man in a complicated love triangle in this 1950s-set film.
Harry Styles may be busy preparing to tour with his latest album, Harry's House, but his acting work is also on display. The first trailer for the Michael Grandage-directed My Policeman is here, in which Styles stars as a closeted policeman caught in a decades-long love triangle in 1950s England. Here's everything we know about My Policeman so far:
The My Policeman trailer shows Styles' character caught in a gay love triangle.
Released by Amazon Studios on Wednesday, the official trailer for My Policeman shows Styles and co-stars David Dawson and Emma Corrin dealing with a complicated romantic entanglement. The plot is based on the Bethan Roberts' 2012 novel of the same name, and follows Styles' character Tom Burgess, a closeted policeman in 1957 Brighton, where it's illegal to be gay.
Burgess eventually marries schoolteacher Marion (Corrin) while also having a secret affair with a museum curator Patrick Hazelwood (Dawson). The film jumps between the 1950s and '90s, with Patrick returning in the latter years to complicated Tom and Marion's relationship once again after he suffers a stroke.
Watch the trailer, below:
My Policeman will premiere in theaters before hitting streaming services.
The film will debut in theaters on October 21st before becoming available to stream on Prime Video on November 4th.
My Policeman is Styles' second film of the year.
He'll also star opposite Florence Pugh in the Olivia Wilde-directed Don't Worry Darling, out on September 23rd.