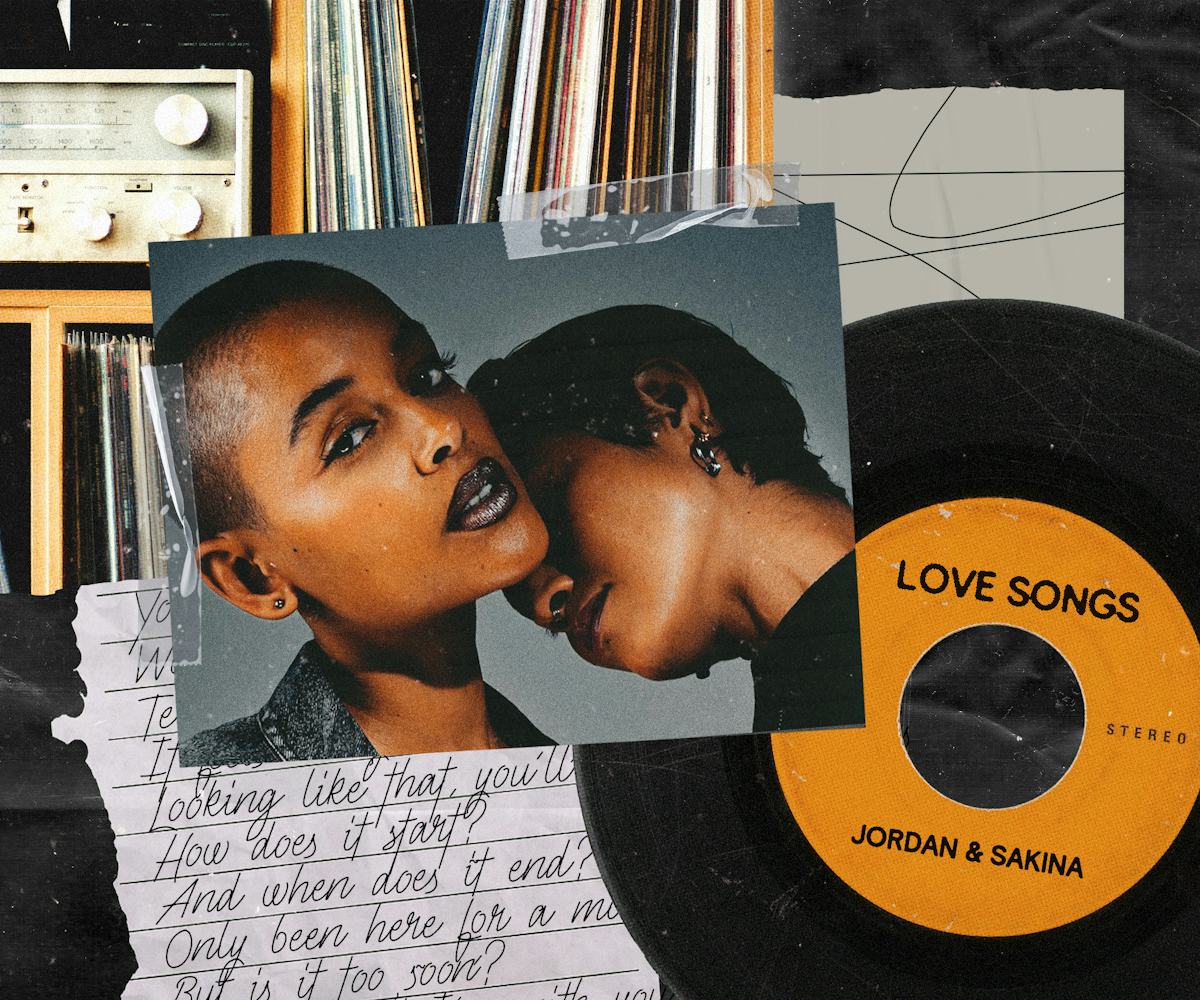 Lindsay Hattrick/Nylon; MND3GMA
Jordan Alexander & Sakina Garcia Measure Their Relationship Through Songs
From Vance Joy to Sade to Jhené Aiko.
This is Love Songs, a series in which NYLON speaks to the coolest couples out there on how they met, when they fell in love, and the songs that define their relationship.
Jordan Alexander and Sakina Garcia experienced the ultimate meet-cute of the modern age: matching on Tinder.
It was one of those four-squared "secret admirer" swipes that brought the two Torontonians together in late 2018, and just days later, led to the former Gossip Girl star picking up Garcia in an Uber Black on the way to the club for their first date. Garcia, who's a model, had on a shiny black coat and was draped in silver jewelry, Alexander remembers.
"When the Uber rolled up, it shone its lights on Sakina," they tell NYLON. "And I was just like, 'Whoa. Oh my God.' They kind of take your breath away."
It should've been a successful courting, but two suddenly fell apart soon after following a miscommunication. They didn't speak again until 2020, when lockdown prompted them to tentatively reach back out to one another. "I dreamt about Jordy a lot," Garcia says.
At the time, Alexander was in NYC filming Gossip Girl and got stuck there because of lockdown, so they passed the time by sending each other songs. Fast-forward three years, and they're still going strong. And now, Alexander and Garcia are bringing their partnership into a new realm as bandmates in their new group MND3GMA (pronounced: man-de-rig-ma).
Their debut song together is the dreamy ballad "Tayong Dalawa," sung completely and alluringly in Tagalog, Garcia's mother tongue. Breezy and buoyant, it's one part a potent expression of their love for and embrace of one another (its title means "two of us" in Tagalog), and one part their commitment to making music that centers non-English, non-white, and non-American narratives. (A second single, "Fist Fight," arrives soon.)
"It's just a representation of culture," Garcia says of the intention behind MND3GMA. "And the fight that you have to put out for your culture. I feel like... me and Jordan, we want to set an example. Be proud of who you are, where you come from."
"[It's] something to highlight... and put to the front," adds Alexander. "Tagalog is not something you train out of yourself, and try to have the most English-sounding accent. Tagalog can be something that is on the pop charts, and everyone's loving."
MND3GMA is the natural evolution of Alexander and Garcia's relationship, which from the beginning was rooted heavily in music — ever since that first night they spent together at the club. For NYLON, Garcia, the more experimental music lover of the two, and Alexander, a self-proclaimed "cringey pop girl," put together a special playlist of the music that soundtracked their connection, featuring songs by Mø, Vance Joy, Jhene Aiko, and more.
"Sakina has an incredible music library, and ever since I met them they have been showing me incredible songs that have become a soundtrack to that time period," says Alexander of their picks.
Hear them below, and read on as they explain the importance of each of the songs:
"Blur" by Mø
Alexander: "Blur" is accurately named; at the time Sakina showed this to me everything between us was a blur. They said we would go to the Mø concert. We never did and lost touch for a year.
Garcia: Showed this to Jord to maybe sing it together, not knowing it was dictating what was going on around us.
"Sweating" by Alewya
Alexander: "Sweating" also describes an era very intense between us. Unsure of how to connect, there was a lot of tension.
Garcia: This song was how I was feeling toward Jordan.
"Tu Luz" by Thornato feat. Lido Pimienta
Alexander: Tu luz, the light. The light came on for both of us and we were able to find each other again.
Garcia: Was the time that felt like we've unlocked something stronger with our connection.
"By Your Side" by Sade
Alexander: Once we finally figured things out between us, I got a job in New York, and because of the pandemic I wasn't allowed to leave. Sakina sent me this song and I used it as an alarm for a month.
Garcia: Sent this track to Jord as a reminder they're not alone, especially them leaving to NY in the pandemic made it hard for them to see their family
"I'm With You" by Vance Joy
Alexander: I planned this trip to a treehouse to ask Saki to be with me, and played this song.
Garcia: Great track for a cool trip!
"Grow" by BCee & Blu Mar Ten
Alexander: Once I was back in New York it was really challenging to communicate, we both grew a lot.
Garcia: At the time I found this song, it really resonated with me with how we both were growing.
"While We're young" by Jhené Aiko
Alexander: Finally I have a song contribution! I sent this to Sakina as a reminder that life should be full of the most incredible adventures, and it has been.
Garcia: Just love the flow of this track, great production!