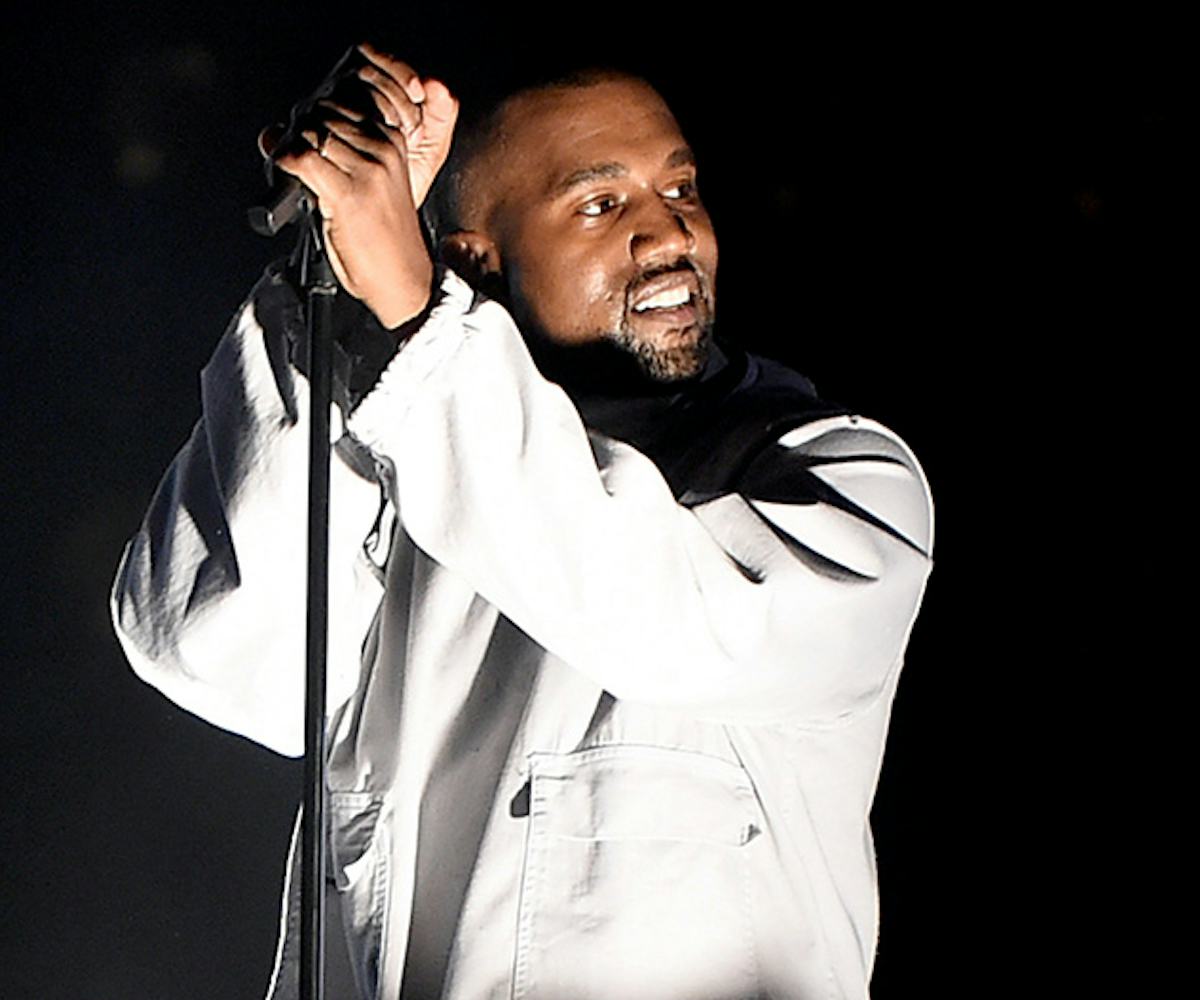 Photo by Kevin Winter/Getty Images For 102.7 KIIS FM's Wango Tango.
I'm Having A Really Hard Time Defending Kanye West
In 2002, I met a young Kanye West at a show of his at the University of Chicago. He was reserved, slightly twitchy, not-media-trained, and entirely gracious. In the last 14 years, the things fellow reporters have told me about him have confirmed that little has changed—he's constantly cited as being kind, attentive, a bit awkward, and above all, gracious. The on-stage antics, much like his Twitter persona, seem to boil up unannounced, abrasive, and untethered, like Kanye's genius itself, a genius that I have both professionally and personally asserted as being one of the most important musical presences of the last two decades. His transgressions are interesting and thought-provoking, but, up until now, have never included rape denial, a line I simply can't cross with him.
To be honest, I've spent a lot of my career defending Kanye West. When he released his collection last season, I wrote that the New York fashion world—a space where, despite having over 200 designers, only 4 that year were black men—only invites black men when they have a promise of spectacle, and then criticizes them for being said spectacle. Here at NYLON, we also commended Kanye for sticking a big wrench into the oiled machine of Fashion Week by refusing to play by traditional rules, sending everyone uptown, and putting on a show, the most regal of all fashion performances, in a mainstream arena and letting everyone access it. That was cool. That was a big "fuck you" to the establishment. 
When Kanye sent that tweet on Tuesday proclaiming "BILL COSBY INNOCENT !!!!!!," I began to laugh nervously. I follow him on my own account, so I caught the tweet before the maelstrom—and I showed the NYLON team with a kind of incredulousness. "Ha ha. It's a joke," I said. "A bad joke. An announcement? Maybe he's making a poorly conceived point...? Maybe?" I hoped, since some have thought that he was simply announcing the fact that Cosby's defamation case was thrown out. Kanye, I pointed out, has shown an immense capacity for learning and change. He apologized to Taylor Swift (kinda). He apologized to Wiz Khalifa. (But no word to Amber, of course. Then again, coming for Amber Rose is like showing up to a battle with a switchblade and realizing your opponent is mounted on a fire-breathing dragon with AK-47s strapped to her chest.) He recanted what he said about Beck. Kanye West, unlike most artists, is aware of what he does wrong, and in his own way he course-corrects. So, I stared at his timeline, hopefully. And there was nothing ... except more Yeezy Season 3 promotion. No rebuttal, no further commentary. Just a succinct dismissal of the stories of over 50 women—women who not only have the impossible task of getting a rape successfully prosecuted, but are asked to do so against a beloved American icon. These 50 women have nothing to gain, other than being one of the 50 women who point out that men with power very often feel entitled to the bodies of women. 
Yeah, it sucks that Kanye said some mean stuff about Taylor Swift—America's most precious commodity—on T.L.O.P. But being polite and kind has never been a prerequisite for good music, and no one has ever needed consent to drop a name in a song. And, while misogynist lyrics never thrill me, I'm not about to call out Kanye without taking into consideration all of the music I have enjoyed in my lifetime that have problematic messages. Of course, problematic messaging sucks, but it exists, for better or worse, in the space of artistic creation. It's problematic actions—like Kanye's tweet—where I suddenly feel like I'm at odds with one of my favorite artists, and I can't go along for this ride.
One thing that Kanye West does not need is approval from me, a white woman with a platform but no real personal influence, especially since white criticism has always had a troubling relationship with Kanye for his apparently "radical", and important, act of being a black man who celebrates himself. But later today, he is going to release The Life Of Pablo. And, though I love all of his pieces of output (including 808, which I thought was truly boundary-pushing), when I sit down to play to it, his tweet—more than any "feud" with Taylor Swift, more than any crazy interview with the New York Times, more than any previous antic—is going to haunt the listening experience. And, unfortunately, as a fan (and not a critic), I just can't shake that.