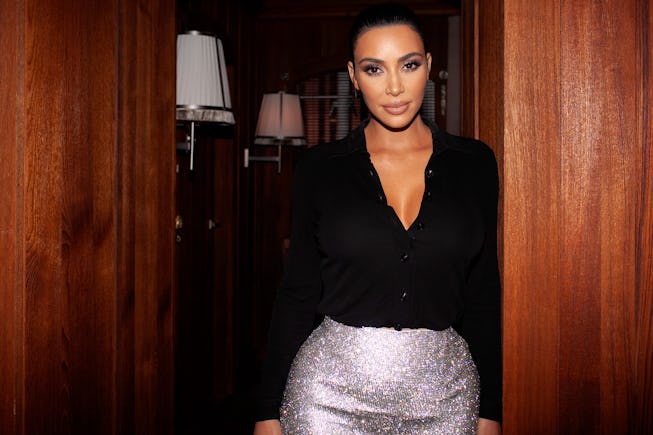 WWD/Penske Media/Getty Images
Kim Kardashian Will Star In American Horror Story Season 12
The mogul and Skims creator will soon appear in her first scripted television performance (at least, formally scripted).
We've been watching Kim Kardashian on television for nearly two decades. Though one could argue that reality TV is scripted, the mogul will soon make a more formal scripted television debut on another long-running show that is a pillar of American media: American Horror Story.
Apparently it was Kardashian's 2021 SNL hosting gig that piqued creator Ryan Murphy's interest. According to the Hollywood Reporter, the two met last summer about crafting a personal role for her in Season 12 of the show, which Kardashian will star in alongside Emma Roberts, most crucially of Unfabulous fame.
It's been at least a decade since Kardashian has acted with a capital A: She's done cameos on shows like How I Met Your Mother and 30 Rock, a single episode of CSI: NY in 2009, and in 2012 she was on four episodes of Drop Dead Diva — but American Horror Story will undoubtedly be her biggest on-screen scripted debut, and biggest show that doesn't already have her name in the title.
American Horror Story has served as a launchpad for the acting careers of the already-famous: Take Lady Gaga, for example, whose role on Season 5 opened the door for her roles in A Star in Born and House of Gucci, along with her EGOT-deserving performance of House of Gucci's ensuing press tour that just wouldn't quit.
It's unclear which role Kardashian is going to play, but she confirmed her involvement in an Instagram post for her 352 million followers, showing a teaser trailer for the season, but offered no further details.
Unlike past seasons of American Horror Story, we could speculate possible Kardashian roles in this season, which is the first to be based off a novel: the upcoming crime thriller Delicate Condition by Danielle Valentine, which is described as a feminist Rosemary's Baby. (We're listening!) Season 12 will also be the first season of the show to be written by a single writer, Halley Feiffer, who has previously written an episode of AHS.
"Kim is among the biggest and brightest television stars in the world and we are thrilled to welcome her to the AHS family," said AHS co-creator Murphy in a statement to the Hollywood Reporter. "Emma [Roberts] and I are excited about collaborating with this true force in the culture. Halley Feiffer has written a fun, stylish and ultimately terrifying role especially for Kim, and this season is ambitious and unlike anything we have ever done."