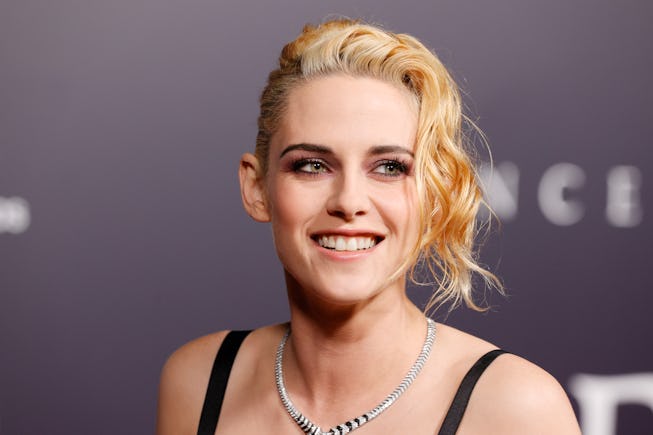 Photo by Amy Sussman/Getty Images
Kristen Stewart Will Direct Imogen Poots In The Chronology of Water
The Chronology of Water also doubles as Kristen Stewart's directorial debut.
Kristen Stewart is preparing for her most exciting role yet. The Spencer actress is switching gears and working behind the scenes, as the director of her first feature-length film. The project, titled The Chronology of Water, is a drama derived from Lidia Yuknavitch's best-selling novel of the same name. The project has been in the works for a while now, and recently found its lead actress.
Imogen Poots will star as Yuknavitch, in the story of her tumultuous life. Per the synopsis, the novel "weaves an astonishing tale of survival," through stories of abuse, addiction, self-destruction, and the loss of a stillborn child. After its release in 2010 The Chronology of Water made it onto The New York Times best-seller list, and gained a cult following.
"Lidia's memoir honors corporeal experience, radically," Stewart told Deadline. " To make that experience physical feels vital to me and what this impulse means… is that it absolutely must be a film," said Stewart. "This project has been cooking for five years with the help of Scott Free whom I could not be more privileged to have as partners and friends. Imogen Poots will carry this movie and the staggering weight of Lidia's life. She can hold it. I am beyond lucky to have her."
Though Stewart is an award-winning actress herself, she's declined to star in the film. "There's actually no part for me," Stewart told Variety, "I could maybe play her older sister but probably not. I keep trying to figure out a way to get in there but I don't think so."
Stewart will co-adapt the book along with writer/director Andy Mingo, who is married to Yuknavitch and is currently set to direct an adaptation of Chuck Palahniuk's novel "Lullaby." Scott Free's Ridley Scott and Michael Pruss are also producing, along with Rebecca Feuer who will serve as an executive producer.
"Ridley and I are delighted to be working with Kristen again, this time on her feature directorial debut, adapted from Lidia Yuknavitch's extraordinary memoir," said Pruss. "Just as we have seen in Kristen's short films as a director, I have no doubt that she will bring that same level of style, uniqueness and fearless emotionality to The Chronology of Water. Furthermore, to have the the opportunity to work with Imogen – who is tailor-made for the lead role – is incredibly exciting. The combination of their talents will no doubt produce something exquisite for film audiences worldwide."