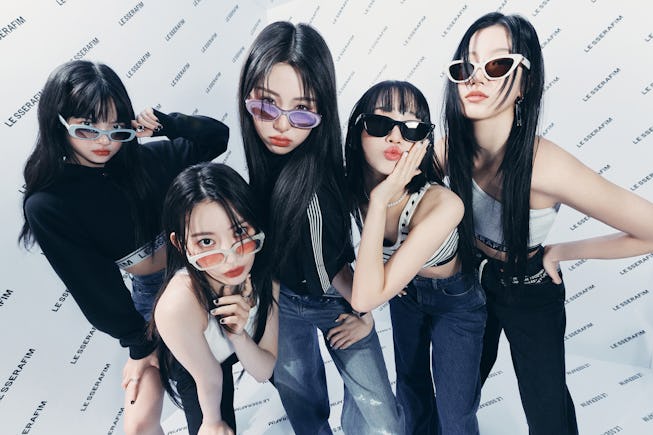 Source Music
Le Sserafim Are Running K-Pop Their Own Way
The bold five-piece talks debut album Unforgiven and how they're following — and making — their own rules.
Le Sserafim aren't in the business of asking for forgiveness.
Since the K-pop girl group made its audacious debut in 2022, members Kim Chaewon, Sakura, Huh Yunjin, Kazuha, and Hong Eunchae have embodied much of what women have often been encouraged to suppress: ambition, boldness, strength, and defiance. On their latest album Unforgiven, the rookies are further breaking free from outside expectations — or, as outspoken Yunjin succinctly puts it over a morning Zoom call, "We're gonna pave our own path, and we don't need your permission to do it."
It may come as no surprise that the five ladies of Le Sserafim are just as cool and confident in person as they project through their music and performance. Dressed in baggy sweatshirts and hoodies with iced Americanos in hand in a conference room in Seoul, there's an ease to their chemistry, the kind of bond fortified through shared dreams and midnight conversations.
"When we're together, we laugh at the smallest things," says Chaewon of their effortless chemistry. Yunjin describes the dynamic as akin to family — "I'm grateful to have them by my side," she says — and they act like it, too: Sakura, the witty older sister; Chaewon, the overachiever; Yunjin, the rebellious middle child; Kazuha, the graceful free-thinker; and Eunchae, the playful maknae (youngest). Yet they all share the defiant traits of an only child. When I ask who has the hardest time following set rules, they burst into laughter. Sakura and Eunchae clap their hands and leader Chaewon leans forward toward the camera. "All of us!" She exclaims. "All of us are very 'I want it my way, my rules.'"
Eunchae of Le Sserafim.Source Music
Yunjin of Le Sserafim.Source Music
Kazuha of Le Sserafim.Source Music
Tenacity is the foundation of the Le Sserafim concept. In their YouTube documentary The World Is My Oyster, their creative team reveals that the group's narrative stemmed from the members' real, personal journeys to becoming idols: soft-spoken Kazuha left her ballet academy in Amsterdam to join the debut team in 2021; Sakura, who was already a seasoned idol in her native Japan, and Chaewon were already part of the mega-successful multinational project group, IZ*ONE, but decided to take a leap with Le Sserafim because they weren't "satisfied with their status quo," says the doc. Yunjin, too, forwent college in the U.S. to give her dream another chance. (After moving to New York following a memorable stint on reality show Produce 48, where she competed alongside Sakura and Chaewon for a spot in IZ*ONE, she returned to Seoul to join Source Music in 2021.)
Le Sserafim made its official debut in May 2022 with the statement song "Fearless," which toed the line between confidence and arrogance as gracefully as Kazuha's pointe technique. Its follow-up, "Antifragile," fused reggaeton beats and maximalist energy exhibiting a fresh take on K-pop's girl crush sound. Le Sserafim's debut full-length album, Unforgiven, expands on this, delivering girl-power anthems with sophisticated themes through a variety of genres, from the '90s club bass of "Eve, Psyche & The Bluebeard's wife" to the Latin groove of "Fire in the belly."
On title track "Unforgiven," featuring legendary producer and guitarist Nile Rodgers, the members illustrate the ways headstrong women have historically been villainized. "Unforgiven, I'm a villain," they sing on the hook, their fingers pointing upward to mimic devil horns.
"We are the villain[s] in the sense that we're paving our own path," explains Chaewon of the lyric, her signature dark bob pulled back by a white Diesel cap. "We're breaking taboos and rules that someone else has made."
It's a firm statement for any K-pop idol to make and especially for young female idols, who know they're often under the microscope of public perception. "Every action and choice we make is subject to other peoples' judgment and prejudices," Yunjin says. "So the main message that we want to convey [with this album] is that, you know, you and I can make whatever decision we want… and there's no reason to ask for forgiveness."
Chaewon of Le Sserafim.Source Music
Sakura of Le Sserafim.Source Music
The West's perception of K-pop girl groups — as manufactured consumer products deprived of their own autonomy — have come a long way since the Hallyu wave first started reaching the shores of the U.S. in the late aughts. But as much as girl groups have changed that image — just look at BLACKPINK, who inspired Kazuha to pursue idol life, and its assertive headlining Coachella performance — they are still too often subjected to public scrutiny: everything from their weight to how they dress and style their hair, even what they're reading, is picked apart online.
"You're taking such a dynamic and diverse and multi-dimensional person and flattening them," says Yunjin of such critics. "People are a lot more layered and nuanced, and it's not the best thing to make assumptions through one observation."
In recent months, Yunjin, who holds the most songwriting credits among the members, released several solo songs on this very topic, eschewing the idea that young women in the industry can't take control of their own narrative. On January 2023's "I ≠ DOLL," which she wrote, produced, and animated herself, Yunjin takes aim at online detractors: "Yesterday, I looked like a doll/ Today you called me a b*tch/ When all they see is vanity/ They pick apart my body/ And throw the rest away."
It's a vulnerable confession, far more honest and sharped-tongued than most of her peers would dare to broadcast to the world. But it's that subversive, unfiltered quality that's made Le Sserafim so refreshing; they're comfortable living in the margins.
"I have to be honest with how I feel," she says of her solo songwriting. "The biggest foundation for my music, for my lyrics, is getting my true thoughts on paper." (Or, in her case, her Notes or Voice Memo app.)
"All of us are very 'I want it my way, my rules."
Yunjin has also inspired her group mates to pick up their pens as well. All of the members contributed lyrics to the gentle acoustic ballad "Fearnot (Between you, me and the lamppost)," which was written for their fans, called Fearnots. Yunjin co-produced the sentimental track.
"We all participated in lyric-writing for the first time," says youngest member Eunchae of the song. "And I think we all were influenced in a positive way by seeing how Yunjin works on her own original songs."
"When I saw my name on the credits, it felt really great," adds Kazuha, who saw the writing process as a challenge initially. "It made me want to participate more in our next album."
Earlier this May, the group celebrated their first anniversary as Le Sserafim. The year of ups and downs, wins and losses, culminated in the release of Unforgiven, which sold over 1.2 million units in its first week. Back in the conference room, half past 10 in the morning, the members reflect on how they've personally changed. Kazuha thinks about the future, while Sakura looks at her past.
"What's different about this team is that I can tell a story of my own, and I thought to myself, 'Have I ever thought this deeply about myself before?'" she says. "I grew a lot in that sense."
"Even when I'm bad or when I'm lacking, that is also me. I should still love myself," Chaewon adds. That's the true meaning of Le Sserafim.