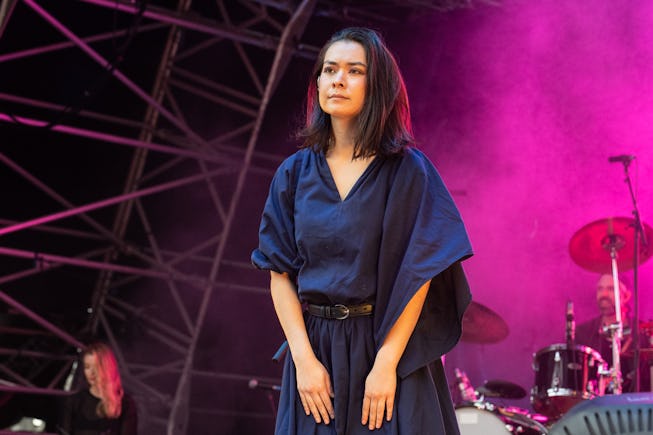 Lorne Thomson/Redferns/Getty Images
Mitski's New Album Will Arrive In Time For Sad Girl Fall
It's called The Land Is Inhospitable and So Are We, and the first single is out now.
A new project from Mitski is on the way.
The beloved cult singer-songwriter has announced her new album, titled The Land Is Inhospitable and So Are We, as well as its lead single, "Bug Like an Angel," which arrived on Wednesday, July 26. She made the surprise announcement via a 14-second voice memo that was sent through her official newsletter (which you can subscribe to on her website).
"Hi! This is Mitski and I'm at Bombshelter Studios in Nashville where we recorded my new album that's coming out," she says on the recording quite cheerily. "It's called The Land is Inhospitable and So Are We, and its first single is coming out on Wednesday."
Mitski left social media in 2022 and doesn't keep any active accounts (save for a very spare Instagram that's only updated when she's working) which explains her slightly unorthodox method of announcement.
Mitski released her last album, Laurel Hell, in February 2022. The album's dark, electric songs dove deeply into her inner conflict of being a famous musician who doesn't do it for fame (and actively rejects it). The new record seems like it'll be equally as shrouded and charged with turmoil judging by its title, though this time perhaps broaching bigger issues, like our decaying planet and our role in its devastation — nothing less than we expect from our emotional queen. Hopefully, there will still be plenty of sad-happy bangers to dance to.
Below, see everything we know about Mitski's The Land Is Inhospitable and So Are We, including the release date, album cover, tracklist, themes, and more:
‌
When will Mitski's new album be released?
Mitski's new album will arrive just in time for the start of your fall blues: on Sept. 15, via Dead Oceans, the singer announced on July 26. You can pre-order it here.
What songs are on the album?
The record will contain 11 songs including lead single, "Bug Like an Angel," which is out now. Like her previous projects, there are no guest features on the album. See the full tracklist below:
The Land Is Inhospitable and So Are We Tracklist
Bug Like an Angel
Buffalo Replaced
Heaven
I Don't Like My Mind
The Deal
When Memories Snow
My Love Mine All Mine
The Frost
Star
10. I'm Your Man
11. I Love Me After You
What are the themes of the album?
Per a press release, the record has been described as the singer's "most sonically expansive, epic, and wise album to-date."
Its songs are said to explore love and its power in a harsh and otherwise suffering-filled world. You can sense those themes keenly on its first single, "Bug Like an Angel," whose lyrics compare a glass of alcohol to "family" and explore how comfort can still be derived from the most rock-bottom of things.
"This is my most American album," Mitski said of the record in a statement. "The best thing I ever did in my life was to love people. I wish I could leave behind all the love I have, after I die, so that I can shine all this goodness, all this good love that I've created onto other people."
This article was originally published on