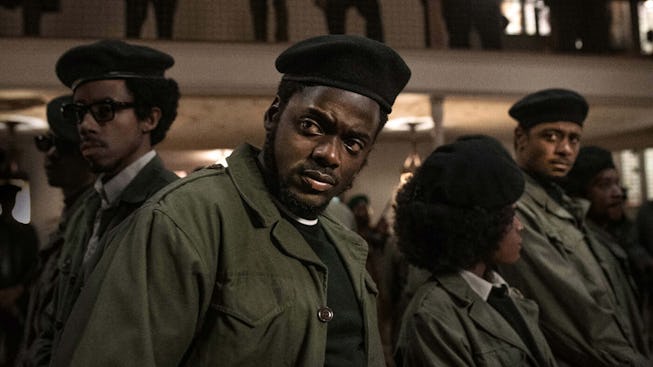 Warner Bros/Moviestore/Shutterstock
Oscars Predictions 2021: Who Will Win, Who Should Win
From 'Judas And The Black Messiah' to 'Minari.'
The 2021 Academy Awards will be unlike any that have come before — fittingly so, since they will be honoring the films for a year that has felt unlike any before. The ceremony will not take place at the Dolby Theatre as usual, but instead at L.A.'s Union Station. The Sound Mixing and Sound Editing categories will be compiled into one. And with the one and only Steven Soderbergh acting as producer, the prestigious awards show will "feel like a movie in that there's an overarching theme that's articulated in different ways throughout the show." Whatever that means.
Yet, this is still the Oscars we're talking about — which means The Academy is going to do what they're known to do and vote in the way they've been known to vote in the past. Sure, the lineup of nominated films may feature way more small indies than usual and a surprising dearth of true blockbusters, but that doesn't mean the 2021 ceremony won't still give us much of what we've become accustomed to. Mank, a self-important black-and-white film about the art of Hollywood filmmaking (aka catnip for The Academy), has the most nominations going into the night at 10, while The Trial of the Chicago 7, a feel-good piece of classic Aaron Sorkin revisionist history (also catnip for The Academy) trails in second at 6. But in a small show of possibly shifting tides, Trial is tied with Judas and the Black Messiah, Minari, Sound of Metal, and Nomadland — all films that tell captivating stories about marginalized groups. It's the best of both worlds.
So who will win? Can another woman finally join Katheryn Bigelow in the Best Director Winners Circle? Will Daniel Kaluuya continue his nearly flawless streak of Supporting Actor wins? Is Nomadland really as unstoppable as people seem to think? Below, I take my best stab at predicting the outcomes while also offering my two-cents about who I think actually deserves to walk away with a trophy on Sunday night.
Best Picture
Who Will Win: Nomadland
Who Should Win: Nomadland
While many have tried to write the 2021 Oscar season off as one of "less" value or importance because of the pandemic's impact on Hollywood studios, movie theaters, and blockbuster releases, I, for one, happen to think The Academy has assembled one of the strongest Best Picture lineups in recent memory, with nary a "bad" one in the bunch. Minari, Sound of Metal, and The Father all landed on my list of favorite 2020 films, and from the looks of it, Judas and the Black Messiah will land quite high on my list for 2021. Mank is probably the weakest of the eight, which says a lot for a David Fincher film that actually netted the most total nominations.
Ultimately, however, I largely see this to be a competition between Nomadland, the ostensible frontrunner; The Trial of the Chicago 7, the typical Academy-approved crowd-pleaser; and Promising Young Woman, the dark horse that has inspired enough genuine fervor amongst its fanbase to possibly eke out a surprise win. Stil, I suspect that, ultimately, Best Picture will go to the film every other awards show predicted it would go to. And in that case, I am betting my bottom dollar on Nomadland, an evocative and stunning masterpiece about living life on the margins of society. After a long year of living in our own bubbles of isolation, avoiding as much transience as possible, Chloé Zhao's peaceful meditation feels like a weirdly suiting metaphor.
Best Actor
Who Will Win: Chadwick Boseman for Ma Rainey's Black Bottom
Who Should Win: Chadwick Boseman for Ma Rainey's Black Bottom
At this time last year, everyone with even an inkling of knowledge about Oscar odds would have told you that Anthony Hopkins was a shoe-in for Best Actor thanks to his truly captivating performance as a man slowly succumbing to dementia in The Father. But that was before Netflix premiered Ma Rainey's Black Bottom, which featured a career-best performance by Chadwick Boseman, an already beloved actor who unfortunately passed away after a private battle with colon cancer before the film was even released. A flashy performance of capital-A Acting, Boseman's turn as the foolhardy Levee Green stole the spotlight in a film chock-full of flashy performances.
In another year, Boseman could face some serious competition from any of his competitors: from the aforementioned Hopkins; from Riz Ahmed, whose sensitive performance as a drummer dealing with hearing loss in Sound of Metal required tons of research and an immersion in deaf culture; and from Steven Yeun, who does quietly thoughtful work as a hardworking American immigrant with big dreams. (Sorry, Gary Oldman, but I don't think this was ever going to be Mank's night.) But it's hard to imagine The Academy passing up a chance to reward Boseman for what is, sadly, his final film role ever. When he wins on Sunday, it will be rightfully deserved.
Best Actress
Who Will Win: Viola Davis for Ma Rainey's Black Bottom
Who Should Win: Carey Mulligan for Promising Young Woman
It's hard to single out one Best Actress nominee as the best because each performance is so tonally distinct. On one end, there is Viola Davis, playing the titular character in Ma Rainey's Black Bottom, who, like her co-star Chadwick Boseman, goes for broke in a role that still feels thoughtfully considered. On the other end is Frances McDormand, the beating heart of Nomadland, turning in a restrained-yet-determined performance that matches that film's evocative quietude. Finally, right in the middle is Promising Young Woman's Carey Mulligan, offering audiences the best of both worlds in a role that requires the British actress to toggle between two extremes with seamless ease. While the film itself continues to polarize audiences, the one thing everyone has been able to agree on is just how good Mulligan is in it — and that's why I think she should win.
Coincidentally, the dark horse of the year is not newcomer Andra Day, who impressed as Billie Holiday in Lee Daniels' disappointing biopic, but rather Vanessa Kirby, one of the first women to truly "enter" the race when Pieces of a Woman premiered in Venice last September. Though Kirby probably had the single hardest job to do as she unflinchingly acts out a 24-minute labor scene in the film's opening single-shot sequence, she is the only actress in the bunch to miss out on all the major precursor awards. Day, on the other hand, won a Golden Globe. All that being said, I think Viola Davis, a previous winner for Supporting Actress, will leave Union Station on Sunday night with her second gold statue. I won't be upset.
Best Supporting Actor
Who Will Win: Daniel Kaluuya for Judas and the Black Messiah
Who Should Win: Daniel Kaluuya for Judas and the Black Messiah
It's weird to think that, before Judas and the Black Messiah premiered earlier this year, the frontrunner for Best Supporting Actor was Sacha Baron Cohen. While I love the London-born comedian, his performance as Abbie Hoffman in The Trial of the Chicago 7 wasn't even the best performance he turned in last year (that would be Borat Subsequent Moviefilm) nor the strongest in the film itself (that would be John Carroll Lynch's David Dellinger). Even without Judas, I'd argue that both Leslie Odom Jr., playing a sprightly Sam Cooke in One Night In Miami, and Paul Raci, playing the loving but no-nonsense leader of a shelter for deaf recovering addicts, turn in better performances and would both be more deserving of the Oscar.
However, after netting a Golden Globe, a BAFTA, a SAG, and a Critics Choice award for his performance as the Chicago Black Panther leader and civil rights activist Fred Hampton, it's clear that Daniel Kaluuya is the frontrunner going into Oscar night. His chances seem so set in stone, in fact, that the weird miscategorization that forced him to compete against his scene partner LaKeith Stanfield (who originally ran as Lead Actor) feels like a non-factor. After netting his first nomination three years ago with Jordan Peele's Get Out, 2021 feels like Kaluuya's year.
Best Supporting Actress
Who Will Win: Yuh-jung Youn for Minari
Who Should Win: Yuh-jung Youn for Minari
Last year, The Academy awarded Parasite for Best Picture despite failing to nominate any of the film's brilliant actors. So earlier this year, I urged The Academy to not forget about Asian actors. Thankfully, they listened, and now, Yuh-jung Youn — a 73-year-old veteran actress from Korea, who made her Hollywood debut in Lee Isaac Chung's Minari — has a very solid chance to make history as the first Korean actor in The Academy's 93-year history to ever win an Oscar.
Her biggest competition is probably Olivia Colman, who is the perfect foil to Anthony Hopkins as his rightfully concerned daughter in The Father, and Maria Bakalova, the breakout scene-stealer who plays Sacha Baron Cohen's daughter in Borat Subsequent Moviefilm. However, in the case of newcomer Bakalova, it appears that 2021 will go down as the year she's simply "honored to be nominated." Ditto for Amanda Seyfried, who gave a brilliantly layered performance as Mank's Marion Davies, but has largely been written off as an also-ran. And as for Glenn Close? Well, the less we say about Hillbilly Elegy, the better — not because the notorious eight-time nominee was particularly bad in the film, but rather because I'd love to forget about that movie altogether.
Best Director
Who Will Win: Chloé Zhao for Nomadland
Who Should Win: Chloé Zhao for Nomadland
The 2021 slate for Best Director nominees was history-making. For the first time in history, there was more than one woman nominated at the same time (Chloé Zhao for Nomadland and Emerald Fennell for Promising Young Woman) as well as more than one Asian director (the aforementioned Zhao and Lee Isaac Chung for Minari). In their own ways, all three of these directors would be worthy recipients of the prize.That Chung was able to create something as beautiful as Minari on such a small budget is nothing short of mindblowing. And as I've argued before, Fennell's deliberately feminine, candy-colored direction was just as crucial to making Promising Young Woman work as Carey Mulligan's layered performance.
But in the end, this is really a race between Chloé Zhao and herself. As much love as I have for Another Round, Thomas Vinterberg doesn't really stand a chance here (he has much better odds in Best International Feature, and I'd love to see him take the win there). And I'm already foreshadowing a zero-win night for Mank in the main categories (the David Fincher passion project will have to settle for its inevitable wins in the craft categories, which I won't be able to argue with).
Best Animated Film
Who Will Win: Soul
Who Should Win: Wolfwalkers
Time for a controversial opinion: Soul doesn't deserve the Oscar! I know, I know — feel free to scold me. As far back as I can remember, Pixar has had an impenetrable grip on The Academy's throat; if the Disney-owned studio drops a new film, it's almost guaranteed to win an Academy Award, whether you like it or not. (The 2019 win for Spider-Man: Into the Spider-Verse over Incredibles 2 is one of the only counterexamples.) But too often, this foregone conclusion mentality leaves more deserving films in the dust, with many of them failing to even get the benefit of the doubt as a viable alternative.
Last year, I argued in favor of Netflix's beautiful French film I Lost My Body, which ultimately lost to Pixar's Toy Story 4. And this year, I want to make a similar case for Wolfwalkers, which turns a bit of Irish folklore into a touching film about ostracization, complicated family structures, and the healing power of friendship. While Soul (like Toy Story 4) is inarguably a brilliant film — not to mention history-making, as Pixar's first feature to center a Black protagonist — it's also uneven in parts. (Also, let's be real: it's going to win for Original Score.) Wolfwalkers, on the other hand, is perfect, from start to finish. It deserves recognition for that. Too bad The Academy won't be the ones to give it that.