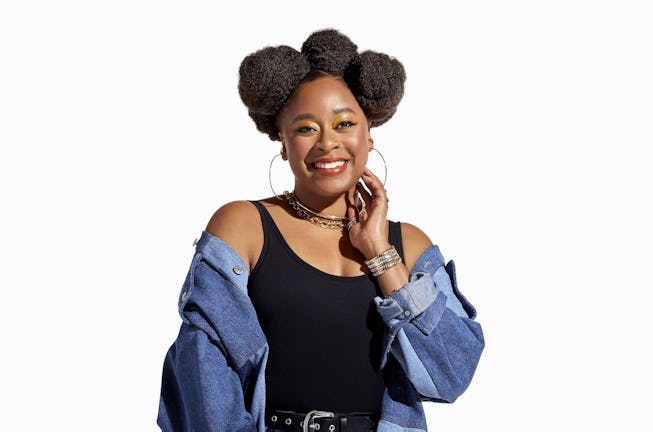 Tyler Twins
Phoebe Robinson On 'Doing The Most' And Getting Out Of Her Comfort Zone
The comedian's new interview show includes activities like doing a ropes course with Kevin Bacon and horseback riding with Whitney Cummings.
After a year of inactivity, it's time to get back into the swing of things, and comedian, New York Times best-selling author and actress Phoebe Robinson is here to guide you. Her new show, Doing the Most With Phoebe Robinson, is the comedian's unscripted foray into trying out new things with celebrity friends.
Premiering on Comedy Central on April 9th at 11:00 p.m. EST, the 10-episode half-hour series stars Robinson as she goes on adventures with guests including Kevin Bacon, The Property Brothers, Whitney Cummings, Ashley Graham, Tan France, Hasan Minhaj, and more.
NYLON caught up with Robinson ahead of the premiere to talk about tackling new things and getting out of one's comfort zone.
What inspired you to create Doing The Most?
I'm such a workaholic, and I realized that there's so many things that I don't know how to do. I can't drive. I don't know how to swim. I can't really cook all that well. I figured, why not have some really cool people, some people that I know, and I'm friendly with, and other people who I'm meeting for the first time. It's really amazing, fun celebs and they will get me out of my comfort zone. They'll teach me how to do something that they're pretty good at.
When you're choosing guests, what are you looking for?
Myself and the story producers, we just try to think of people who have good energy about them — they're funny, they're chill, they're going to be down for a good time, and they're interested in showing off a different side than what maybe their fans are used to seeing. I feel like every guest that I had on, they were just really open, and they were down to put up with my screaming, or being scared, or what have you, and it ended up all working out well.
What was the most challenging new activity that you tried?
I think doing the ropes course with Kevin was definitely really hard because I am afraid of heights, so that was definitely one where while I was making jokes, I was also freaking out. I think also the Whitney Cummings episode with learning how to ride a horse, and just being around farm animals, like I'm just not an animals person. I'm so type A that I'm like, this is dirty, this is something I can't control, and blah, blah, blah. Getting me to relax and be part of the animal kingdom in that way was tricky, not necessarily physically, but more mentally and spiritually to just be calm, be chill. You don't have to be in control of everything all the time.
Was there any activity that you tried that you now want to keep doing, or incorporate into your current lifestyle?
I think I would definitely want to ride a horse again, so next time that I'm in LA I'll probably hit up Whitney and go out and ride some horses. That was super fun. And then, I did rollerblading and I do want to try that again because that was really fun. I did that with Ashley Graham and I was a full hot ass mess, but I want to learn because my boyfriend, when he was growing up in the UK, he would go to discos on the weekend, and go rollerblading and rollerskating, so that something I would like to do with him.
That's fun. Were there any activities suggested that you said no to, or were just too far outside of your comfort zone?
We all sat around and came up with ideas together, so usually I just was wanting to make sure it wasn't too static — so something like a spa day, or me learning how to model, where I'm just like I don't know if we're going to be able to build an episode around that. I was pretty much down to push it a little bit.
Was there a guest in particular that really made you laugh, or that really stood out to you for being super funny?
Whitney Cummings and I we've known each other for years, so we can just make each other pee laughing with a look, that was such a fun day just hanging out with her, she really cracked me up a lot. I also loved the baking episode with Tom Franz. I thought he was so fun, and funny. He was good at talking trash too, so it was really nice to have that little bit of a competitive moment when we're trying to see who's going to be the best baker. Those two are really great.
Doing the Most With Phoebe Robinson airs on Comedy Central on Fridays at 11:00 p.m. EST.