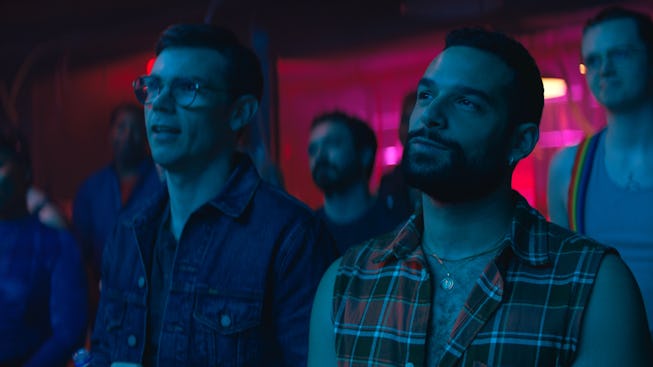 Peacock
The 'Queer As Folk' Reboot Trailer Starts With A Tragedy
The trailer for the new series reboot opens with echoes of the Pulse nightclub massacre.
Queer As Folk, the groundbreaking Russell T. Davies series about three gay men in '90s Manchester, will soon be reimagined for Peacock.
Creator Stephen Dunn will helm the reboot, which is described as a modern take on the beloved UK series — which only ran for 10 episodes from 1999-2000, demonstrating its outsized impact on mainstream culture. The new show will follow "the lives of a diverse group of friends in New Orleans whose lives are changed by a tragedy."
Queer As Folk was one of the first shows to openly celebrate gay characters. Another North American version launched in 2000 on Showtime; set in Pittsburgh, the series starred Gale Harold, Randy Harrison, Hal Sparks, Peter Paige, and Scott Lowell. It ran for five seasons and is currently available for streaming on Hulu.
When Queer As Folk first aired, mainstream representation of LGBTQIA+ characters was rare. In a currently much more diverse landscape, it'll be interesting to see how the reboot addresses modern gay culture while still maintaining the DNA of the original series. Here's everything we know about the Queer As Folk reboot so far:
The first Queer As Folk trailer starts with a mass shooting in a gay nightclub:
Echoing the tragic Pulse massacre, the Queer As Folk trailer starts off happy enough until a gunman enters a gay club and, we assume, murders people. The rest of the trailer shows that the season will focus on the aftermath of the tragedy, which affects the group of friends at the center of the series. It's certainly heavy fare, but the trailer's tone makes it clear the subject will be handled with sensitivity and some levity. Watch below:
There's already a well-rounded cast for the Queer As Folk reboot:
The cast for Queer As Folk includes several star-studded names, TV vets and even a few relative comedy newbies. So far, here's the cast that's been announced, per a release:
Kim Cattrall (she/her) (Sex and the City) will play Brenda (she/her), a martini-soaked, high society southern debutant with trailer park roots.
Juliette Lewis (Yellowjackets, I Know This Much Is True) will play Judy (she/her), a single mom who is more of a friend than a parent to her teenage son.
Ed Begley Jr. (Young Sheldon, Bless This Mess) will play Winston (he/him), an emotionally distant father.
Armand Fields (Work in Progress, The Chi) will play Bussey (she/her in drag he/him out of drag), the reigning drag queen and matriarch of the local scene.
Chris Renfro (Reno 911! Brooklyn Nine-Nine) will play Daddius (he/they), a fun-loving hedonist who is always the life of the party
Eric Graise (Locke & Key, Step Up: High Water) will play Marvin (he/him), a jaded barfly who DNGAF about your problems.
Sachin Bhatt (Grace & Frankie, Into the Dark) will play Ali (he/him), a charming and empathetic sex worker.
Benito Skinner (Search Party, Bros) will play Jack Cole Jordan (he/him), a self-aggrandizing influencer.
Devin Way (he/him) (Grey's Anatomy, Station 19) will play Brodie (he/him), a charming and sometimes chaotic commitment-phobe who finds a reason to stay in New Orleans after tragedy rocks his community.
Fin Argus (they/them) (Clouds, The Gifted) will play Mingus (he/him/they/them), a cocky high schooler whose confidence belies their lack of real world experience.
Jesse James Keitel (she/her) (Big Sky) will play Ruthie (she/her), a trans, semi-reformed party girl who is struggling to grow up.
CG (they/them) (Acts of Crime) will play Shar (they/them), a non-binary professor navigating the rocky transition from punk to parenthood.
Johnny Sibilly (he/him) (Hacks, Pose) will play Noah (he/him), a successful lawyer who is not as put together as he seems.
Ryan O'Connell (he/him) (Special, Will & Grace) will play Julian (he/him), a pop culture nerd with cerebral palsy who is more than ready for some independence.
Lukas Gage (The White Lotus, Euphoria) will play Eric (he/him), a personal trainer.
Megan Stalter (Hacks) will play Meg (she/her), an aspiring singer.
Olli Haaskivi (Winning Time, Oppenheimer) will play George (he/him), a friend from the mall.
Calvin Seabrooks (4400, Westworld) will play Taylor (he/him), a reluctant dinner party guest.
Queer As Folk will be released just in time for Pride month.
The series will debut on Peacock on Thursday, June 9th.