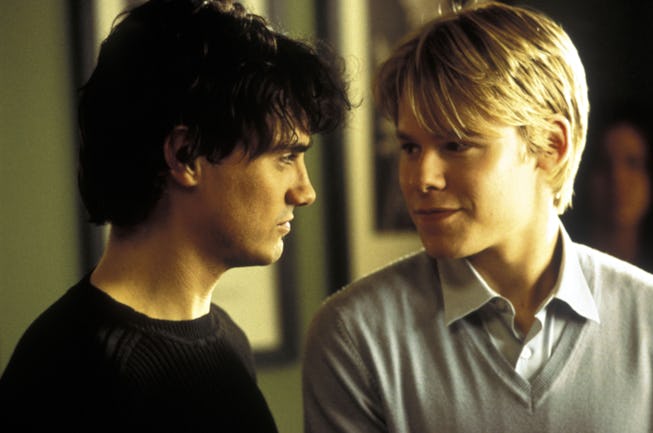 L Pief Weyman/Showtime/Kobal/Shutterstock
'Queer As Folk' Will Get A Modern New Orleans-Set Reboot
It will chronicle a diverse group of friends in the aftermath of a tragedy.
Reboot fatigue is real, but here's a good one for the books: Queer as Folk, the groundbreaking Russell T. Davies series about three gay men in '90s Manchester, will soon be reimagined for Peacock.
Creator Stephen Dunn will helm the reboot, which is described as a modern take on the beloved UK series. The new show will follow the lives of a diverse group of friends in New Orleans whose lives are changed by a tragedy.
"'Queer as Folk' was more than just a show, it was a groundbreaking and necessary voice for so many people. Stephen's new version for Peacock arrives at yet another pivotal moment in our culture," Lisa Katz, president, scripted content, NBCUniversal Television and Streaming, said in a statement. "Alex Sepiol, EVP of drama programming, and his team have championed this project from the first moment it landed on their desks, working to ensure the script became the series we're announcing today. The entire team is so excited to be a part of introducing a new generation to this type of authentic and affirming storytelling."
No word yet on when the reboot will land on NBC's streaming platform or who will star in it. The original series, which starred Aiden Gillen, Charlie Hunnam, and Craig Kelly, only ran for 10 episodes from 1999-2000 in the UK, demonstrating its outsize impact on mainstream culture. A North American version launched in 2000 on Showtime; set in Pittsburgh, the series starred Gale Harold, Randy Harrison, Hal Sparks, Peter Paige, and Scott Lowell. It ran for five seasons and is currently available for streaming on Hulu.
When Queer as Folk first aired, mainstream representation of LGBTQ characters was rare; it'll be interesting to see how to reboot addresses modern gay culture while still maintaining the DNA of the original series. Stay tuned for more details.