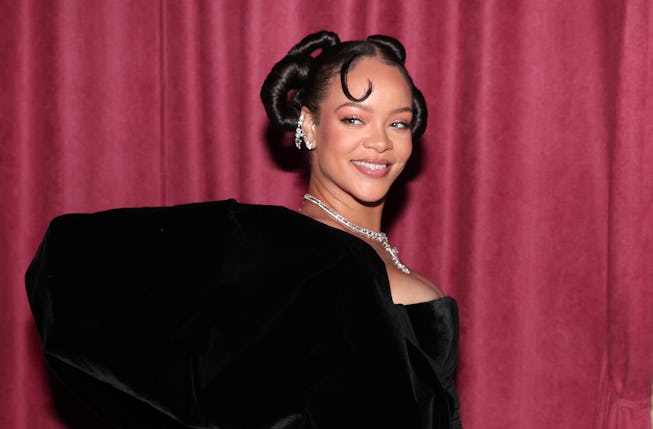 Christopher Polk/NBC/NBCUniversal/Getty Images
Is Rihanna's Super Bowl Promo Hinting at New Music?
Or is she telling us to stop asking?
Counting down to Rihanna's Super Bowl performance is the steadiest IV drip of Rihanna news we've gotten since she announced her pregnancy, revolutionizing maternity style. Now, Rihanna has dropped an official trailer promoting her upcoming performance.
But it's a trailer that could hint at new music — or at least addresses the fact that we're all salivating for some. Rihanna has famously not released an album since 2016's excellent Anti. (Though she did release "Lift Me Up," last year, an original song for Black Panther: Wakanda Forever, which was nominated for a Golden Globe award.)
Not many artists can opt out of the hamster wheel that is the music industry, a wretched place that demands artists to constantly output new work, tour that new work, all while Spotify takes all their money anyway. But Rihanna is big enough that she doesn't have to succumb to those demands, and why she can have something called artistic integrity — which is why whenever she does put out new music it's going to illicit an even bigger outpour of excitement than a Super Bowl.
Rihanna knows this, of course, and in the Super Bowl promo video, she addresses the elephant in the room: that people want an album. In the promo, we see Rihanna in Grinch-inspired regalia (i.e. a fuzzy lime green coat) walking a runway slowly with audio clips of reporters spouting headlines we've all read: "It's been two thousand hundred ninety days;" "Rihanna, we've waited for you;" "Rih Rih where have you been?" before they all merge into loud noise, which Rihanna shushes with a finger on her lips, while "Needed Me" plays, particularly the part where she sings: "You need me." Boy, I'll say. She raises her finger to her lips, silencing our collective pestering.
It's far from the first time she's had to deny rumors of new music in the wake of the announcement of her Super Bowl performance.
At Rihanna's Savage x Fenty lingerie show in November, she adressed rumors that new music was coming. "That's not true. Super Bowl is one thing. New music is another thing. Do you hear that, fans?" she said. "The second that I announced this, I said, 'Oh, my God, they're going to think my album is coming. I need to get to work.'"
Listen, Rihanna could never release another album again and remain a superstar on lingerie, beauty, and mystique alone. But why give so much time the voices asking for new music, just to once again deny the new music? The promo feels like a plea for patience rather than a flat-out denial. Only time will tell.
The football game known as the Super Bowl will be interrupting Rihanna's concert on Sunday, February 12. In the meantime, you can shop Rihanna's Savage x Fenty Game Day collection and can watch Rihanna's official Super Bowl trailer below.