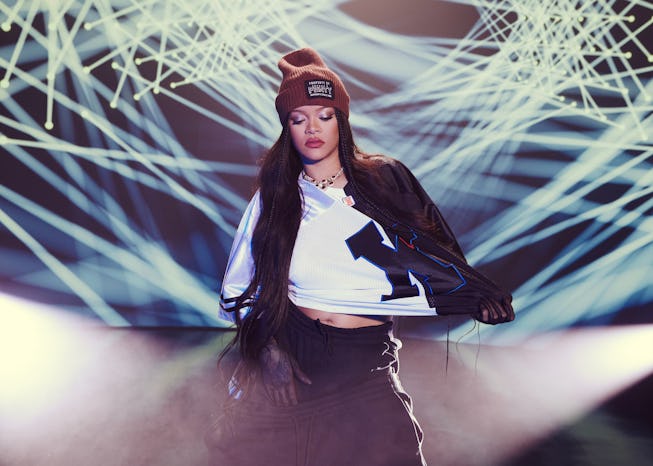 Savage x Fenty
Rihanna Drops New Super Bowl Savage x Fenty Game Day Collection
The team we're rooting for this Super Bowl? Just Rihanna.
Finally, a sports update for the rest of us: Not only is Rihanna going to be performing at the 2023 Super Bowl LVII next month, but Savage X Fenty released a limited-edition Game Day collection of football-themed styles to celebrate the historic occasion — the historic occasion, of course, being her upcoming performance.
The jersey has always been the court and field-side attire of the chicest of athlete girlfriends. Now, Savage x Fenty is putting a sultry twist on the collegiate preppy styles, with a17-piece collection that includes hoodies, sweatpants, varsity jerseys, tube tops, and more. Best of all? They're not connected to any team, though the cropped jersey and hoodie and sweatpants set includes "LVII" because I guess this is after all for the Super Bowl. Otherwise, the sweatpants and sweatshirts say: "Property of Savage X Fenty" with Rihanna's signature. We must face the facts: The only team we ever want to root for is Rihanna herself.
Which brings me to the best piece in the collection: A t-shirt that says in all-caps block letters: "RIHANNA CONCERT INTERRUPTED BY A FOOTBALL GAME WEIRD BUT WHATEVER." Couldn't have said it better! Finally, game day clothes with a healthy sense of irony.
Fenty
Fenty
Fenty
Fenty
Fenty
Elsewhere in Rihanna updates, a long-awaited documentary about her life may be released soon. The documentary, which will follow Rihanna's ascent into fame has been in the works for the past six years. But director Peter Berg recently told The Hollywood Reporter that the documentary is now complete — it's just waiting on Rihanna's approval. If we know anything about the star it's that she is a perfectionist, and that she doesn't succumb to the rigorous, constant demands of the music industry (which is why we're still waiting for a follow-up to to 2016's Anti), so no guarantee the film will release soon. But we can rest assured that when it does, it will be worth the wait.
In the meantime, if you're in Los Angeles, mark your calendar for January 27-29 when you can shop the Savage x Fenty Game Day collection in person, with a three-day, retail pop-up experience. The rest of us will be able to access the collection, which comes in sizes XXS-4X, online and in retail stores. Prices range from $24.95-$89.95 for Xtra VIP members ($32.95-$112.95 for non-VIP members). The football game known as the Super Bowl will be interrupting Rihanna's concert on Sunday, February 12.