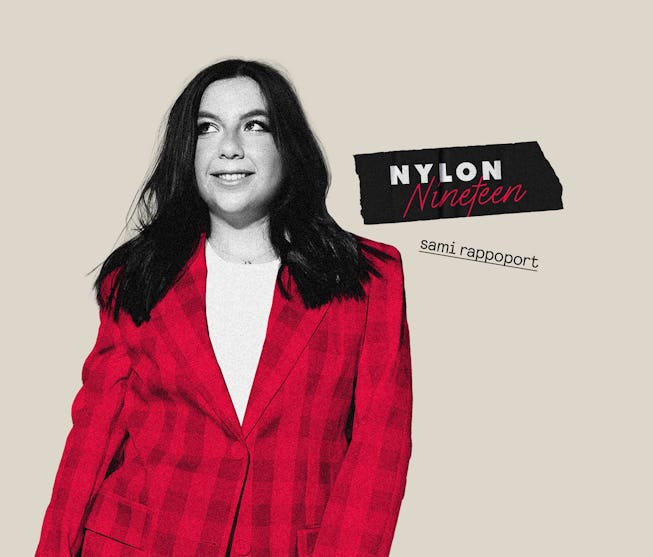 Sami Rappoport On Playing 'PEN15' Mean Girl Becca
The actor shared why she has empathy for her school bully character, and how she feels about PEN15 coming to an end.
On Hulu's fan-favorite comedy Pen15, Sami Rappoport plays Becca, the 2000s mean girl to Maya Erskine and Anna Konkle's awkward middle schoolers. It's a part she inhabits with hilarity and ease, but in real life the 17-year-old actor is anything but. Chatting with NYLON over the phone, Rappoport said getting into character as a bully at times made her cringe.
"I can't tell you how many times I apologize on set," she said. "It literally would break my heart every single time to say some of the things that I had to say to [Maya and Anna]. But we have such a friendship off camera, so they were always like, 'It's fine, don't worry. You got this, just let loose. Be mean!'"
Being a teenager herself, Rappoport says she's known her fair share of Beccas so it "was easy to tap into."
"Coming off of the first season, I was basically graduating middle school, so I had so much to use. And then as I was navigating high school, it was easy to also build onto that as the season progressed," she said.
Pen15, currently halfway through its second season, will be coming to an end when the season's final episode airs. Fans of the show have been sharing their fondness for the series, which skewers the insecurity of youth — and especially the youth culture of the Y2K era. "The end of PEN15 is very bittersweet, but I'm really glad that it ended the way it did, because I feel like Maya, Anna and Becca were able to grow up in a sense for this last season," Rappoport said. "Anna and Maya are geniuses and wear many hats. From acting to directing, writing and producing, these women are so hiring and felt that the story for now, was the way they set out to tell it."
With half of PEN15's second season still left to air (it debuts on Hulu today, December 3rd), there's still plenty left in store for Becca. Of her character's changes this season, Rappoport says we can expect growth from the show's resident mean girl. "I'm excited, because you do get to see her in a different light, and it might change your perspective of her a little bit," she said. "I do have empathy for her, because I've had this character for so long and I've grown to love her. But I love to hate her."
Below, Rappoport shares her answers for the NYLON-19: