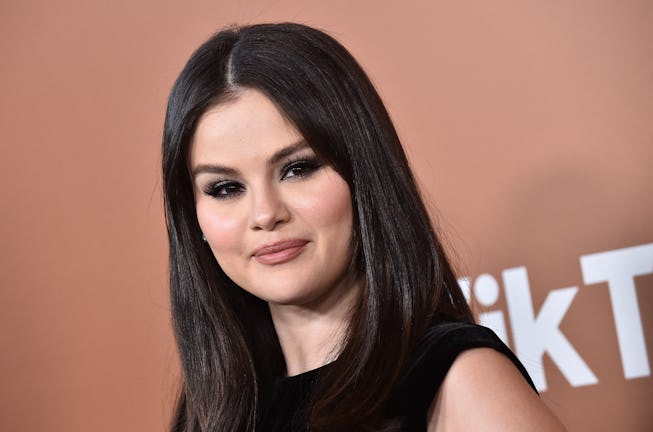 LISA O'CONNOR/AFP/Getty Images
Selena Gomez Is Dropping A New Single, "Single Soon," Soon
The star has described it as "perfect for the end of summer."
Selena Gomez is still hard at work on her next album, but she's ready to offer you a little taste of what she's cooking. Today, Aug. 17, the singer revealed that she will be dropping off a new single just in time for the tail-end of the summer months: a likely two-birds-in-one-stone move to get her fans off her back while still eking in on a seasonal hit.
Titled, fittingly, "Single Soon," the song arrives on August 25 and has been described by Gomez as "a fun little song I wrote a while back that's perfect for the end of summer."
As the singer reported on Instagram, she's still "not quite done" with SG3, her highly-anticipated upcoming album that she's been teasing for the greater part of the year. Back in June, Gomez gave an update on its recording process, sharing photos of her posted in the studio in Paris as she was filming the upcoming musical crime comedy Emilia Perez.
It's unclear if the upcoming release is serving as the official lead single of the upcoming album of if it's just a one-off — though our gut is going towards the latter.
Gomez worked with producer Benny Blanco and Cashmere Cat on the release, and will also offer the track on a limited edition 7" vinyl, which is available for pre-order here.
The singer's last album, Rare, was released in 2020, but that doesn't mean she's been absent from the charts. Her massive collaboration with Nigerian pop star Rema, "Calm Down," has dominated the charts all season despite it being released in 2022.
Outside of recording her album, Gomez has been splitting her attention between managing her Rare beauty brand, as well as the many on-going acting projects she's now involved with including the award-winning Only Murders In the Building, which netted 12 nominations at the 2023 Emmys (the ceremony, however, has officially been postponed until 2024).