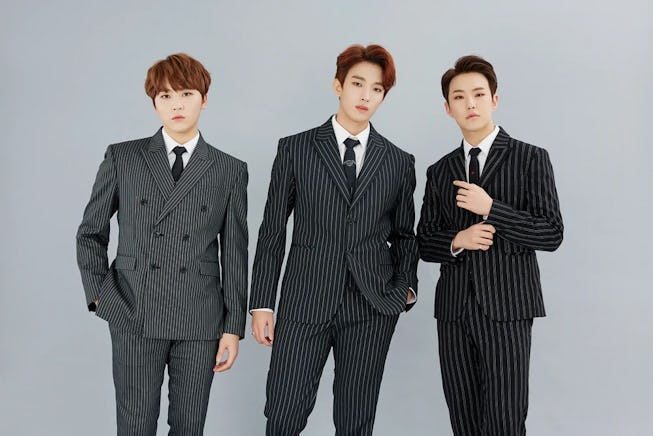 Pledis Entertainment
Seventeen's BSS Subunit Announces Comeback Album, 'Second Wind'
It'll be their first release since 2018.
There's no rest for K-pop group Seventeen. Not even a month after member Vernon released his solo single album Black Eye in December 2022, three of his fellow bandmates are now readying a release of their own for the top of 2023. This time it's the special Seventeen subunit group BSS — comprising Seungkwan, DK, and Hoshi — who's making its first comeback after five years.
BSS — an acronym for BooSeokSoon, the three letters of the names of the members who form the unit — has announced its new comeback single album Second Wind, due out Feb. 6. Not much in terms of details or song titles has been announced yet, but the group did unveil a first teaser photo for the new era which includes an image of a racetrack with the text, "Ladies and gentlemen they call us BSS."
BSS first made its debut back in 2018 with their explosive and high-energy song "Just Do It," a track that's become a favorite among Carats, Seventeen's fans, as it showcases the three members' exuberant personalities and talents. Over the years, Seventeen has debuted a couple of special sub-unit groups, including the group SVT Leaders made up of S.Coups, Hoshi and Woozi, alongside putting together various other unofficial team-ups and joint tracks.
The 13-member group is also currently in the midst of putting out their Thirteen Tapes project which will eventually see each member release an individual solo single mixtape. Vernon's Black Eye was the latest and third installment of the project. In 2022, the band also released its newest project as a whole unit, Face The Sun, shortly after renewing their contracts with their label, Pledis Entertainment, effectively kicking off a brand new chapter for the group.
From the look of things, this new chapter is shaping up to be one of their busiest and most prolific eras yet. See BSS' first teaser image below, and stay tuned for more teasers to come in the following weeks.