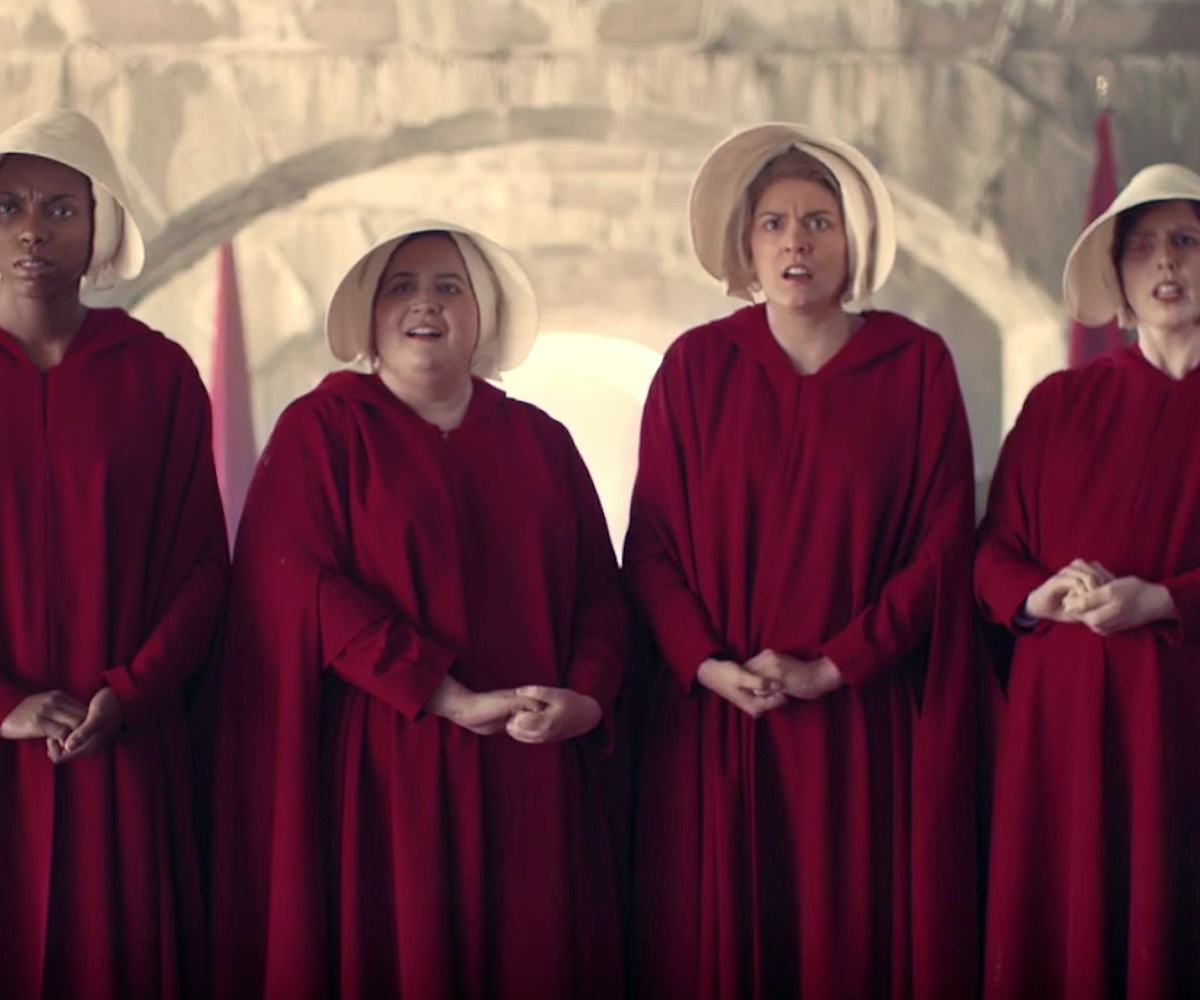 Photo via NBC
'SNL' Takes On 'The Handmaid's Tale' In Sketch That Shows The Oblivion Of Bro Culture
Life has changed for everyone, except the bros
In last night's funny-'cause-it's-almost-true spoof of The Handmaid's Tale on SNL, host Chris Pine and cast member Mikey Day stumble upon their former "girl squad," completely oblivious to the new Republic they're all living under which has stripped women of their rights. 
"Ash, Jen, girl squad man, what the frick is up?" Day asks the group of women (played by Sasheer Zamata, Aidy Bryant, Cecily Strong, and Vanessa Bayer), completely ignoring the fact that the women are dressed as handmaids and Vanessa Bayer is missing an eye. "You guys missed my Cinco de Mayo half birthday," Pine adds with perfect bro cadence. "What'd you do, flake or what?" 
The men seem to have missed out on what we learned at the beginning of the sketch via voiceover, delivered by Cecily Strong channeling Elisabeth Moss' character in the hit show: "In the not-too-distant future the world is a dystopia. Women are enslaved. We have no rights and no freedoms. Forced by an oppressive government to bear children under penalty of death." The men know a little something about what's going on, but not much. "Think I actually read something about that," Chris Pine says. "Super busy with work lately." 
Clearly the sketch is also nodding to the scary political situation in real-world America right now, where women's rights are (to a lesser degree) under attack. The undercurrent here is that women need to worry about educating their male peers just as much as resisting the government. 
Not to worry though, Pine's dad is a lawyer and can totally help them out. "He mostly does entertainment law, but I'm sure he knows someone good." 
Watch the full sketch below and laugh with fear, as much as delight.