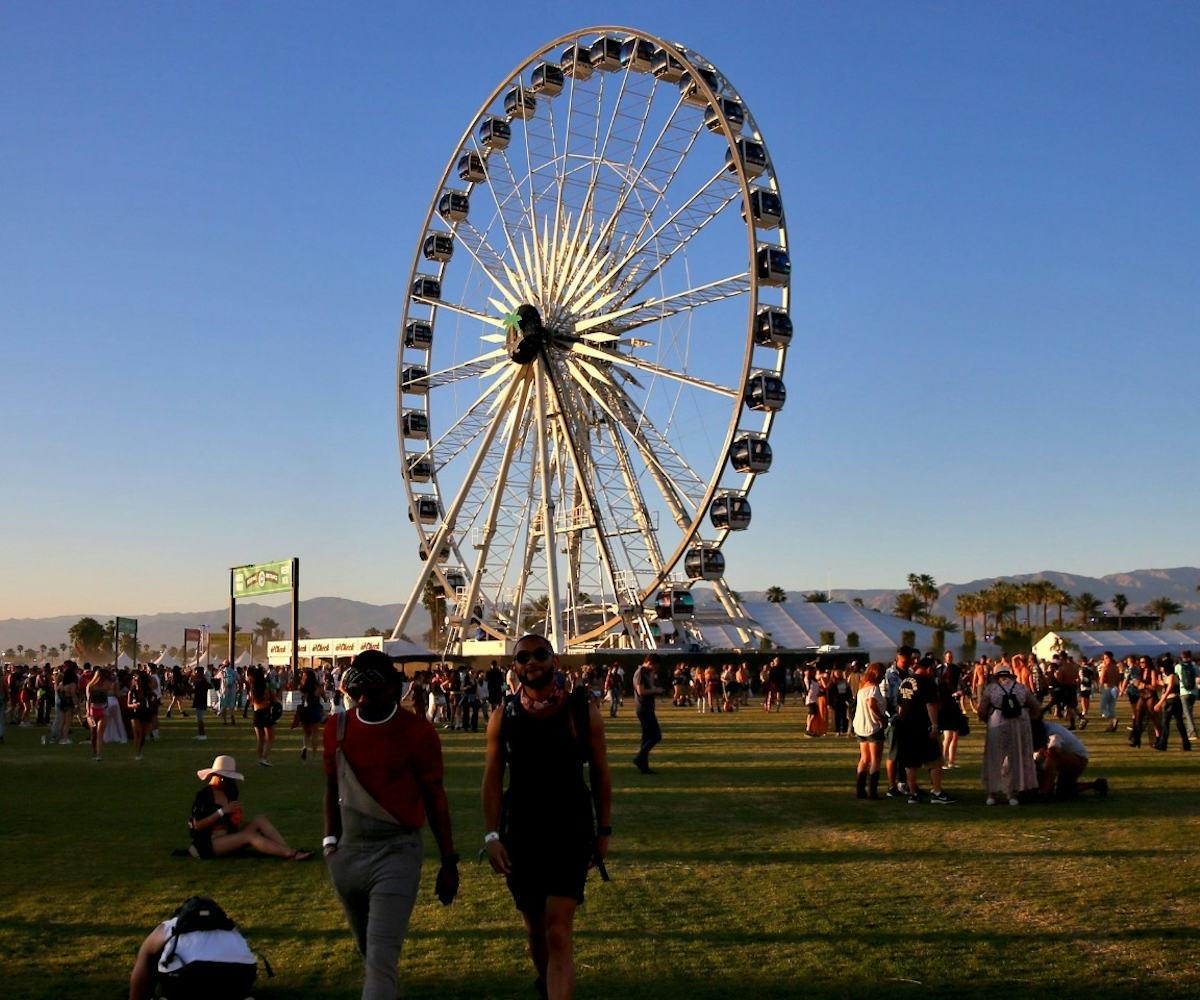 Photo by Rich Fury/Getty Images for Coachella
All The Music Festivals And Tours Impacted By Coronavirus
Did your favorite festival get cancelled?
As coronavirus fears continue to prompt event cancellations and discourage group gatherings throughout the country, the entertainment space has also been forced to take preventative steps in recent weeks. SXSW cancelled their annual festival at the behest of the City of Austin for the first time in their 35-year-run, and on Tuesday, Coachella announced that they will be postponing their festival until October. With peak festival season on the horizon, it's likely that more and more events will shift.
Several musicians and artists with tours planned have also already cancelled certain dates or downsized their stadiums, like Justin Bieber recently announced. Below, find a list of upcoming festivals, concerts, and tours that have either been cancelled, postponed or currently unaffected by the coronavirus. We will continue to add updates as news develops.
Lollapalooza
The well-known Chicago festival has officially been cancelled, and will host a virtual festival in its place. The festival organizers announced the news on Tuesday, asking its guests to still keep the July 30 - Aug. 2 date marked on their calendar as the virtual festival will include performances, archival sets, and "never-before-seen footage from the 1990s."
Governors Ball
The NYC-based music festival has officially been cancelled, the organizers announced in a March 26 statement. Originally set to occur May 29 - 31, the festival would've seen artists like Tame Impala, Missy Elliott, Solange, Miley Cyrus and more grace its stages. "Over the past few weeks, we have gone to great lengths to find a postponement date that works for all parties involved," they wrote. "Due to a myriad of planning and logistical issues, we have come to the conclusion that there are no sufficient options available to us." Those who purchased tickets have the option of getting a refund, or transferring their ticket to the 2021 iteration.
Firefly Music Festival
The Dover, Delaware-based festival has officially been cancelled, the organizers announced on March 24 through a statement posted on their social media. The four-day event was originally planned for June 18-21, and boasted names like Billie Eilish, Halsey, Blink-182 for their line-up. Those who purchased tickets can get a full refund, or choose to transfer it to the 2021 edition. Get more information here.
Glastonbury Festival
U.K.'s Glastonbury Festival has officially been cancelled. Festival organizers announced the cancellation on March 18, citing that they "are no longer able to spend the next three months with thousands of crew here on the farm." Those who paid the £50 deposit have the opportunity for it to rollover to the 2021 festival, or receive a refund. The five-day event that was set to take place June 24-28 would've boasted Kendrick Lamar, Taylor Swift, TLC, and more as headliners.
Bonnaroo
The Tennessee-based festival, originally scheduled for June 11-14, has been pushed until September 24-27, organizers announced on March 18. "All current tickets and onsite accommodations will be honored for the new weekend," they stated in a press release, though there is no word yet if they will be offering refunds. Visit their website for more information.
Live Nation Halts All Tours
Live Nation has reportedly halted all ongoing domestic and international tours, according to a report from Billboard. Starting March 12, they are asking all artists on the road to prepare to head home. The company is one of the world's largest concert producers, and this new directive will affect tours from Billie Eilish, Cher, Kiss, Post Malone, and more. Get more details on Billboard.
Green Day
At the end of February, the band announced that it would be postponing its upcoming shows in Asia due to the coronavirus. It joined other artists, including BTS and Stormzy, who have also postponed or cancelled shows in the region due to health concerns. Green Day's European, North American, and Australian tour dates, though, have been uninterrupted.
Ultra Music Festival
Sorry ravers, the Miami EDM music festival was officially cancelled on March 6. The festival faced some backlash for providing benefits instead of refunds in its place, including discount codes for merch and exclusive access to private sales, among others. All ticket purchases will be honored at Ultra 2021 or 2022.
SXSW Festival
South by Southwest was officially cancelled by the City of Austin on March 6, the festival's first cancellation in its 34-year-run, according to Billboard. The annual event had become a positive economic stimulant to the city's many businesses, as its fusion of conference sessions, comedy, film, music, and art events brought visitors from around the globe.
Justin Bieber Changes Tour
Bieber's first album in almost five years, Changes, dropped on Valentine's Day of this year. Scheduled to begin in mid-May, the tour recently canceled eight stops, having been moved to local arenas. There's been debate on whether or not the decision came about due to "soft" ticket sales or because of coronavirus' development. Bieber hasn't yet publicly commented on the downsizing.
Tove Lo Sunshine Kitty Tour
One stop in to her European leg, Tove Lo has decided to postpone the remaining dates of her European tour. On her official website, the dates have already been rescheduled for September. Tove Lo's next stops are slated for May in the States before she heads back to Europe.
Avril Lavigne Head Above Water Tour
After postponing the Asian leg of her tour last month, Lavigne has decided to cancel all European dates in light of the recent travel bans and restrictions. The artist hasn't yet given an update on potential new dates or rescheduling.
World Tour Bushfire Relief
Originally scheduled for March 13, the World Tour Bushfire Relief charity concert was cancelled after headliner Miley Cyrus pulled out of the event "in response to the current global health crisis." The one-night event was intended to raise funds for the WWF Australian Wildlife, the Nature Recovery Fund, and the Foundation for Rural and Regional Renewal, according to The Guardian.
Coachella and Stagecoach
The music festival famous for its desert setting, "glamping," and its celebrity sightings, was officially postponed on March 10 after days of speculation. Hold on to your flower crowns for a little bit longer as the new dates are October 9 - 11 and October 16 - 18, 2020. Stagecoach has also been rescheduled for October 23 - 25, 2020. Coachella had only been cancelled once before in 2000 due to low ticket sales, according to Buzzfeed.
Pitchfork Music Festival Berlin
Pitchfork Music Festival Berlin has officially been cancelled, according to a statement released by the organizers on March 17. The festival was planned for May 8-9, and would have been their inaugural show in the country. There will be no make up date and all ticket buyers will be refunded. As of March 17, the Chicago edition is still moving forward as planned. Find more information on Pitchfork's website..
Primavera Sound
Barcelona's gargantuan festival has been cancelled, festival organizers announced in early May. The three-day event was to take place June 3 - 7, with Lana Del Rey, Kacey Musgraves, Young Thug, 100 gecs, and more set to perform. It has since released its 2021 line-up, which has Tame Impala, The Strokes, and Tyler, the Creator set to headline.
Pitchfork Music Festival Chicago
The annual festival held at Chicago's Union Park, has been cancelled, Pitchfork confirmed in a statement. This year's lineup was to include headlining sets from the Yeah Yeah Yeahs, Run the Jewels and the National. Meanwhile, Pitchfork Music Festival Berlin was cancelled on March 17. See Pitchfork's full statement here.
Electric Forest
The electronic music-focused festival sold out in December 2019 and is also one of the upcoming festivals that is expected to happen as planned. Its official Twitter has remained active, even reminding its followers to go out and vote. Electric Forest is scheduled for June 25 - 28.