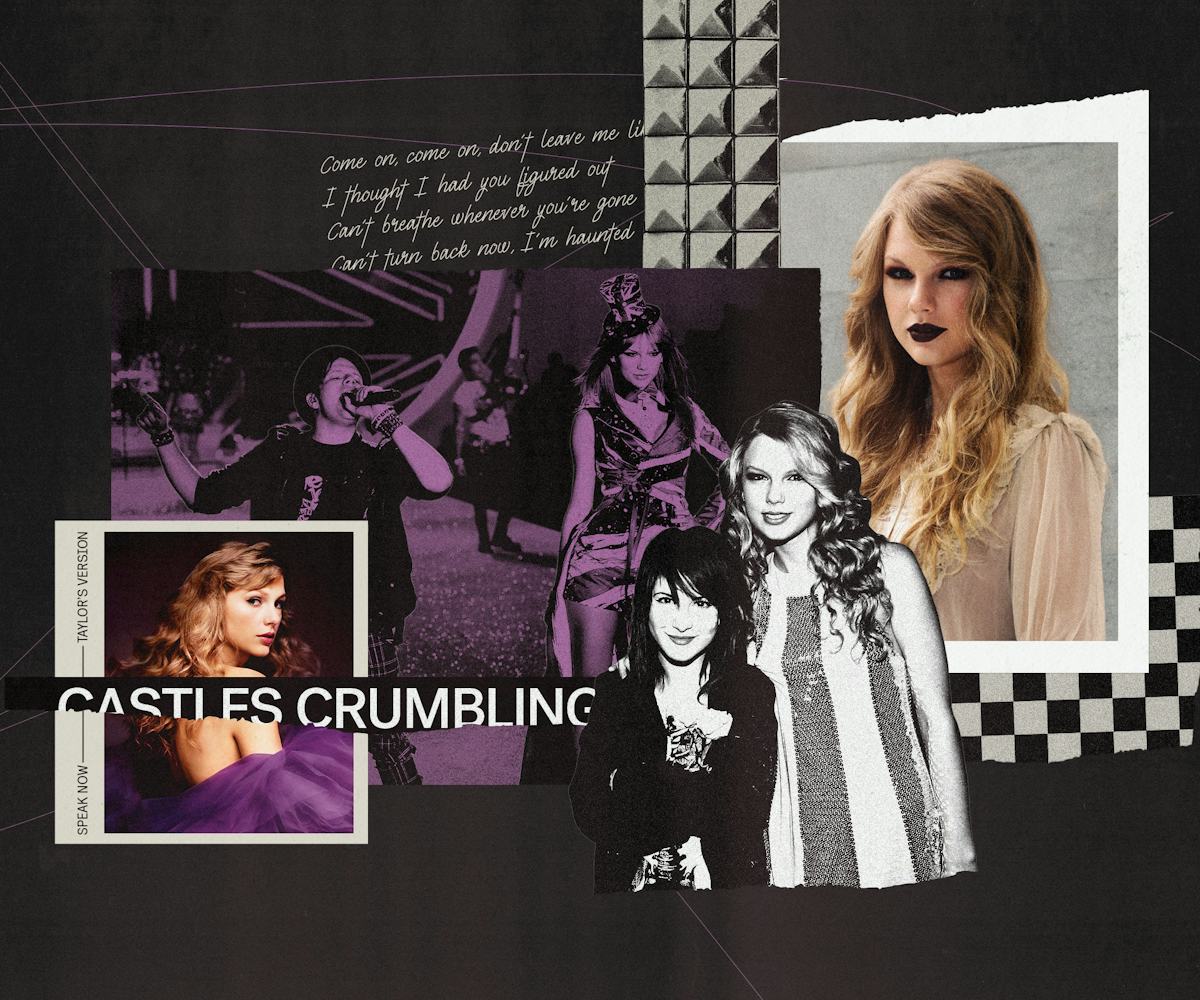 Lindsay Hattrick/Nylon; Taylor Swift; Getty Images; Shutterstock
Speak Now, Swemos, & Taylor Swift's Lifelong Emo Music Obsession
Speak Now (Taylor's Version) has mobilized a distinct subgroup of fans who love Taylor Swift — and emo music.
In 2005, Paramore and Fall Out Boy released two seminal albums: Paramore's debut, All We Know Is Falling, and Fall Out Boy's sophomore record, From Under the Cork Tree. At the time, a then-unknown Taylor Swift was 15, dreaming of making it in country music while sitting next to a redhead named Abigail in high school in Nashville. As she was coming of age and experiencing her most formative years, it was only natural she gravitated to what was sweeping mainstream music at the time: emo music.
With the imminent arrival of Speak Now (Taylor's Version), Swift is finally making her lifelong love affair with emo music official. The singer's latest rerecording includes two From The Vault tracks featuring Fall Out Boy and Paramore, bands who Swift has said "influenced me most powerfully as a lyricist at that time." Up until Speak Now was released in 2010, Swift was best known as a country artist thanks to massive hits like "Teardrops On My Guitar" and "Love Story" — but that all changed with her third album, whose self-written songs trod lightly into rock and pop punk. Casual listeners might not understand how — or why — these two bands are on the rerecording, but one subgroup of Swift fans calling themselves "Swemos" get it.
Swemos, a portmanteau of Swift and "emos," is a relatively new term for an old phenomenon: Taylor Swift fans who also love emo music. TikTok creator Tina Baer coined the term in May 2022 after making a video call to arms to this specific subgroup of fans over a mashup of A Day To Remember's "If It Means a Lot to You" and Swift's "Forever and Always."
"Between Taylor and the sub-genres within 'emo,' there is a lot of meaningful lyrics mixed with catchy moments that sometimes make listeners feel like it's written for them," says Baer — who also hosts The Swemo Experience, a themed Philly-based party series mashing emo and Taylor Swift — about the ties between emo and Swift's music. "It can definitely be applied to other genres and artists, but Taylor and these emo artists appeal more to the, for lack of a better term, sadder or more vulnerable audience that latch onto the words and artistry of the music."
Swift performing with Paramore's Hayley Williams in 2011.Frederick Breedon IV/WireImage/Getty Images
Swift and FOB's Patrick Stump perform at the 2013 Victoria's Secret Fashion Show.Dimitrios Kambouris/Getty Images Entertainment/Getty Images
Swift and frontman of Boys Like Girls Martin Johnson duet at Z100's Jingle Ball 2009.Bryan Bedder/Getty Images Entertainment/Getty Images
Swift has long been heralded as the songwriter of our generation. Like the fans of My Chemical Romance and Paramore, her fans gravitate to her music because of her ability to create entire worlds within her lyricism: it's as easy to imagine the wedding setting on Swift's "Speak Now" as it is the ashy cityscape on My Chemical Romance's "Welcome to the Black Parade." Katy Humm, a Swemo from Australia, notes that in Swemo circles Swift is just "emo in pink."
"Emo music is storytelling. It is putting lyrics to the feelings and experiences and wants and needs of the listener," says Humm. "And nobody writes in a way that resonates with those feelings more than [Swift] does. Which is why I think when people who are in the emo scene give her discography a chance, they tend to be drawn in."
But Swift's connection to the emo community is also deeply personal. When speaking with the Los Angeles Times back in 2008 in support of Fearless, she revealed that both she and her best friend Abigail thought of themselves as "ugly ducklings" and believed they were never going to be popular. That same year, MTV aired an episode of Once Upon A Prom, in which Abigail and Taylor both donned merch by emo-pop band Boys Like Girls. In 2015, 10 years after they first met, Swift threw Abigail a surprise 25th birthday party with a performance by Chris Carrabba, lead singer of emo band Dashboard Confessional. Emo music was clearly integral to their friendship: a throwback to the times when they were both outsiders.
This sense of community and camaraderie extends to emo fans everywhere; they come together because music is the common denominator and helps them feel seen and not as alone. Although Swift's pop radio hits may not sound the same as her emo influences, songs like "Invisible," "Haunted," and "Mean" have the same themes prominent in emo music: romance, insecurity, and feeling misunderstood.
Dan Stein, an emo and Swiftie fan, knows this all too well. "I grew up queer in a really small town and struggled a lot at school with bullying. I feel like that's almost an algorithm for both Taylor's music and emo music."
Although Swift's pop radio hits may not sound the same as her emo influences, songs like "Invisible," "Haunted," and "Mean" have the same themes prominent in emo music: romance, insecurity, and feeling misunderstood.
Over the years, both Paramore and Fall Out Boy have become good friends and tangible inspirations to Swift. Her infamous 2009 VMAs incident with Kanye West, which inspired "Innocent" on Speak Now, also pushed Paramore's Hayley Williams to reach out. When the band opened the first two dates of the Eras Tour in Glendale, Arizona, this past March, Williams told the story of how they first met, revealing that Andrea, Swift's mother, had reached out to Williams when she was leaving the 2008 Grammys, hoping to connect Taylor with people her age. After the VMAs scandal, the two finally met and Williams performed "That's What You Get" with Swift on her Speak Now World Tour. In a full circle moment, Swift announced this week that Paramore will be opening the 2024 European leg of the tour, stating that she and Williams have been friends since they were teens in Nashville and now get to "frolic around the UK/Europe next summer."
Similarly, FOB's Patrick Stump joined Swift on stage to perform "My Songs Know What You Did In The Dark (Light Em Up)" during a stop on her 2013 Red Tour and later that same year at the Victoria's Secret Fashion Show. In 2019, almost a decade after the release of Speak Now, Swift finally proclaimed her love for Fall Out Boy on the record, noting their lyricism. "I love Fall Out Boy so much," she told Rolling Stone. "Their songwriting influenced me, lyrically, maybe more than anyone else. They take a phrase and they twist it. 'Loaded God complex/ Cock it and pull it'? When I heard that, I was like, 'I'm dreaming.'"
Social media fan accounts like @swiftwentzparallels draw similarities to Pete Wentz's and Swift's lyrics, connecting songs that seemingly mirror one another. Per Swift, 1989's "Blank Space" is a song that is just one zinger after the other — a songwriting tactic she learned from listening to Fall Out Boy.
"I think Fall Out Boy, Paramore, Boys Like Girls, and more taught Taylor the value of unapologetic expression," says Swemo Zoya Sheikh, "the ability to adapt and reinvent with each album cycle, and a willingness to stick to your principles. Whether you want to write an entire album yourself, experiment with a new sound, or have an all-hits album with Max Martin, you can do that and none of it creatively defines you. Paramore and Fall Out Boy have defiantly been whoever they want to be with each release."
Now, at 33, Swift no longer feels like an outsider. And like her fans who feel her music and emo music have been the soundtrack of their lives, Swift can celebrate the artists that she leaned on when she did. For Swemos, Speak Now (Taylor's Version) and its vault tracks represent the ultimate manifestation of Swift's subtle nods to and lifelong flirtations with emo music: she's finally bringing together her love of creating with her love of emo music.
"I kind of expected the Hayley Williams feature but I almost jokingly had said to a friend how amazing it would be if we got a FOB feature too knowing that Taylor had said that Pete Wentz's songwriting was a big influence for her," says Humm. "When the tracklist came out and I saw that we were getting both features, my soul just about left my body. It was unreal."