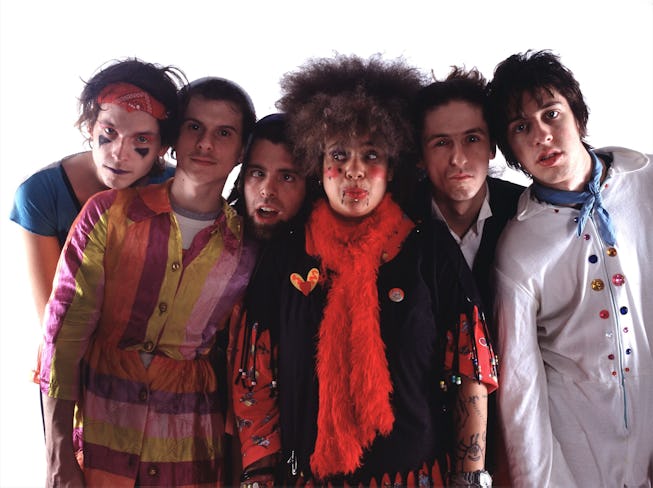 Natalie Gruppuso
The Moldy Peaches Announced First NYC Headlining Show In 20 Years
Indie sleaze is officially back.
The Moldy Peaches, the Kimye Dawson and Adam Green led-underdog band that played a crucial role in the '00s indie sleaze wave, is returning to New York City. The band has announced their first U.S. headlining show in over 20 years, set to take place at Brooklyn's Brooklyn Steel on August 10, 2023.
The iconic group officially reunited in 2022 and played their first live gigs together in 11 years at the Los Angeles and Seattle premieres of the documentary Meet Me In The Bathroom, the film that tracks their rise and the rise of fellow indie sleaze bands The Strokes, Yeah Yeah Yeahs, and LCD Soundsystem during the golden age of that era. It seems that reunion sparked a second life in the band: in addition to the upcoming Brooklyn Steel show, the band is also scheduled to play a smattering of gigs in the U.K. and Europe this summer with a show at London's Roundhouse venue and sets at Primavera Sound Barcelona and Madrid (also their first shows in 20 years on the continent).
"We're excited to be back, older, and moldier," the band wrote of their return in a press statement. "Let's see if we still got it! Once a Moldy Peach, always a Moldy Peach."
If you haven't yet seen Meet Me In The Bathroom and/or somehow missed NYC's pivotal turn-of-the-millenium music scene, The Moldy Peaches is an iconic group in the city's storied history. Founded by Dawson and Green around 1999, the group was a leading voice in the city's anti-folk scene, a sound they captured on their acclaimed 2001 self-titled album that contained hits like "Little Bunny Foo Foo" and "NYC's Like A Graveyard." The band toured and opened for The Strokes on their first world tour in 2001, footage from which you can see in the Meet Me In The Bathroom doc. And though The Moldy Peaches officially went on hiatus in 2004, they were eventually elevated to cult status when their acoustic duet "Anyone Else But You" belatedly took off after being included on the 2007 film Juno's award-winning soundtrack.
Seperately, Dawson and Green have also nurtured fruitful solo careers. Dawson released albums throughout the late '00s and early 2010s, and collaborated with Aesop Rock, They Might Be Giants, and The Mountain Goats. Green has been releasing music since as recently as 2022's That Fucking Feeling. Now, they're back together again — time is a flat circle, etc, etc.
Read NYLON's review of Meet Me In The Bathroom, and purchase tickets for The Moldy Peaches' NYC show here.