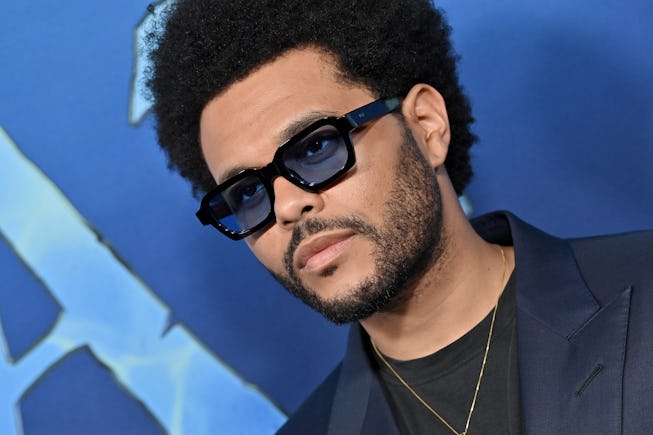 Axelle/Bauer-Griffin/FilmMagic/Getty Images
The Weeknd Just Changed His Name On Social Media
"It's getting to a place and a time where I'm getting ready to close the Weeknd chapter."
Don't Call The Weeknd, The Weeknd anymore. The Canadian pop star has officially changed his name to just Abel Tesfaye — his government name — on all of his social media accounts.
Last week, Tesfaye revealed in an interview with W Magazine that he was ready to retire his The Weeknd alias, and it seems he's now followed through. But it's clear he's been stewing on this change for much longer than that; way back in April, he sent out a tweet to his fans seemingly asking their opinion on a potential rebranding. "ABEL formerly known as The Weeknd ?" he tweeted to hundreds of thousands of likes, with even celebrities like John Legend weighing in (he was for it).
Speaking with W Magazine ahead of the release of his new HBO show The Idol — which is centered around the dark, seedy underbelly of the pop star machine — Tesfaye revealed that working on the show led him to start interrogating his own pop star life and identity as The Weeknd, as well as eventually understand that he might've outgrown the character.
A pivotal point occurred in late 2022, when Tesfaye was shooting a scene for the show while also performing a concert as The Weeknd at Los Angeles' SoFi stadium. "I had to take off the Weeknd outfit, put on Tedros's wig, shoot with Jocelyn [Lily-Rose Depp], then go back to being The Weeknd," he told W. "It was tough to go from one head to another. Then, after the concert, I lost my voice. No voice came out at all. That's never happened before. My theory is that I forgot how to sing because I was playing Tedros, a character who doesn't know how to sing. I may be looking too deeply into this, but it was terrifying. As The Weeknd, I've never skipped a concert. I've performed with the flu. I'll die on that stage. But there was something very complicated going on with my mind at that moment."
This apparently led to an identity crisis of sorts, and later, a larger reckoning with his entire career. "I'm going through a cathartic path right now," he continued to W. "It's getting to a place and a time where I'm getting ready to close the Weeknd chapter. I'll still make music, maybe as Abel, maybe as The Weeknd. But I still want to kill The Weeknd. And I will. Eventually. I'm definitely trying to shed that skin and be reborn."
The concept of being reborn isn't a foreign one to Tesfaye; as previously mentioned, he used his "Starboy" music video to re-introduce a new Weeknd, killing the "old" one before having a new and improved version take his place (aka the the era when he cut his signature locs). But this pivot seems to be a much more grand and final overhaul; later in the interview, Tesfaye claims that his next album as The Weeknd will possibly be his last.
"The album I'm working on now is probably my last hurrah as The Weeknd," Tesfaye said. "This is something that I have to do. As The Weeknd, I've said everything I can say."
It isn't all too surprising that Tesfaye feels this way. In recent years, he's branched out of music considerably into voice acting, producing, and directing, showing he's ready to explore other paths and creative mediums. "Film and TV is a new creative muscle for me," he told W.
As for the rumors about the chaotic production and filming process behind The Idol, which finally premieres on HBO on June 4, following a debut at Cannes Film Festival, Tesfaye looks at it positively: "From what I've seen, the show is great. Everything is a risk: When you've done the best you can, I would call that a happy ending."
This article was originally published on