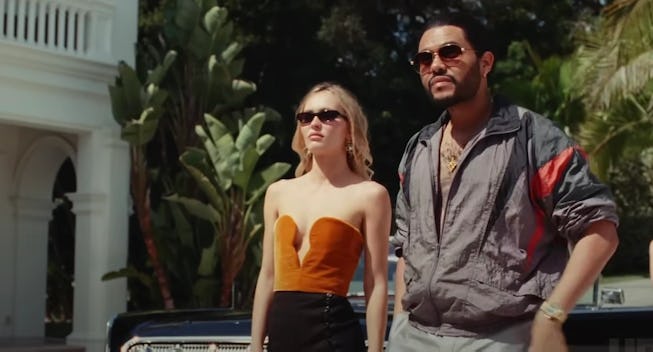 'The Idol' With The Weeknd: Release Date, Cast, Plot
Whoa, The Idol Finally Has A Release Date
Lily-Rose Depp will also star in the series, co-written by Euphoria creator Sam Levinson.
Could an EGOT be in The Weeknd's future? The Grammy-winning vocalist is teaming up with Euphoria creator Sam Levinson to create a new and twisted television series about "the cult of the music industry." The show, titled The Idol, follows a female pop singer who falls for an enigmatic club owner in Los Angeles, who just so happens to be the leader of an secret cult.
HBO has officially picked up the series, and casting is well underway. In her television debut, Lily-Rose Depp will play the female lead opposite The Weeknd's Abel Tesfaye. Shiva Baby's Rachel Sennott, Hari Nef, Blackpink's Jennie, Troye Sivan, TV on the Radio's Tunde Adebimpe, Anne Heche, Suzanna Son, Melanie Liburd, Steve Zissis, Elizabeth Berkley Lauren and Nico Hiragahave also recently joined the A24 production.
In addition to starring in the series, Tesfaye will co-write and executive produce The Idol alongside Levinson and Reza Fahim — all of whom are sure to capture the gritty underworld of Los Angeles nightlife, given their personal ties to the material.
According to a profile by Vogue, Fahim started his career as a "well-known nightlife entrepreneur in L.A., where his circle of friends and patrons include some of the most influential young actors and musicians working today." He eventually transitioned to writing full time, and began working closely with The Weeknd who rose to stardom in L.A. as well. And as we all know, Levinson, who created Euphoria and Malcolm and Marie, knows how to write a good West Coast mess.
Though this is The Weeknd's first time working so intimately on a series, he's no stranger to television or film. Last year he wrote and starred in an episode of American Dad, and prior to that he played himself in A24's critically acclaimed Uncut Gems.
Below, find everything we know so far about The Idol including cast details, plot, and its release date.
What is The Idol About?
The Idol is a drama series following a rising pop star (Depp) who becomes romantically involved with an enigmatic self-help guru turned modern-day cult leader (Tesfaye). While the details of their affair remain a secret, the first teaser for the show hints at pure chaos.
The story, as far as we know, is a classic boy-meets-girl setup. Depp meets Tesfaye, they fall for each other, and as their lives intertwine, the two are strung into a world of partying, drugs, sex, and alcohol. The teaser is essentially a minute-long bender, set to the tune of an electric guitar. While Depp's manager screams "more, more, more, orgy," scenes of Depp's unraveling flash across the screen. At one point Tesfaye's character asks, "Do you trust me?" Without missing a beat she says, "Not really."
The Idol is described as "the sleaziest love story" — their words, not mine. Set in Hollywood, the upcoming series will explore the dark side of a glamorous world without any limits.
Who is in The Idol?
The Idol features an impressive cast. Starring Lily-Rose Depp, and Abel Tesfaye (The Weekend), the show's expansive supporting ensemble also includes Jennie from Blackpink, Troye Sivan, Debby Ryan, Rachel Sennott, Steve Zissis, Maya Eshet, Tyson Ritter, Hari Nef, and Melanie Liburd.
When can I watch The Idol?
After months of delays and no release date in sight, HBO executive Casey Bloys suggested in a recent interview that The Idol would finally arrive after the premiere of season four of Succession. Now it's official: The Idol will premiere in Cannes ahead of its streaming debut on June 4.
In the meantime, check out the show's official teasers below.
How many episodes will The Idol have?
The Idol will be a limited series with six episodes.
This article was originally published on