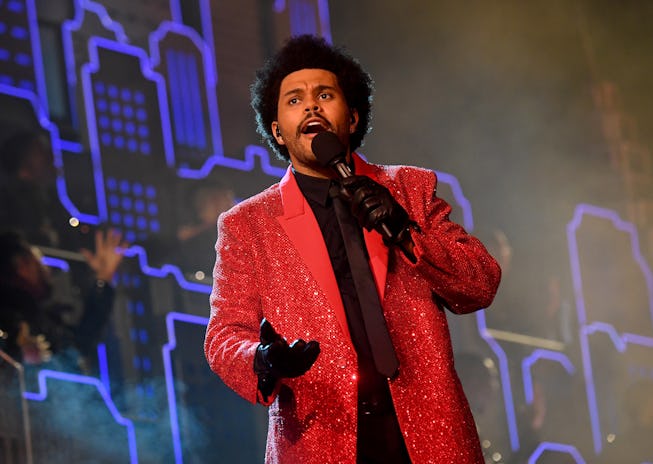 Kevin Mazur/Getty Images Entertainment/Getty Images
The Weeknd Will Release A New Song As An NFT
The megastar is the latest to jump on the digital art craze.
It's finally time to learn what an NFT is now that one of the world's biggest stars is getting ready to release something in the trending digital art format. The Weeknd revealed that he's working on a new song that will be "living in NFT space," he tweeted on Friday, adding that the track will still be a part of his After Hours universe. "[T]his chapter isn't quite done yet," he wrote.
NFTs have seen a huge boom in activity and mainstream buzz in recent months, culminating in the sale of a digital collage by artist Beeple for a record $69 million in March, which set a record high for digital art. You can essentially think of NFTs — or non-fungible tokens — as digital collectibles that are created and traded on the blockchain, an open ledger that makes every sale transacted on the platform public. That system is what gives an owner of an NFT proof of authenticity and ownership over the artworks they buy.
Many artists have since released their own NFTs. Kings of Leon became the first band to release an album as an NFT this past March when they dropped their eighth studio effort When You See Yourself as part of a collection called 'NFT Yourself.' In February, Grimes released 10 pieces of NFT artwork that sold out in 20 minutes for $5.8 million. Bigger stars are getting in on the action, too: Lindsay Lohan recently put her new song "Lullaby" up as an NFT auction; at the time of writing, its bid has reached 50,000 TRX, the equivalent of approximately $32,104.
The Weeknd released his album After Hours just over a year ago in March 2020. Though the pop star was recently snubbed at the Grammys, his past year was still filled with career-defining moments from his elaborate award show performances to his electrifying half-time Super Bowl show.