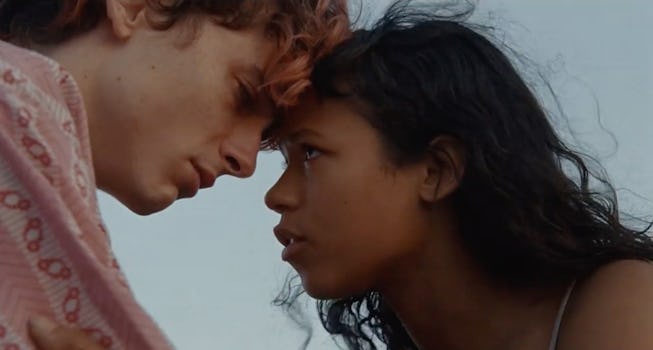 YouTube
Timothée Chalamet & Taylor Russell Star In Intense First Teaser For 'Bones & All'
As Armie Hammer's ex-wife Elizabeth Chambers said, "No. Words."
Five years after director Luca Guadagnino's Call Me By Your Name turned Timothée Chalamet into an indie film icon (and an Oscar nominee), the pair are reuniting for another coming-of-age film, with a strange and timely twist.
In 2021, Guadagnino announced that he was reportedly interested in making a film adaptation of Camille DeAngelis' 2016 young adult novel, Bones & All. Fast forward to today, August 10, and Chalamet has appeared in the first trailer for the upcoming film, which follows a girl who goes in search of her father... as she tries to control her urges to eat people. Does that last part sound familiar? Unfortunately, the plot brings to mind the other CMBYN star, Armie Hammer, who was most recently in the headlines for a DM leak involving multiple women alleging abuse, with the specific gory detail that Hammer is potentially into cannibalism, sending shock waves through Hollywood.
In the short clip, Chalamet acts opposite Taylor Russell, who you may remember from 2019's Waves, who's presumably the flesh-eating protagonist of the movie. The two are seen in an intense huddle as Chalamet ominously asks Russell, "You don't think that I'm a bad person?" Russell responds, just as intensely, "All I think is that I love you." Interspersed throughout the trailer are clips of the two's other chilling adventures which are layered over some harrowing screams.
Though Hammer is not involved in the movie, many were quick to point out the bizarre connection to Hammer's ongoing scandal when Guadagnino first announced that he was making the movie. At the time, Hammer's ex-wife, Elizabeth Chambers, commented on Just Jared's Instagram calling the film "a...cannibal love story movie," writing: "No. Words."
It was Chambers' first and only comment on the situation and really sums up how many felt about it. For his part, Hammer has since been essentially exiled from Hollywood, and was last reported working as a timeshares salesman at the Cayman Islands.
Bones And All will premiere on November 23. In the meantime, check out the film's teaser above.
This article was originally published on