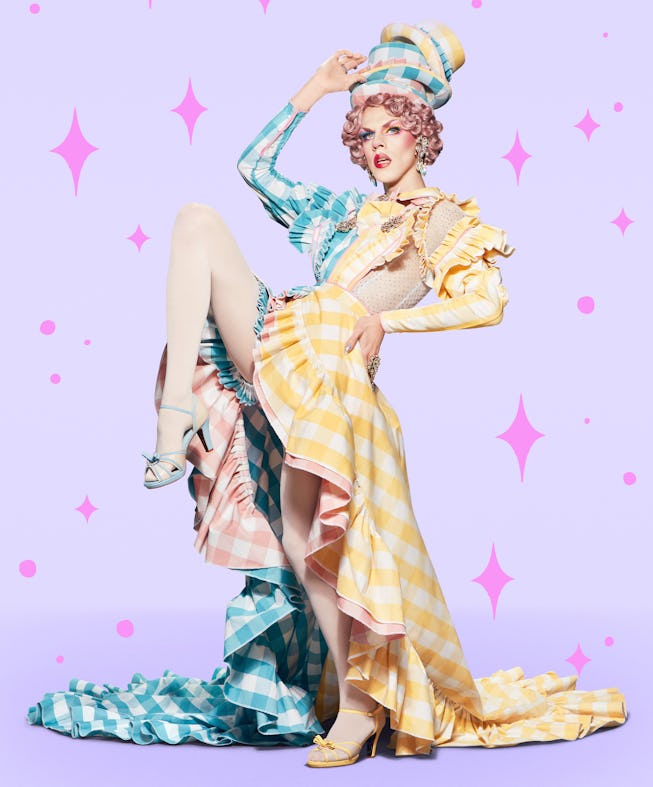 Photo courtesy VH1
Exit Interview: Utica On Getting Cut From 'RuPaul's Drag Race'
The season 13 queen on the ups and downs of her time on the show.
Every week, NYLON writer Michael Cuby will conduct an exit interview with the queen eliminated from RuPaul's Drag Race Season 13. This week, Utica was asked to sashay away.
For the queen from the smallest town (Utica, Minnesota — less than 300, according to recent censuses), 25-year-old Utica Queen sure made a huge impression on RuPaul's Drag Race season 13. Self-described as "quite the kook," the 6'4" Minnesotan surprised everyone with her keen fashion sense, somehow finding a way to blend her slightly off-kilter energy with editorial-worthy high fashion ensembles. Still, Utica's quirkiness sometimes put her at odds with the judges, who adored her looks but felt that her kooky character distracted from their glamour.
And though it was that very kook that endeared Utica to many fans, it often got in the way of her performance in the competition — particularly when it came time for her to embody another character, whether that was a disco diva ("Disco-Mentary"), a sassy mom ("Bossy Rossy Ruboot"), or even the late Bob Ross ("Snatch Game"). Performances like these tended to land Utica near, if not at, the bottom, but with her finely-tuned, otherworldly lip-sync skills, she frequently managed to avoid elimination — even next to heavy-hitters like Elliott With 2 Ts and Tina Burner. However, there's only so far lip-syncing can take you, and by the time Utica landed in the bottom twice, it was clear that her Drag Race days might be numbered.
Last week, when tasked with doing a roast of past Miss Congeniality winners, Utica struggled to invoke humor into her reads. While rehearsing her jokes in front of Michelle Visage and Loni Love, both judges suggested that she change up some of her more scathing material, but without anything to fall back on, Utica stuck to her guns for the main challenge. In the end, the improv trouper bombed and she landed in the bottom for the second week in a row, and for the third time in total. Up against the current frontrunner Symoné, Utica broke her winning lip-sync streak and was ultimately sent home — but not before getting two middle fingers from RuPaul.
Ahead of her elimination, NYLON hopped on the phone with Utica Queen to talk about her fashion sensibility, adjusting her drag aesthetic to please the judges, being an empath, cultural appropriation, what she learned from being madeover by Symoné, getting "excited" to lip-sync for her life, and why she thinks her roast resembled "a burnt bag of popcorn."
In your own words, what would you say went wrong leading up to your elimination?
I don't necessarily think anything went wrong. I feel like I went into the challenge very headstrong. Even though I wasn't the best, I still had so much fun, regardless of the result. I could always be like, Oh, my lip-sync could have gone better. But honestly, I feel confident in my beautiful lip-sync — I had a great time and I feel like I went out on an amazing note. Of course, the roast could have gone so much better. But I feel like it's kind of a burnt bag of popcorn: it has some really good kernels in there, but it's still a burnt bag of popcorn.
One of your biggest critiques from the judges was that many of your jokes came off as mean. During the rehearsal with Michelle Visage and Loni Love, you delivered some of those same jokes and basically got the same critique then. Do you regret keeping those jokes in even after being persuaded to get rid of them during the rehearsal?
Well, you know, they asked one of the nicest people to do an insult comedy challenge and I was like, "Fuck." (Ooops. Sorry. Jesus would not approve. Darnit.) But it was a very difficult challenge for me. It was my first experience with a roast and I found it to be really difficult to understand how a joke works. I know how a joke is supposed to feel — it's supposed to make people laugh. But when it comes to writing and delivering them, I definitely came up a little short and my jokes sounded a little offensive. So I was thinking, How do I bridge this gap and make sure that my jokes felt like comedy but also make them not seem offensive?
When they were telling me, "Oh dear, you're having a bit of problems with these jokes and you should probably change them," I didn't know what to do because I didn't have a lot of material and we didn't have a lot of time to change it up. So instead of [risking] not having enough material, I stuck with what I had. I was thinking that I could spin them to be not as harsh. But then, in the heat of the moment, just getting so nervous and freezing up on stage, I resorted back to what I had before and it was kind of a flop. I think I had some cute zingers in there. But I would never want to be offensive.
After each of your lip-syncs, you came back into the Werk Room expressing that you were somewhat excited about getting the chance to perform again. You obviously aren't the only drag queen who feels like you come alive on stage, but I think many of your season 13 sisters disagreed with your assessment that lip-syncing for your life is an "exciting" experience. How did you stay in such a chipper mood when there was the possibility of you getting eliminated?
Asking me to do something like lip-syncing is very exciting to me because being able to showcase what I do best is definitely what I'm all about. I feel safe and I feel alive on that stage when I'm lip-syncing. A lot of the other girls would feel terrified about going home. But for me, to just have so much fun while showing them what I've got, it really fills me with so much joy. I think I left on such a good note because I had so much fun and felt confident in my performance. Who wins and who loses is arbitrary at the end of the day, because as long as you've put your best foot forward, it's up to the judges. So I feel confident in what I did and that's okay. I feel like I didn't win the night but I did win the hearts of the viewers. So I'll take it.
Did you feel extra pressure with this being your third time in the bottom? Usually, queens don't make it past a third lip-sync.
I definitely think so. But again, for me, in a lip-sync setting, there's not a lot of pressure. I really feel alive on that stage. Everything else melts away and I just get to share a beautiful story for three minutes or so. I get to share what's in my heart and I feel like it's honestly so fun. At the end of it, I felt like, well, I'm going home but at least it was so, so much fun.
You're a very quirky queen with a very interesting approach to drag. Historically, I think quirky queens are forced to adjust in this competition. The judges often seem to push the more goofy, off-kilter queens towards a more glamorous aesthetic. Did you ever feel a pressure to conform or adjust your signature aesthetic to get the judges' approval?
Oh, absolutely. I kept getting notes from the judges like, "You're too quirky." And I'd be like, "Oh, okay. Thank you for acknowledging that." But I remember, at times, I'd be like, I'm going to just continue being me because I feel like some of these critiques are a judge on my character, so I'm not going to take a lot of stock into them because I'm not going to change who I am to abide by someone else's perception of me. So when I would get that pushback, when they'd be like, "Oh, we love this outfit, but you're so goofy that it discredits the outfit" — for me to hear that, I understood where they were coming from, but that's how I show my love language of drag. I did want to give them as much as what they wanted to see, but I also wanted to be true to myself. I tried to balance that as much as I can while still having as much fun as I could with the process. I think I nailed it.
I'd agree. As much as they'd request more glamour and less quirkiness, you were also regularly praised for your distinct fashion sense. I think you were definitely one of the season's foremost look queens. Where does your fashion aesthetic come from?
Coming into Drag Race, I did not realize that the work would be revered in that way. To be deemed one of the fashion queens of the season really means a lot. It really gives me a lot of validation to feel like I'm doing things right. But when it comes to my fashion, I really just want to share stories and tell the story of this quirky person in this fashionable clothing. When I put things on my body, I want to feel as beautiful as I can. I feel that that's palpable on stage.
I know that getting made over by Symoné was a huge turning point for you in the competition, particularly since it finally allowed you to show a different side of yourself to the judges. Can you tell me what, specifically, Symoné helped to bring out in you?
I learned so much from Symoné during that episode. I learned so much from her that you can be so powerful. We, as artists, just find this incredible strength in the work of being who we are and just feeling so beautiful. I feel like I hid behind my goofiness a lot in the show because I was so nervous and just trying to give the best side of myself. But she really taught me that I can just put my chin up and strut down that stage and just be gorgeous while also telling a beautiful story. And I feel like she really took that away from my look as well. It was just this beautiful match made in heaven where we got to just share a little bit of our culture with each other and share the art and stories and really just pounce down that stage.
On the other hand, you were very reticent at the beginning of the makeover challenge because you were concerned about being culturally appropriative. A similar thing happened during Snatch Game, when you opted not to wear an afro for your Bob Ross impersonation, even after RuPaul pointed out that Bob Ross did, indeed, have an afro himself. Why do you think you were so concerned about crossing those boundaries?
I was put into the center of these conversations and I just wanted to put my best foot forward to bring reverence to all these wonderful cultures. I came off as very concerned about all of it because I just didn't want to step on anyone's toes. I wanted to share this storytelling but also do it in the right way. I wanted to make sure that I had lots of conversations in the room about the work because I feel like it's important to tell these stories, but I also wanted to bring reverence to other people's culture and not just do this work blindly. It's about having the conversation. Coming fresh off the movement, I think it's important to have these conversations. I feel like I do a lot on the show in terms of learning what you can do to put your best foot forward and just share in each other's art and work.
In this week's Untucked, you talked about how this competition forced you to deal with things about yourself that probably would have been better to deal with beforehand. Can you expand a bit on that?
The competition puts you in a mindset and a frame where you really have to be so confident in who you are and your work and you have to be so headstrong because they throw you for so many loops. It can be very self-deprecating at times. I felt like my mind wasn't ready for the stress that Drag Race can put you under sometimes. I wanted to express that this competition is really difficult, and for me, being such an empath and someone who's so in tune with their emotions, I wish I would have figured out more methods of keeping myself stable and level-headed. I feel like it got to a point of stress that made it very difficult to create and focus and do good work. Those are the types of things that I wish I would have had time to unpack or just have figured out before I came. But regardless, it was still so fun and I'm so happy that I got the experience to do it. Even though it was a crazy pressure-cooker, I'm just so glad that I got to share my art on that stage. I think that's one of the best parts of the whole experience.
This interview has been edited and condensed for clarity.