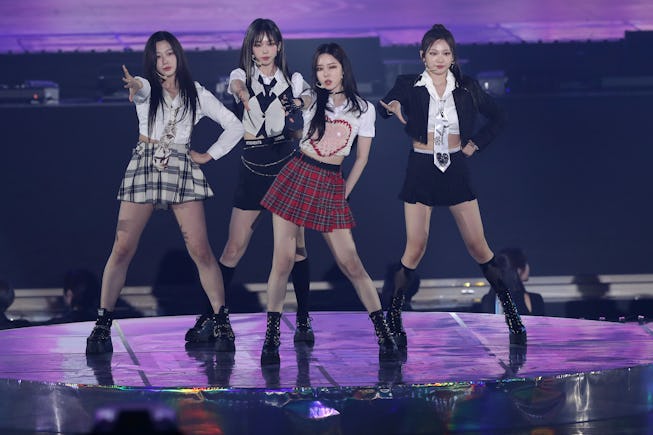 Han Myung-Gu/WireImage/Getty Images
Watch the Teaser Trailer for aespa's VR Concert at KWANGYA
The K-pop group is taking the concert video into a new reality with a VR concert experience.
aespa is one of the most interesting K-pop girl groups in any world, be it physical or virtual. While most concert videos exist in only one universe, aespa is about to bring the concert experience into another reality — a virtual one. In a VR concert experience that's so ahead of it's time it will stretch the folds of your brain, aespa and their avatars take you to KWANGYA, an unruled place where audiences will get to experience the girl group, their avatars, and their stories up close and personal.
"We're so excited to exclusively premiere a glimpse of our first VR Concert at Kwangya at South by Southwest in Austin, Texas," Karina, Winter, Giselle, and Ningning said in a video teaser, which premieres today. "We prepared a special VR Concert that can't be found anywhere else in the world and it is a unique way to meet face to-face with our MYs. We can't wait to share the full release with everyone soon. See you soon at Kwangya!"
But what exactly does that mean? The teaser released today shows the women of aespa performing synchronized dances on a green screen to their debut hit "Mamba," which is then rendered a stage with a computerized backdrop of neon cherry blossoms and bioluminescent plants — which is ostensibly "KWANGYA", the SM Culture Universe's virtual world.
For the uninitiated, KWANGYA is a word in Korean meaning "wilderness." According to an aespa superfan site, in "Black Mamba," KWANGYA is described as an unruled and infinite place located beyond FLAT, which is the virtual space for the æ, where aespa and æ can "SYNK," which means to achieve is a state of connection between human in the real world and their counterpart avatars. If that's all a lot to take in, that's okay: Soon enough you'll be able to see for yourself.
aespa's VR Concert at KWANGYA premieres at South by Southwest in Austin, TX on March 12. The full release of the VR Concert will be coming soon across all major VR headset platforms. In the meantime, you can watch the behind the scenes trailer and video message from the group below: