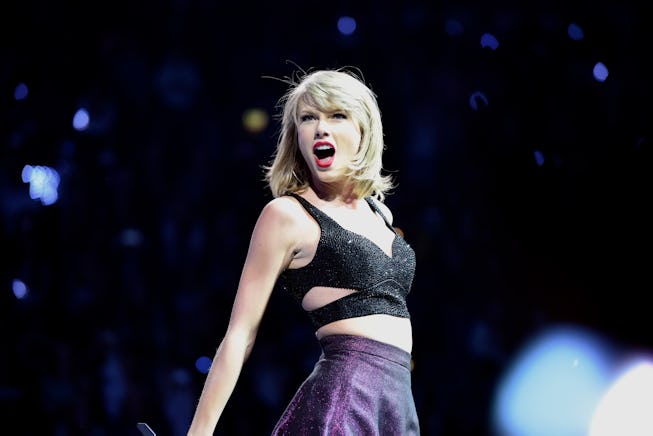 ullstein bild/ullstein bild/Getty Images
Here's Why Fans Believe '1989' Will Be Taylor Swift's Next Rerecorded Album
The proof is in her latest interview with Stephen Colbert.
To the layman, Taylor Swift's recent appearance on The Late Show with Stephen Colbert was business as usual: a regular, albeit quirky, interview bit that involved the pop star trying to convince Colbert that her song "Hey Stephen" wasn't written about him. But to eagle-eyed Swifties, the segment was a clue extravaganza, filled with secret Easter eggs from the star that have now led many to believe that 1989 will be Taylor Swift's next rerecorded album.
It's no secret that Swift herself is a major clue and Easter egg aficionado. When she announced her Fearless re-recording in February via a lengthy note to her fans, specific capitalized letters throughout the text spelled out its release date, April 9, in code. Numbers have also played a large part in the singer's musical lore; the fifth tracklist slot on each of her albums has always been reserved for the most emotional tear-jerkers, and Swift has also shared her affinity for the number 13, which she considers to be lucky. Plus, it's practically customary now to expect that Swift's music videos will include Easter egg hints to future song titles and album clues.
So when it came to her Colbert interview on Tuesday night, the most dedicated Swifties knew there was a secret second layer to everything she was saying; "everything in this interview feels like an Easter egg," commented one fan on YouTube. Here are some of the most compelling theories that suggest 1989 is the next album Swift will rerecord.
Perhaps the biggest clues from Swift are the specific phrases she uses throughout the interview. In its five minutes, she manages to bring up New York — a possible reference to 1989's opener "Welcome To New York" — and at one point tells Colbert to "shake it off," obviously pointing to the lead single of 1989.
Swift also brings up Stephen King and many of his works, including his Dark Tower series, The Shining, The Stand, and his short stories, all of which fans have also interpreted as clues pointing to 1989. These are a bit more shaky, as The Shining and The Stand were published in 1977 and 1978, respectively, while his Dark Tower series was published from 1982 to 2012. King did, however, release a collection of short stories in conjunction with other authors in 1989 called Dark Visions.
A lot of numbers also pop up in Swift's interview. She mentions the specific address of the Colbert Report offices, 513 W 54th St. New York, NY 10019, which fans have interpreted as May 13 (513), signifying the date on which Swift will either release 1989 (Taylor's Version), or a single from the rerecording.
Swift also brings up Colbert's height, 5'11", and his social security number, beginning in "33035" in the interview. Adding those numbers up together (5+11+3+3+0+3+5) gets you to 30, which Swifties are interpreting as another sign pointing to May 13 being a significant date (it's 30 days away from when the interview aired, April 13.)
Finally, there are some other visual clues that fans have also interpreted as Easter eggs. On Swift's "Hey Stephen" mood board that she pulls out, there's a photo in the top left corner of Stephen Colbert that also shows up on Google images when one searches "Stephen Colbert 1989" — though this clue is probably one of the biggest stretches.
Could 1989 be Taylor Swift's next rerecording? It's definitely one of the six albums that Swift's vowed to reclaim with her own master recordings. Perhaps we'll all have to wait until May 13 to find out.