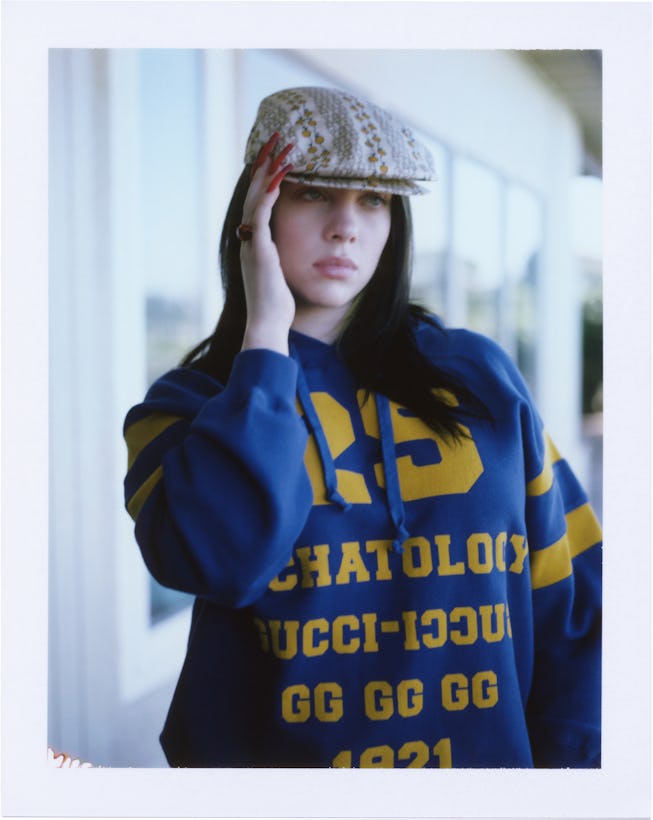 Courtesy of Gucci
Billie Eilish Performs In A New Video Of "Therefore I Am" For GucciFest
Directed by Harmony Korine.
Friday marks day six of GucciFest, and Billie Eilish has finally made her anticipated appearance after the luxury brand's announcement in early November. The film and fashion festival's seven-part series Ouverture Of Something That Never Ended premiered Episode 5, which stars Eilish alongside artist Ariana Papademetropoulos and artist/designer Darius Khonsary, on Friday.
In the new video, a character is watching TV from a bathtub, which is playing Eilish performing her new dark banger and second single of the year "Therefore I Am" in a video directed by Harmony Korine and featuring Spot, a dog-like robot by Boston Dynamic. While Eilish already has a music video (that she directed herself) for "Therefore I Am," this particular rendition from Korine, who's collaborated with the Italian fashion house on a slew of seasonal campaigns and videos, debuted for the very first time on GucciFest.
Eilish follows another hyped cameo from fellow Gucci spokesmodel Harry Styles, who appeared on Ouverture's Episode 3 taking a very important phone call, dressed in a brand new Gucci look: a pink shirt, denim cut-off shorts, and loafers with white socks.
See Eilish modeling Gucci's latest collection, below, along with her new video of "Therefore I Am" for GucciFest.