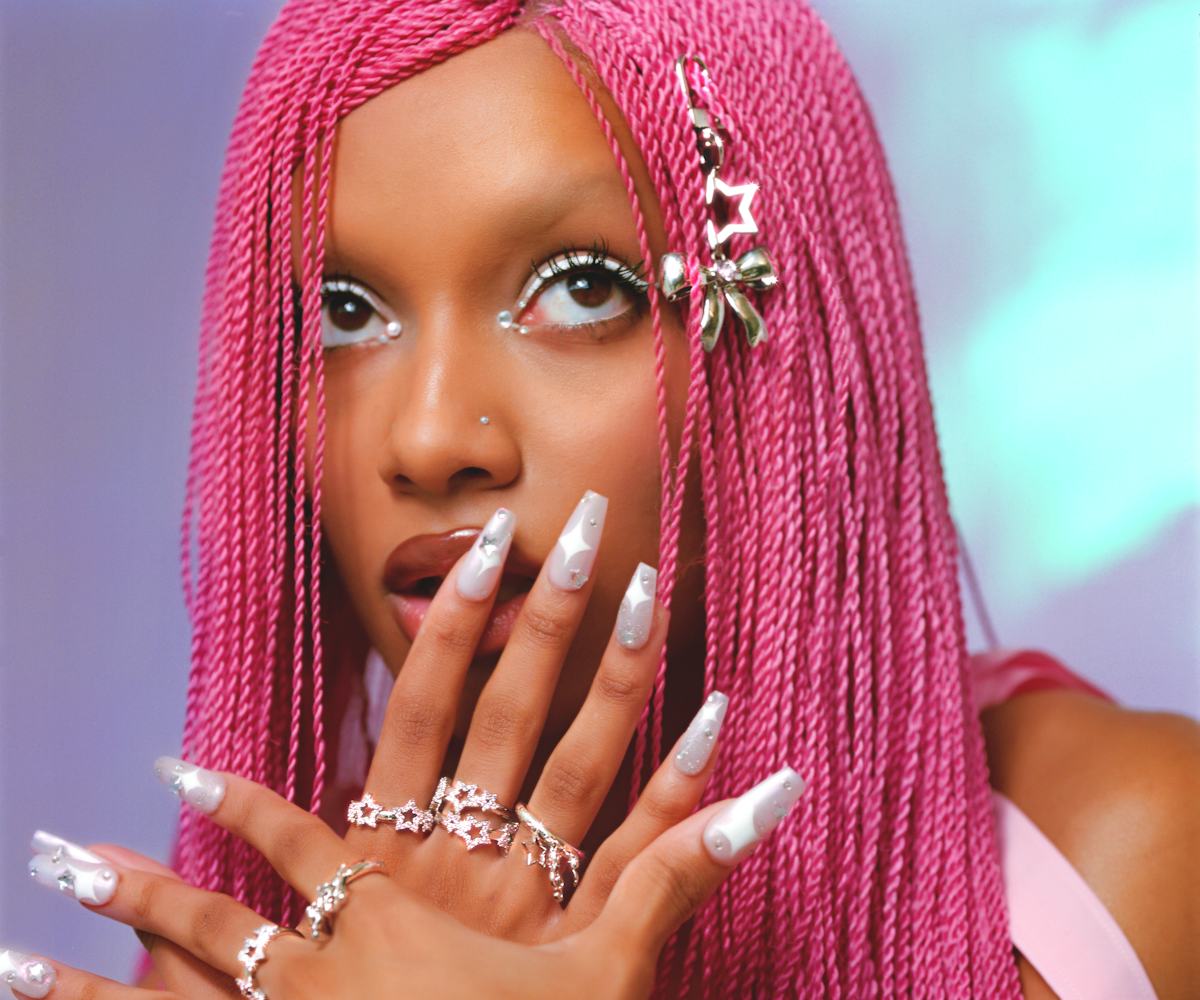 Photo: Courtesy of En Route Jewelry
Cannelle Ferragu Made a Y2K Doll-Inspired Jewelry Collection for En Route
The 20-year-old French creative puts a Bratzcore spin on chunky accessories.
The early 2000s resurgence isn't going away anytime soon, especially amidst the never-ending rise of the doll revival. But whether you're on team Barbie and Bratz, there's no denying it truly has been the "Year of the Doll," and French influencer Cannelle Ferragu is the latest to tap into the hype.
The 20-year-old fashion creator, beloved for her eclectic Y2K style, teamed up with Gen Z's favorite jewelry brand En Route to create her own interpretation of dreamy, early aughts accessories. The eight-piece collection helps to make IRL "doll dress up" easy and exciting, thanks to an array of chunky silver waist chains, rings, necklaces, and hair clips. Ferragu's Cinna Doll collaboration takes on distinctive motifs — including music charms, bedazzled stars, and puffy bows — that'll bring out the Bratzcore in everyone.
The direction of this collection, Ferragu tells NYLON over email, is inspired by the digital world. "Each design resembles its respective emojis and it feels like a gift to my old self: the internet kid with a lot of dreams. This collection was made to make baddies feel special about themselves, especially the ones who love blogging, DJing, and living life like they're a princess. Wearing jewelry is how I express my femininity, so I feel on top of the world knowing that my designs have come to life."
Priced between $19 and $36, Ferragu's Cinna Doll collaboration is now available to shop on enroutejewelry.com. Ahead of the launch, the content creator spoke with NYLON about the collection, her style inspiration, and more.
Do you have a favorite standout piece, and if so, how do you recommend styling it?
My ultimate favorite piece from the collection is the Digital Orchestra Necklace, which contains seven platinum musical notes on three silver chains. You can't go wrong with a choker necklace, so even if you're not a fan of "crazy styling," wearing the necklace with a long sundress also works just as well. Fun fact: My parents are going to get a matching musical notes tattoo of the three first notes from the song they played at their wedding, so this piece makes even more sense now. I also love the body waist chains — I think people need to wear more of them because it's hot.
Your personal style is very distinct — how would you describe your sense of style, and where do you usually draw inspiration? Do you have any advice for those looking to amp up their style?
My style is very versatile and I love mixing different types of styles together. I don't limit myself to one specific style. I was first introduced to fashion thanks to video games and magazines, but I get inspiration from anything I find pretty like art, friends, or the internet. I think the best way to amp up your style is to accessorize with cool jewelry pieces and don't be afraid of mixing different colors together.
Photo: Courtesy of En Route Jewelry
As a creative director and content creator, how do you manage having such a big platform at a young age? How do you balance your work versus your personal life?
Having a platform is fun because it's how I express myself. I wouldn't say that it has ever been "hard" or a problem, but I've had moments of anxiety and fear, of course. I started my platform at 13 years old, and to me, it means that everything I've posted on the internet will be there forever. I've been dealing with weirdos [over the course of my time spent online], but I learned a lot and am always open to helping anyone who's dealing with similar concerns.
My personal life is also a part of my work. I'm working on photoshoots and styling with my creative friends and I post about my days by romanticizing these precious moments. I keep my privacy when it comes to my opinions and my family, but besides my modeling work for brands, I don't really "separate" the two.
Your energy is very unique! If this were the early 2000s, what early aughts reality TV show do you think you'd star in and why?
My dream as a kid was to be in My Super Sweet 16 because I think I would've had the craziest, most magically pink birthday. I loved how everything on the show seemed so surreal and exaggerated, and if they chose me, I'd probably want to do it in a castle, get a white chocolate fountain, and a rhinestone timetable for the DJ. I'd also do America's Next Top Model just for funsies because I would never take myself seriously doing this type of show, to be honest.
Do you have any other projects in the works you can give us a sneak peek into?
I have three completely different projects in the works; I can't reveal what they are but here are some hints: the first one, you're gonna put it everywhere; the second one, you're going to snatch the pages and use them as posters; and the third one, you're going use it for your captions.
This interview has been edited for length and clarity.