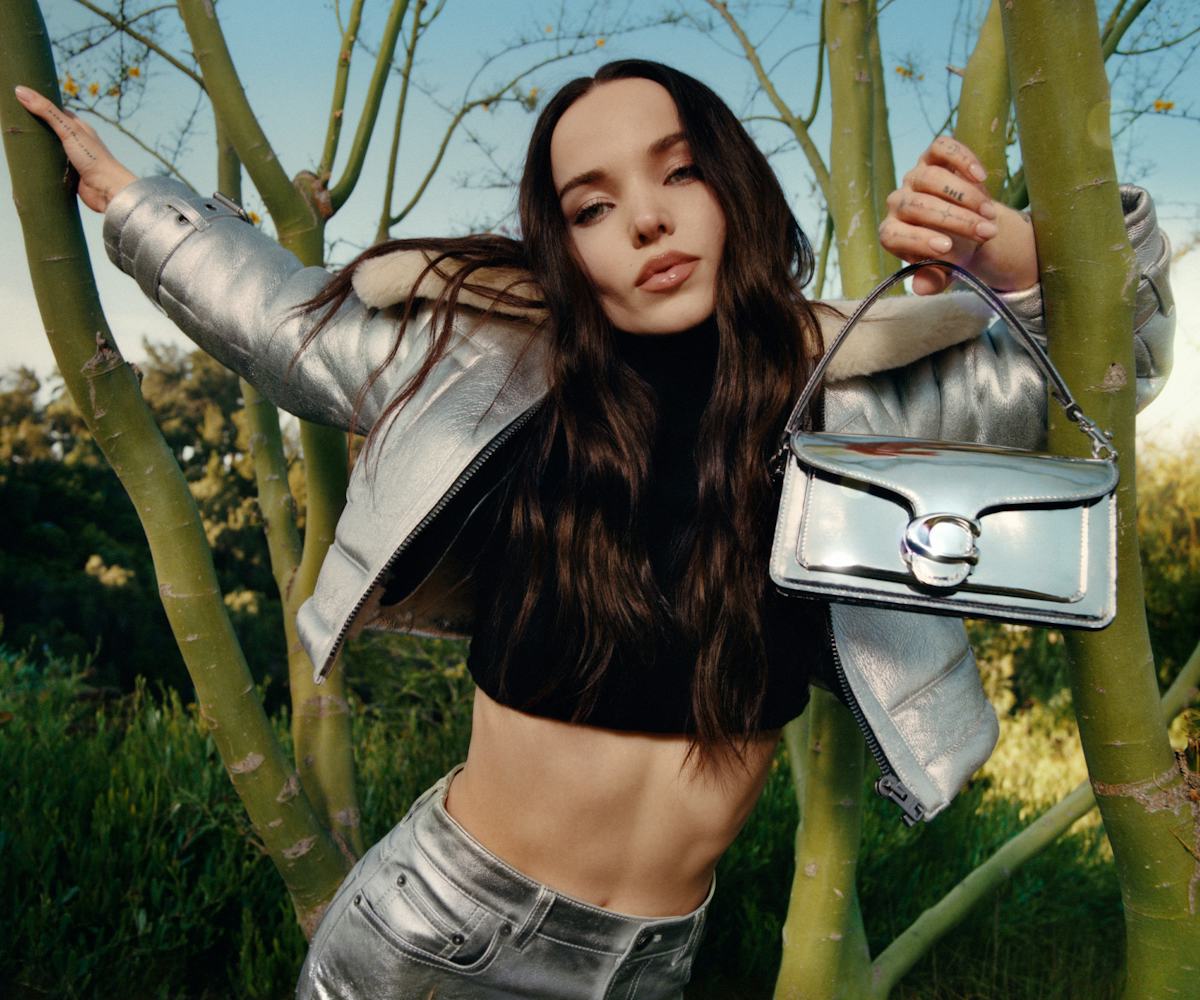 Dove Cameron Confronts Her Inner Critic For Coach's "Wear Your Shine" Campaign
The 27-year-old singer spoke with NYLON about getting into character, overcoming self-doubt, and more.
Dove Cameron is booked and busy for New York Fashion Week. But somehow in between bustling around the city to attend shows, she makes time to hop on Zoom to talk about her newly-unveiled campaign for Coach.
On Sept. 12, the campaign, titled "Wear Your Shine," captures the singer alongside other Coach ambassadors Lil Buck, Youngji Lee, and Yanfei Song, plus a brief cameo by Jennifer Lopez. The "shine" in question points at its shimmery collection of metallic, glittering, and vibrant-hued pieces from the coveted Fall 2023 line, with the standouts being the Tabby bag and the new Penn silhouette which now come in reflective and patent leathers.
Following the brand's previous "In My Tabby" and "Courage to Be Real" storylines, the latest ad encourages customers to channel their most authentic selves through self-doubt and all. In a slew of images and videos directed by Lope Serano and photographed by Joshua Woods, and fun choreography by Emma Portner, the 27-year-old is seen trying to head out of the house in a shearling metallic coat but is quickly interrupted by a figure dressed in black – her "inner critic." She fights her way out of the situation with her Tabby purse in hand, and eventually wins the battle.
"When they presented me with the idea for the campaign, I was excited because the concept of imposter syndrome is something that has very much permeated my life for as long as I can remember and one that I still struggle with," Cameron tells NYLON. "I'm actively working on it, but it's such a universal experience." Read on to hear more about Cameron's thoughts on Coach's "Wear Your Shine" campaign, how she navigates negative self-talk, and more, below.
What were your initial thoughts when you received the offer to do this campaign?
I've always had an authentic love for Coach. I feel like I can't work with brands unless I know that the partnership is real and I'm a genuine fan. When I got my very first paycheck working in television at 15, I put some money aside for savings for college (that never ended up happening, by the way) but I put some for rent that I was splitting with my mom. With what was leftover, she asked, "What do you want to do to commemorate your very first paycheck?" and I thought about what adults have, and they have purses. I only had a backpack at that time, so I wanted my first bag to be Coach which I still have 'til this day because it represented me stepping into adulthood and becoming the person that I always knew I wanted to be. Over the years, all of my like travel staples have been Coach.
So when they reached out, I actually laughed out loud with joy because I was like, "Wow, if I could tell my 15-year-old self that this was happening, I think she wouldn't believe she's the face of a brand that she loved so much and for so long. Of course, it goes without saying that all of the clothes are really beautiful, and with metallics and chromes being some of my favorite tones to wear. The collection is impeccably tailored and my time with Coach has been a beautiful partnership.
"Wear your shine" can be interpreted in many ways — what does that phrase mean to you?
My best friend always says to me, "new levels, new devils," meaning that life is very cyclical. You level up and then you're faced with the same conflict over again in a million different ways until you're finally ready to conquer whatever that issue is. I've been faced with a lot of mystery doors in my life that I'm trying to get into, or keep closed, but undoubtedly, it's you. It's you finding new ways to hold yourself back because of fear or ego because at the end of the day, you're trying to protect yourself but in all the wrong ways.
I'm always faced with this kind of inner shadow work in conversation with myself, and I talk with my friends about how to approach this "critical voice" with empathy instead. This is how I attempt to wear my shine. There's time for joy, even in dark times, and it's a lifelong process.
How did you prepare for playing two roles in this shoot? Did you feel for this opportunity, or even in past ones, that it's easy or difficult to get back into the acting mindset?
I'm constantly exploring endless versions of myself as a daily ritual. The world is so multifaceted and we're never in a fixed state because I feel like I'm a thousand different people in a day, so it wasn't too hard for me to tap into two different mindsets.
What I loved about the campaign was that there were a few versions earlier on where the inner critic felt more villainous and the conversation felt darker, but then they changed it to make it playful and fun, sort of like a dance. That's when I felt the campaign really came to life because at the end of the day, we're all are just two sides of the same coin. I was able to tap into both sides shown easily, but the Coach team made it very comfortable for us to do so, even with the fight scene. I just can't sing Coach's praises enough. They've been so lovely to me and such a dream to work with.
What are your favorite pieces from the collection?
I'm a big fall and winter girl. I like wake up on the first day of fall and think, "Oh, there's something witchy brewing in the air." I sit up like a vampire in bed and think my time has finally been called.
Of course, I was excited to shoot the campaign but even more so to see the clothes. You better believe I was on that set being like, "Can I keep some of these pieces?" I especially loved the metallic moto jacket I was wearing because for New York in the winter, it feels like a camera flash going off at nighttime. It's so beautiful and warm, and brings an effervescence to any outfit which is something I'm always looking for because I'm someone who loves classics. I'm actually not very big on color. I love black. I love white. I love gray. I was born in January. She's a winter honey.
I'm also a loafer girl, so I'm also trying to keep as many of those loafers from the collection as possible. What I love about Coach is how versatile it is — my style is both masculine and feminine in terms of how I like to present clothing-wise. Their tailoring is very menswear, but at the same time, a lot of their cuts are very feminine. Overall, I was so excited see and wear it all.
This interview has been edited and condensed for clarity.