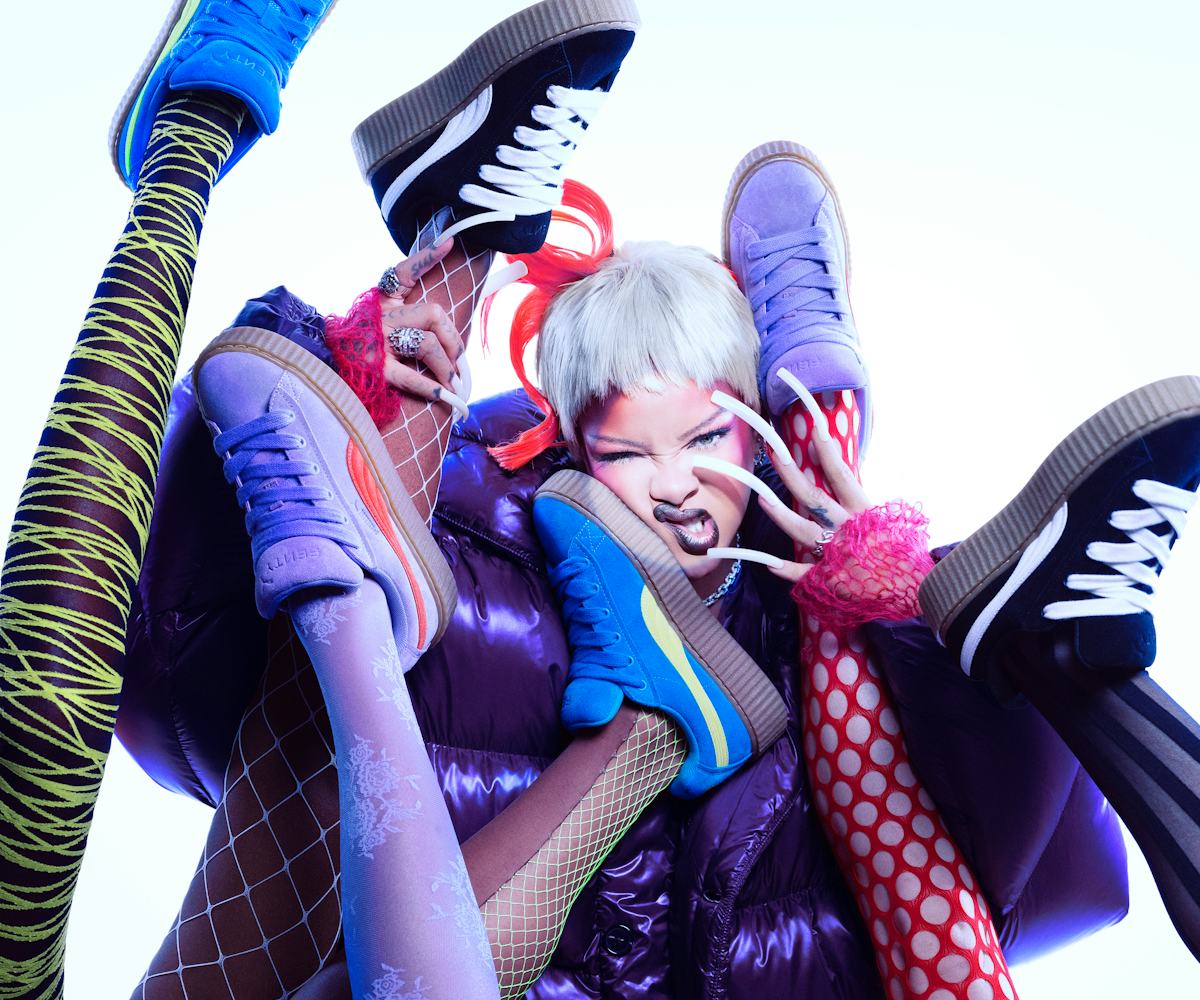 Rihanna Puffs Up The Fenty x Puma Creeper Phatty Sneaker
It's chunkier than ever before.
When Rihanna and Puma officially announced their renewed Fenty partnership this year, they immediately got to work. Last month, the singer and mogul dropped her first foray into shoes as creative director with the football-inspired Avanti sneaker. Now for the collaboration's second order of business, Rihanna's bringing back the popular suede Creeper shoe — this time, with a nostalgic twist.
After a five-year hiatus, the Creeper is ready to snatch back its sneaker crown. The original silhouette launched in 2015 as a platformed version of Puma's cult-favorite suede sneaker; the shoe continued to evolve with new tweaks, like sharp pointed toe to sky-high cleats, and eventually went on to earn the Footwear News Shoe of the Year Award in 2016.
For Rihanna's latest iteration, the Creeper Phatty, the shoe is continuing its legacy as the boldest shoe on the market. The new design is a puffed version of the OG, featuring padding throughout, thick laces, and the signature platform sole. Three colorways are expected to launch: black and white, turquoise and green, and lavender and cherry red.
"We took our OG Creeper and made it bigger and badder," said Rihanna in an official press release. "When designing the Creeper Phatty, we wanted to reinvent the OG Creeper that was loved by so many. It's a classic silhouette that has been missed, so its return had to be bigger."
While discussing its slated comeback, Puma's Global Creative Director Heiko Desens tells NYLON that nostalgia aside, Rihanna gravitated toward the Creeper for its versatility, especially targeting those who don't want to compromise an outfit for a traditionally sporty sneaker.
"We talked about doing more athletic stuff with Rihanna, but she's told us it's not her. She's more into merging fashion and sports, so she worked with the designers to find the right balance," Desens says. "The suede is a classic, luxury version of a sneaker, so combining those things created this perfect shoe as a bridge that stays within athleticwear but also has the chance to elevate any outfit."
Prices have yet to be announced, but sizes include various adult and children options. Starting on Nov. 30 at 10 a.m. EST in North America and globally on Dec. 1, the Fenty x Puma Creeper Phatty will be available to shop at Puma.com and select retailers. While we wait for the drop, read more from Desens about the shoe's revival, below.
What went into the design this time compared to previous styles?
Rihanna previously worked with the external designer of the OG sneaker, Billy Walsh, so she was very close with the team. By the time this opportunity came about, they had an idea of what to do with the suede shoe because it's a unique material and not so easy to work with. We already knew by looking through the archives that we wanted to bring back the Creeper; it was just about experimenting with that process and the technicalities to adjust it. It needed the right fit, and the rest was built authentically around the original design. The goal was to have this a product that kept to its DNA.
It doesn't feel like 2015 was that long ago, but it's been nearly a decade since its debut. Was this Creeper revival something you felt customers wanted, or did the team feel pressure to conform to this ongoing nostalgia era?
After we announced that we're teaming up [with Rihanna] again, fans were asking for the Creeper almost immediately, which was a good indication for us. We asked ourselves if it was maybe too soon. We were conscious because you don't want to make mistakes and do something that might not be relevant anymore.
For the Creeper, there is something in trend in fashion and streetwear going on that I describe as "cartoonification." With all this AI and younger customers spending so much time online, they visually stay exposed to products that are getting the "cartoon" treatment. Many examples of this, like MSCHF's Big Red Boot, are inflated and tweaked proportionally. We did the same with the Creeper, but not as extreme. It's a cute, chubby shoe, and I think that was our solution. By giving this classic silhouette a different feel with the laces and padding, the same old shoe suddenly looks very different on your foot, and might also speak to a different consumer. The funny thing is, we're doing this with suede, so it goes hand in hand with the shoe's story.
I'd love to hear more about your thoughts about nostalgia in fashion and how social media continues to fuel this constant need to reference the past.
We're coming out of a time when nostalgia was a literal thing. It was just like, "Let's bring this back." Brands needed to stay true to the style; otherwise, it wasn't accepted in the community. I personally never liked that because it was all for the sake of "bringing something back" but not making it better.
I see from customers now that it's not just about the style itself but the feeling it brings. People want to refer to a look and style, not necessarily the specific item itself. I think the nostalgia trend is getting more diluted in a good way. Suddenly, it's about creative ideas you weave into design and not about copying something. Some styles from the past still resonate, but this market is moving into something more curated. People want more depth in design.
After this, what else can we expect from the Fenty x Puma collaboration?
As a brand, there are always things we're proud of that will return, but we're not just raiding the archive and throwing things together. It's a very curated process. We have more shoes coming back that are ready to go. But overall, we're investing a lot in completing stories; we don't want to be known as the "nostalgic brand." It's one part of us that is super important, but we have other sides to us, too.
At the end of the day, we're a sportswear brand that'll forever be part of the intersection of lifestyle and streetwear. The fashion aspect will not disappear; we play in this field, but it's not our primary focus. It seems the fashion world wants that right now, so that's exciting. They want exactly the sort of sports and inject this excitement around sports in that. That also motivates us to bring sports to a different consumer group.
This interview has been edited and condensed for clarity.