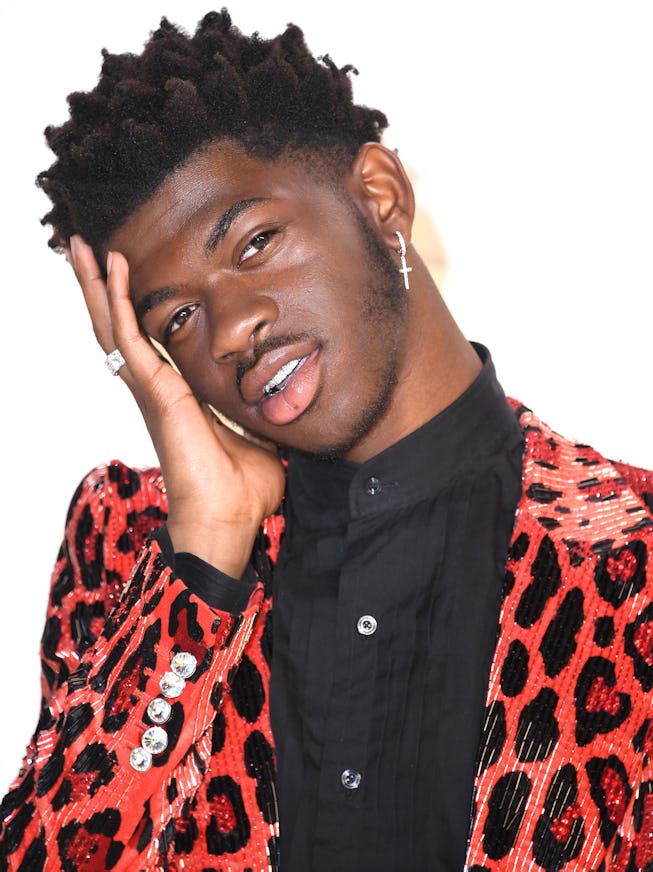 Steve Granitz/WireImage/Getty Images
Lil Nas X Just Dropped "Montero" Merch With Pizzaslime
Two internet trolls link and build.
After facing a lot of controversy (and a lawsuit) for his "Satan Shoe" with art collective MSCHF, one would think Lil Nas X would take a step back from fashion collabs. Instead, he's doubling down on the ongoing online debates and teamed up with fellow internet troll Pizzaslime on a line of merch inspired by "Montero."
On Thursday, the "Old Town Road" star revealed on Instagram two T-shirt designs inspired by his latest music video for his song "Montero." Given there was a lot of, shall we say, feedback surrounding the music video, this new Pizzaslime collab could be seen as just another successful clapback to the internet's comments.
"Some people are having a hard time with this but FYI it is possible to love Jesus and still be down with with the 'Montero' video/song LOL," notes Pizzaslime on its product page for the "I Love Jesus" T-shirt. Another design, titled "the lousy Montero T-Shirt" was inspired by merch that you often get from birthday parties or vacations and features a message that reads, "I watched the 'Montero' video by Lil Nas X and all I got was this lousy shirt and now I'm also gay and love satan."
"Lil Nas X you're the truth," says the copy on Pizzaslime's site. "Thank you for being a real one and dominating the internet and shining the light on stupid bigots ... we 💚 u"
The Pizzaslime x Lil Nas X "Montero" T-shirts are available now on Pizzaslime's website and Lil Nas X's web store.