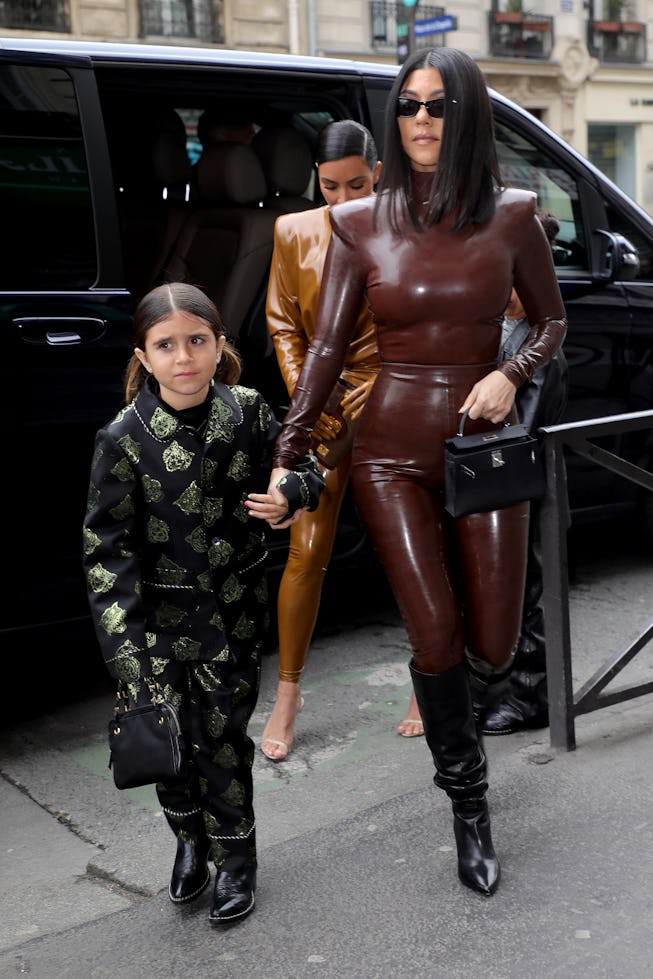 Pierre Suu/GC Images/Getty Images
Penelope Disick Revived Kourtney Kardashian's Decade-Old Viral Chanel Bag
Her cousin, North West, was also carrying one of Kim Kardashian's vintage Chanel bags ahead of the Met Gala.
At this point it's clear that the Kardashian's kids have better wardrobes than the majority of the population. North West has become a beauty and fashion icon in her own right on TikTok, and her cousin Penelope Disick has been spotted wearing matching Gucci outfits with her mom, Kourtney Kardashian. Now, Kourtney and Penelope are taking the mommy-and-me matching moments one step further, with Penelope borrowing one of her mom's (very expensive) vintage handbags. While walking around Manhattan on Sunday with Kim Kardashian and Scott Disick, both Penelope and North were carrying Chanel bags from their moms' vast collections.
Penelope was wearing a black-and-yellow Chanel Hula Hoop handbag from the French house's Spring 2013 collection that originally cost $3,590, pairing it with a gray, black, and yellow coat and leather knee-high boots. North, who walked beside Penelope, was wearing ripped flared jeans, a cropped leather blazer, an oversized pair of sunglasses, and a black quilted lambskin Chanel mini vanity bag (that's worth $2,600).
Just a day before the Met Gala, Kim was spotted with North (9 years old) and Penelope (10 years old) in a pre-owned Chanel 1995 logo cropped T-shirt, a larger version of North's vanity bag, oversized sunglasses, and black leather gloves. With the whole family wearing Chanel, it's clear the Kardashians and Disicks were already on-theme, honoring the late Karl Lagerfeld as The Met celebrates the opening of the Costume Institute's "Karl Lagerfeld: A Line of Beauty" exhibit.
If North West allegedly getting her own skincare line wasn't confirmation enough that the Kardashians are preparing their daughters to be mini moguls, the matching bag moment sure is. With North and Penelope having first access to Kim and Kourtney's personal closets, we also have no doubt that this won't be the last time the pre-teens grab something from their mom's wardrobes — because why wouldn't they?