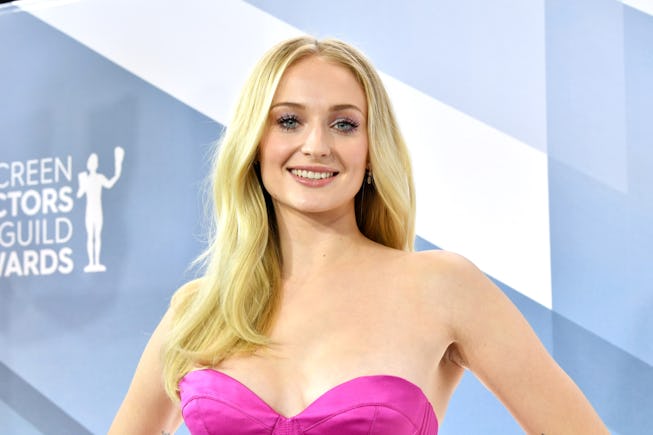 Amy Sussman/WireImage/Getty Images
Sophie Turner Finds Low-Rise Jeans "Offensive"
Sophie Turner is also upset about the return of low-rise jeans. The actor, whose new campaign with Louis Vuitton debuted on Wednesday, spoke to Vogue about her post-lockdown fashion plans, and the early-aughts favorite is not at the top of her list.
"I'm excited about embracing fashion again; I've been dressing up for myself," she told the magazine. "It's actually really annoying though, because just as I've had a baby, everyone all of a sudden wants to wear low-rise jeans. It's kind of offensive!"
Instead, Turner plans on embracing baggy jeans and tops, noting that after she became a mom she's "desperate to be cool now." Fortunately, Turner's shares the same style (and size) as her husband, Joe Jonas, who never fully succumbed to the sweatpants and athleisure lifestyle of the pandemic.
"He's always embraced high fashion and dressing up. I thought it was psychotic how he would wear jeans during the pandemic, while we were just sitting at home. I was like, what kind of serial killer does that?" Turner said. "We buy and wear the exact same things. We're always swapping clothes, especially vintage tees."
Read Turner's full interview over on Vogue's website, and check out her new ad for Louis Vuitton's Tambour Street Diver watch, below.