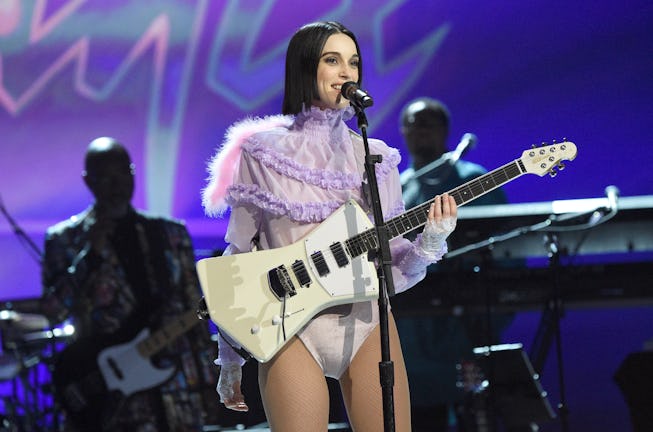 Kevin Mazur/Getty Images Entertainment/Getty Images
NYLON Fit Picks: St. Vincent In Gucci, Lizzo's Cutout Dress, & More Celebrity Looks
A weekly roundup of our favorite celebrity outfits.
Welcome to NYLON's Fit Picks, a weekly roundup of our favorite celebrity outfits.
St. Vincent made her illustrious return to studio 8H in New York over the weekend, and she brought her new style with her. On the latest episode of SNL, the singer performed two songs off her upcoming album, the Jack Antonoff-produced Daddy's Home, "Pay Your Way in Pain" and "The Melting of The Sun." For the occasion, she looked to Gucci for her wardrobe.
She paired her '70s-inspired cream suit jacket (embroidered with "Daddy" across the back), with green trousers, a matching blouse, and black platform boots. She later changed into a sheer, pink-lace trim slip dress, staying warm in the studio with a shaggy fur coat.
"I like to create a world and then I get to live in it and be somebody new every two or three years," the singer told The Forty-Five. "Who wants to be themselves all the time?"
St. Vincent wasn't the only one who delivered A+ style this week. Check out Lizzo's cutout dress, Kendall Jenner's Easter dress, Billie Eilish's 1-of-1 pants, and more celebrity looks, below.
St. Vincent
St. Vincent performed on SNL in a retro Gucci suit.
Zendaya
Zendaya wore a jewel-toned Pertegaz suit dress and turtleneck for the Santa Barbara International Film Festival.
Halsey
Halsey showed off her growing baby bump in a leopard-print dress and safety pin cardigan by Danielle Guizio.
Kendall Jenner
Kendall Jenner wore a pink Rodarte dress for Easter Sunday, pairing it with cowboy boots and a DMY by DMY's Valentina sunglasses.
Hailey Bieber
Danielle Guizio continued to have a big week, with Hailey Bieber wearing her satin mini dress, which, of course, is sold out.
Lizzo
Lizzo has officially declared summer 2k21 to be an "ass crack summer," and she means it.
Ashley aka bestdressed
Still don't believe that flared jeans are back? Take it up with fashion influencer and YouTuber Ashley, who wore a pair from Free People.
Billie Eilish
Eilish went for an all-olive look in a Gucci turtleneck and custom curvilinear pants by Mtech Utility Co.
Jordyn Woods
Jordyn Woods wore Balmain's full leopard-print look with a mini quilted Chanel bag.
Ariana Grande
Ariana Grande entered her Folklore era, taking a hike in a pair of Still Here jeans, Superga sneakers, and JoosTricot cropped sweater.
Gigi Hadid
Gigi Hadid was a standout in yellow, wearing a matching set by Amiss Conception and a Prada bucket hat.
Beyoncé
Beyoncé showed off a fully quilted look by Alessandra Rich.
Devon Carlson
Devon Carlson dressed like she had just watched The Cheetah Girls in a patent leather pink coat, orange Versace bag, and, of course, a Wildflower phone case.
Rachel Sennott
Rachel Sennott celebrated the premiere of Shiva Baby wearing the bow mini dress from Wiederhoeft's bridal collection.
Grimes
Grimes took a fit pic from Starbase in Texas, dressed in TTSWTRS leggings with a tartan silk skirt and black hoodie.
Kylie Jenner
Jenner wore a cosmic catsuit by Pierre-Louis Auvray.
Rihanna
Even a trip to the grocery store is a fashion moment for Badgalriri, who wore a colorful Celine Homme x Tyson Reeder shirt, a denim skirt, and Amina Muaddi sandals.