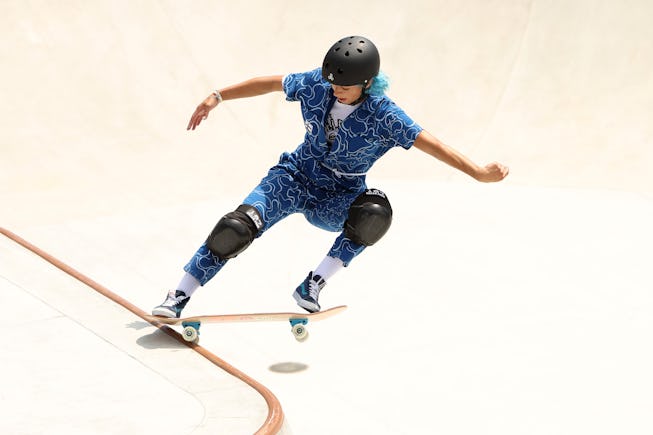 Ezra Shaw/Getty Images Sport/Getty Images
The Best Skateboarding Style Moments From The Tokyo Olympics
From gold jewelry to printed jumpsuits.
Skateboarding just made history at the Tokyo Olympics. Not only did the sport make its official debut, but the events were dominated by some of the youngest athletes to date, including a few 13-year-olds who shred their way to winning medals for their respective countries.
Their tricks, bails, and overall camaraderie made headlines, but their fashion choices did, too. While each competitor represented their team with a uniform — most likely provided by a global sports brand, like Nike, Adidas, or New Balance — they all made sure to showcase some sense of personal style. Lizzie Armanto, who skated for Finland, designed her very own jumpsuit, while Margielyn Didal accented her Philippines kit with gold jewelry. On the sneaker front, Alexis Sablone sported an all-black pair of Converse Jack Purcell sneakers that she designed, and Bryce Wettstein opted for colorful, mismatched kicks.
Ahead, see some of our favorite Olympic looks from women's skateboarding, and if you're inspired to take up the sport yourself, we've got all of the essentials you need to get started.
Want more skate fashion? Lizzie Armanto filled us in on the essentials to stock up on.