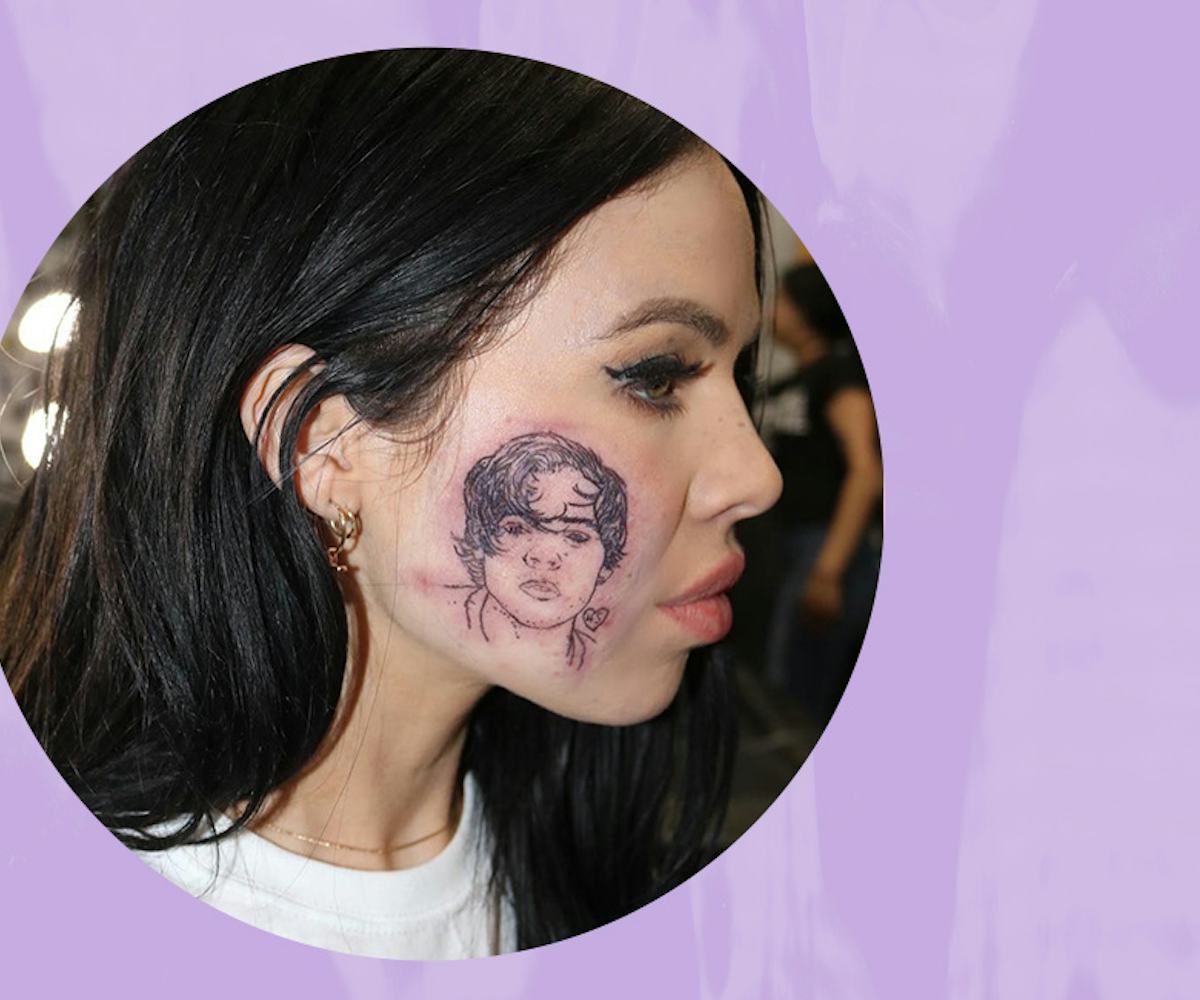 Did This Singer Just Tattoo Harry Styles' Face On Her Face?
As far as stans go, Harry Styles has plenty of fiercely loyal followers openly declaring their love and dedication on all social media platforms at all times. But, what does it take to be the biggest stan of all? Pretty sure a tattoo of Styles' face, on your own face, is the way to seal the deal.
Singer Kelsy Karter debuted a new tattoo on Instagram yesterday. The photo, captioned "Mama, look what I made me do," *appears* to be a tattooed sketch of Styles' face and neck, with his initials in a heart next to his chin. Karter also shared a photo with the tattoo artist, Romeo Lacoste.
The comments under the picture are exactly what you'd expect them to be: a series of confused reactions from friends and peers, including many iterations of "what the fuck," as well as "ANSWER YOUR FXING PHONE WOMAN!!!!!!!!" from Entertainment Tonight beauty producer Kristen Gill. Something tells me that Karter's phone is definitely turned off (or at least, on Night mode) in avoidance of the onslaught of notifications.
Many are also suggesting that the tattoo is fake, but neither Karter nor the artist has responded to this claim on social media. Styles has also yet to react, but he has not tweeted since January 1, and his last Instagram post dates back to July 2018, so he might have not seen this yet.
We have reached out to Karter's publicist to confirm the authenticity of the tattoo and will update the story once we have more information.