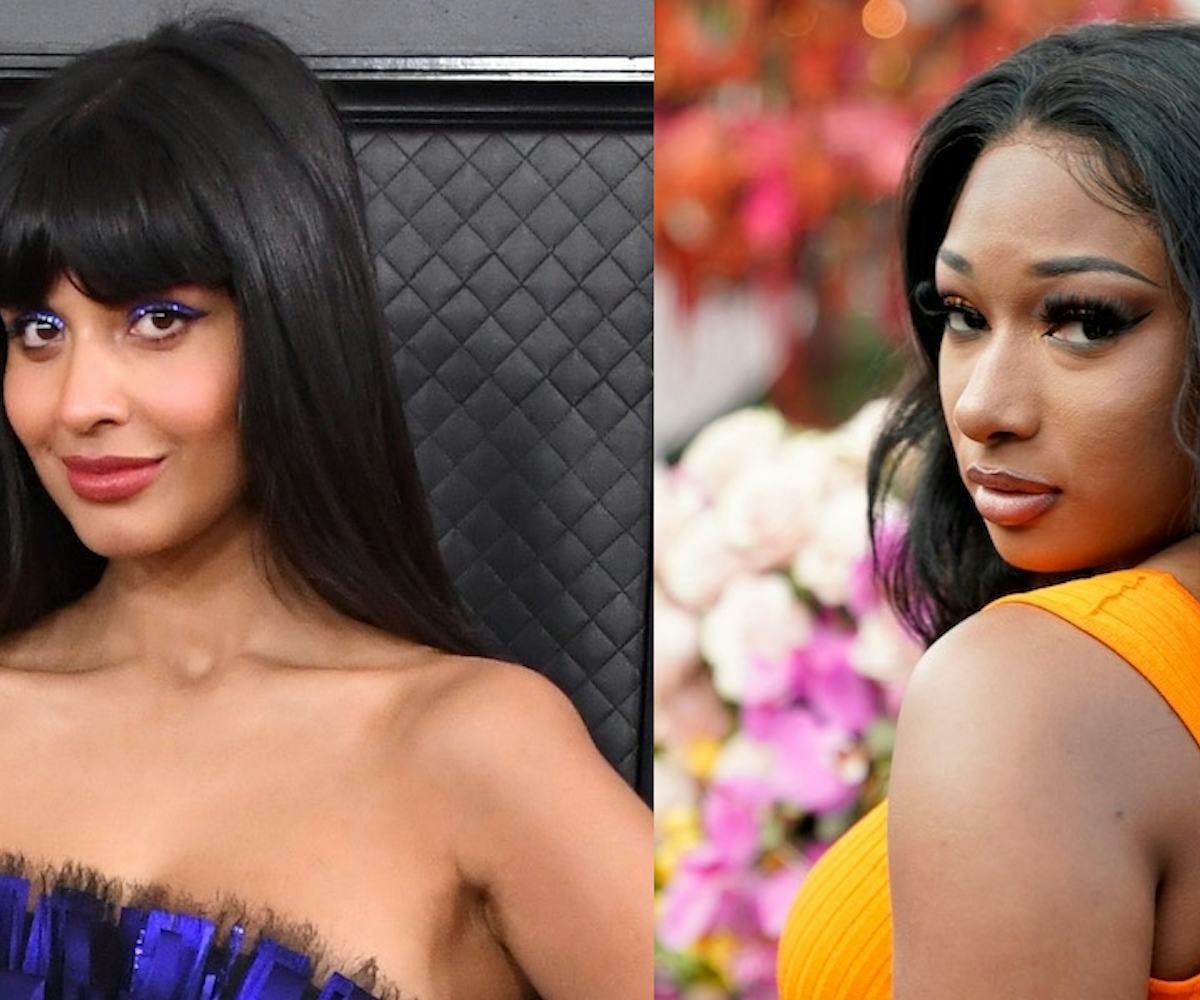 Photos by Jon Kopaloff/FilmMagic, Erik Voake/Getty Images for Roc Nation
Why Are Jameela Jamil & Megan Thee Stallion Hosting A Voguing Competition Series?
Was no one else available?
The same team that brought you Queer Eye is executive producing a very questionable new series for HBO Max, an unscripted ballroom voguing competition show called Legendary, hosted by Jameela Jamil. The actress and self-proclaimed "feminist-in-progress" will be joined on the judges' panel by Houston hottie Megan Thee Stallion; a pairing that only makes sense if you put zero thought into it. What do they even know about voguing?
Perhaps literally no one else in Hollywood that was remotely queer was available to "chant, chop and destroy each ball," as described by the network. Surely, HBO Max reached out to the entire cast of Pose, or Miss J Alexander... hell, even Frank Ocean would have been a better choice to judge, messy PrEP+ club nights and all. But when it comes to Jamil in particular, her fake-woke activism and negligence to acknowledge her own privilege make her a questionable choice to host a program that entirely relies on an art form so inherently queer and Black. Her choice to take a position that should so obviously be held by a queer POC is only further proof of her total lack of self-awareness.
Gay Twitter is already screaming into the digital void about the announcement, and rightfully so. "They couldn't find any house mothers? Any legends? This gentrified ass voguing show," @_ahomari wrote. Others, including @WrittenByHanna, quickly listed off all the better choices for hosts and judges that could have been made; "Billy Porter is right there!!!!!!!!!! Indya Moore is right there!!!!!!!! Angelica!!!! Ross!!!! Is!!! Right!!!! There!!!!!!!!!"
Stylist Law Roach, best known for dressing celebrities like Ariana Grande, Zendaya, and Jamil herself, will also judge the competition. On the panel of four, there is only one single judge with ballroom experience: Leiomy Maldonado, dubbed the Wonder Woman of Vogue, a Bronx-born ballroom icon. Per a press release from HBO Max, the show will be divided into eight houses, "each comprised of five performers and a leader—the house 'parent.'" Each episode will chronicle a singular themed ball, from start to finish, with nine episodes total. There is no release date set for the series yet.