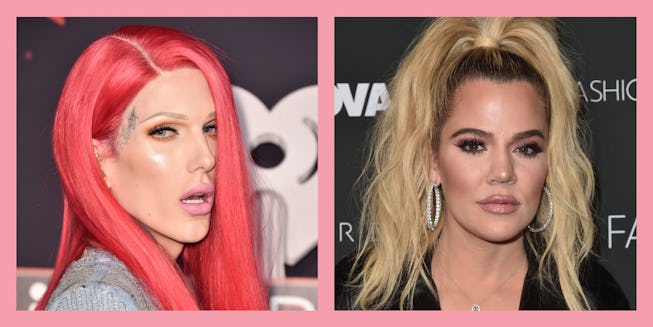 Photos by Alberto E. Rodriguez/Getty Images
Jeffree Star Wants Khloé Kardashian To "Shut The F**k Up"
He's over the cheating scandal
For some reason, Jeffree Star felt the need to speak his mind on the recent drama involving Khloé Kardashian and Jordyn Woods.
Followers have been pulled through the different stages of the Kardashian's breakup with Tristan Thompson, as she emotionally posted her heart away on Instagram once news broke that he allegedly cheated on her with Kylie Jenner's former BFF. Instead of continuing to track the drama though, Star wants us all to snap out of it—especially Kardashian herself—and focus our energy elsewhere.
After Kardashian accused Woods of lying during her appearance on Facebook's Red Table Talk, and claimed that she's the reason her family broke up, Star had this to say: "Learn to co-parent on a healthy level and stop acting like your man isn't trash either... thank you, now shut the fuck up."
Of course, Star wasn't done. How could he leave it to one juicy line? Star also went off via Instagram stories about the situation, and claims that Woods and Thompson have "been hooking up for a month or two." He adds: "The whole city of Calabasas knows it. There's eyes everywhere."
As many people on Twitter pointed out though, Star probably shouldn't weigh in on other people's messiness when he has plenty to take accountability for in his own life. User @Jacobusagi17 writes, "Jeffree Star's skeleton ass rly feels like he has the right to tell ppl to 'stop supporting idiots" after all the vile shit he's done??" Welp!