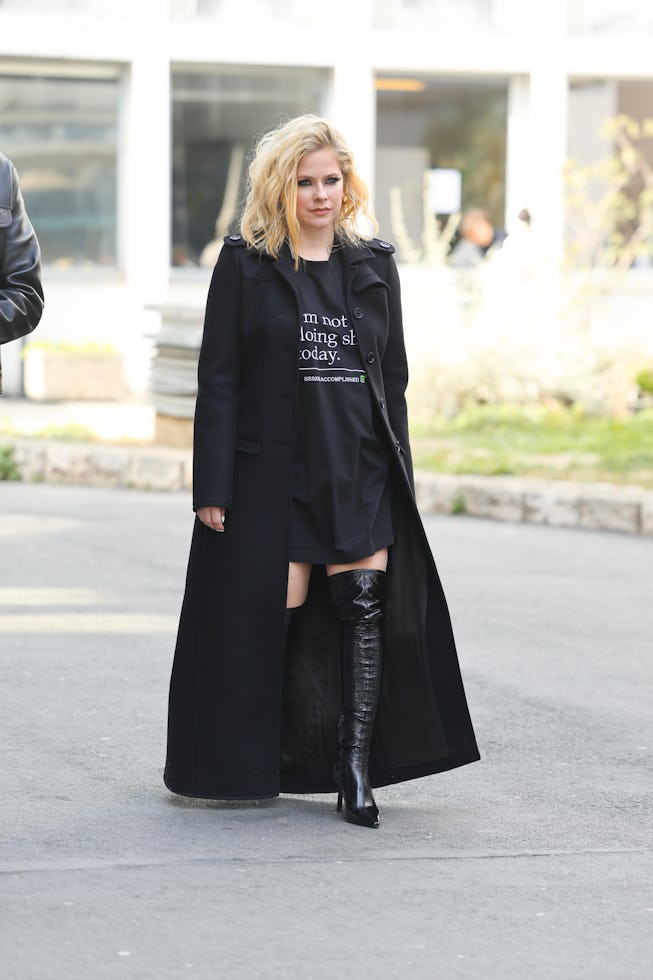 Jacopo Raule/Getty Images Entertainment/Getty Images
Avril Lavigne Teases Mysterious Paris Fashion Week Collection
Avril Lavigne is cooking up something new with fashion brand 022397BLUFF.
Avril Lavigne's cultural resurgence has already given us so much: new music, a world tour (which takes her this month to Europe), a charming TikTok account, and unfettered access to 2002 nostalgia. Now, it looks the musician and pop punk fashion icon is gracing us with a Paris Fashion Week collection.
Partnering with 22397BLUFF (apparently, 022397 is a kind of blue and BLUFF "is an attitude towards life"), Lavigne's debut Paris Fashion Week collection is expected on March 4 at 8:30 pm CST.
22397BLUFF's Instagram account has been teasing the collection with a series of very fun rave poster-style images inviting people to attend Lavigne's upcoming retro Chinese Gala, so long as they wear a wig. The brand is collaborating with MOUTAI, the distilled Chinese liquor brand. Hopefully, this doesn't mark to return to Lavigne's misguided Harajuku era, but an era of genuine appreciation for Asian culture.
The Instagram promos also promise a "surprise performer," which we can only hope is Lavigne herself. We do know that Lavigne is already in Paris; she was spotted in the front row of the Courrèges show wearing, in true punk fashion, a t-shirt that says "I'm not doing sh*t today," while sitting alongside Lisa Rinna and Jemima Kirke.
This isn't the singer's first, or even second foray into the fashion world. This past summer, Lavigne revisited her sartorial interests, creating a collection with Killstar, a punk-goth lifestyle brand with an occult spin. The collection fondly recalled the pink-and-black color palette that dominated teen fashion in the early aughts, featuring maxi dresses, bodysuits, and crop tops with skeletons and barbed wire illustrations. Her second collection for Killstar goes squarely back to her punk roots, with red and black vertical striped zip-up tops, yellow plaid skirts, and plenty of fishnets.
"Honestly, I just dress for myself," Lavigne told NYLON in August. "I just try to be comfortable. I love baggy pants. I love skater shoes. And I love, like, a little Gothic and then just like classic rock and roll and leather."
Of course, we can fondly look back on her first fashion line Abbey Dawn, a Kohls-stocked tween-y pop punk collection she started in 2008 that featured items like yellow and black-checkered shorts and studded tartan heels. (For what it's worth, you can still buy official Abbey Dawn merch on the brand's website.)