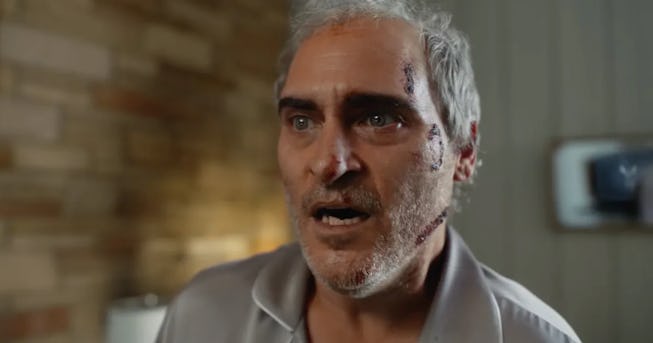 A24
Joaquin Phoenix Loses His Mind In Beau Is Afraid Trailer
From the director of Midsommar and Hereditary comes the psychological horror Beau Is Afraid, starring Joaquin Phoenix.
Another year, another set of A24 films to scramble our brains. The first trailer of 2023 from the studio has dropped — and like many a film in the studios' oeuvre, it looks like it may leave us with more questions than answers.
From Midsommar and Hereditary director Ari Aster comes Beau Is Afraid, an upcoming psychological horror film starring Joaquin Phoenix, which is set for release on April 21. Aster wrote the screenplay alongside Lars Knudsen, who also worked on Midsommar, Hereditary, and The Witch.
We don't know much yet about the film, but we know that Phoenix stars as a successful entrepreneur, and the film follows him across multiple decades, as we witness not one, not two, not three, but four different Joaquin Phoenixes, from him as an extremely de-aged only child to a man well past middle age, conjuring Benjamin Button-level uncanniness.
As is customary with A24 trailers and films generally, it is hard to tell up from down in the trailer, but it appears to involve some time and universe bending, where Phoenix meets himself from different time periods. The logline doesn't offer much detail, but describes Beau Is Afraid as an "epic new odyssey," in which Beau goes on a journey to "get home to his mother." They say you can't go home again, but for Beau, it appears especially difficult.
In the trailer, we see Beau resting by a pool as he remembers a moment from his childhood sitting by his mother at a pool. "I am so sorry," we hear a woman's voice trembling. "For what your daddy passed down to you." Psychological wounds uncovered in the first 10 seconds! Later, we see Beau trapped in his apartment in a city of chaos and calamity, waking up in a hospital with a "health monitor" ankle bracelet that looks suspiciously like a house arrest monitor. We see him running straight through a glass door to escape, and later through the forest in an adrenaline-spiking trailer set to Supertramp's "Goodbye Stranger." We also catch glimpses of Nathan Lane, Amy Ryan, Parker Posey, and Patti LuPone, who star alongside Phoenix.
Watch the full trailer for Beau Is Afraid, below