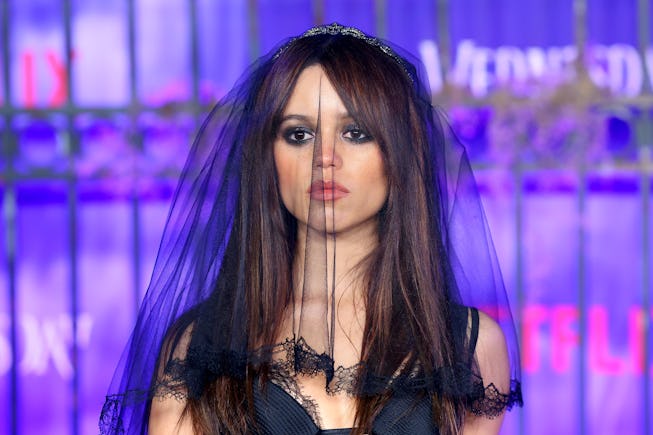 Leon Bennett/Getty Images Entertainment/Getty Images
Jenna Ortega Is Bringing Her Goth Girl Charm To Beetlejuice 2
Tim Burton and Jenna Ortega are making goth magic together again.
Jenna Ortega is really leaning into being a creepy little goth on screen. The actress, who recently took up the role of Wednesday Addams, is joining yet another freaky and storied film franchise: Beetlejuice. For Tim Burton's Beetlejuice 2, the long-awaited sequel to his 1988 feature, Ortega is set to star as the daughter of Lydia Deetz, the character played by Winona Ryder in the first installment.
Beetlejuice 2 is set for a Fall 2024 release and has been in the works for quite a while. The Hollywood Reporter notes that after multiple writers offered takes and Burton's uncertainty about his involvement, the film began to move forward this spring, with Ortega entering talks to star and the production planning for a summertime shoot in London. The project also marks a reunion between Burton and Ortega, who worked together on Netflix's Wednesday.
Ortega's take on the misunderstood goth's daughter will further be highlighted by her current scream queen status; her rise to stardom has been paved with roles in the seminal Scream franchise, as well as Ti West's generation-spanning slasher series, X. Plus, it'll give her more opportunities to wax poetic about her peculiar eccentricities, like performing autopsies on small animals as a child.
"I'm a weirdo," she said in an interview with Wired. "[I] used to perform autopsies on little animals when I was younger. Like, little lizards that I found that were dead in my backyard."
Ortega doubled down on her fasciation with horror in an interview with Olivia Rodrigo for The Face magazine. "There's some invisible string that's connected to serial killers, monsters, creatures, and myself," she said. "No matter where I go. I feel like it's something that's always been attractive to me since I was younger, something I was always into. It's what feels right to me and it tends to be the scripts I'm into. I love things that are a bit off-putting, things when the closer you look, really aren't that pretty. I love things that are disturbing."
The Beetlejuice 2 casting department hit the jackpot, if you ask us.