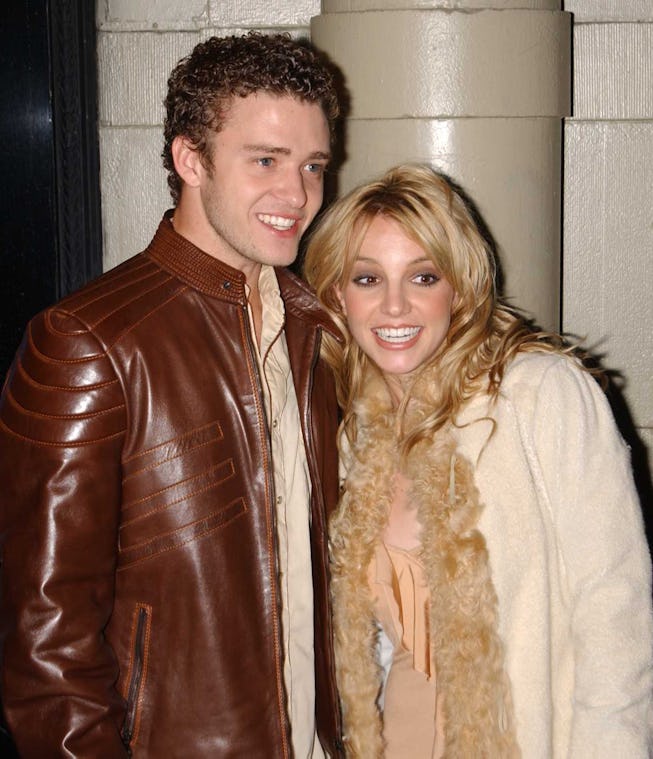 Arnaldo Magnani/Getty Images Entertainment/Getty Images
Britney Spears' Exes Allegedly Stalled the Publication of Her Memoir
If you don't want someone to write about you in their memoir, maybe don't give them something to write about.
After years of being under a strict conservatorship, Britney Spears is finally free to tell her own story. Since a judge ended the conservatorship in November 2021, the pop star has been doling about details about her past via lengthy Instagram captions. But soon, we'll get to hear Spears' life story on her own terms: Her much-anticipated memoir The Woman In Me will be published in the fall, which she's been working on since last year.
It's a miracle that the book is getting published for so many reasons — but not just because of Spears' long-term conservatorship, but because her ex-boyfriends Justin Timberlake and Colin Ferrell allegedly tried to put a stop to the book's publication, according to a new report from The Sun. (A little pro tip: Nothing makes you look more suspicious than trying to suppress a story.)
"Lawyers demanded to see her book in advance and were adamant that some of the revelations were removed," a source told The Sun, who said that the book was in limbo for four months over what could be included. "There are still plenty of gobsmacking tales, but Justin and Colin were conscious about what could be said about them."
Spears and Timberlake met on The Mickey Mouse Club and dated from 1999 to 2002, which gave us a slew of iconic couples' outfits. Ferrell and Spears were never "publicly" dating, but were linked to each other in 2003, and his lawyers' alleged involvement in the book certainly confirms the rumors.
"The book is brilliant and heartfelt. It has given Britney the chance to tell her own story, which certainly hasn't been easy, but which will be incredibly enlightening for her fans," another source told The Sun.
The Woman In Me is expected October 24 from Gallery Books, an imprint of Simon & Schuster. It's expected to tell "for the first time her incredible journey (and) strength at the core of one of the greatest performers in pop music history," per a press statement, and will also "[illuminate] the enduring power of music and love — and the importance of a woman telling her own story, on her own terms."
The Woman In Me is available for pre-order now.