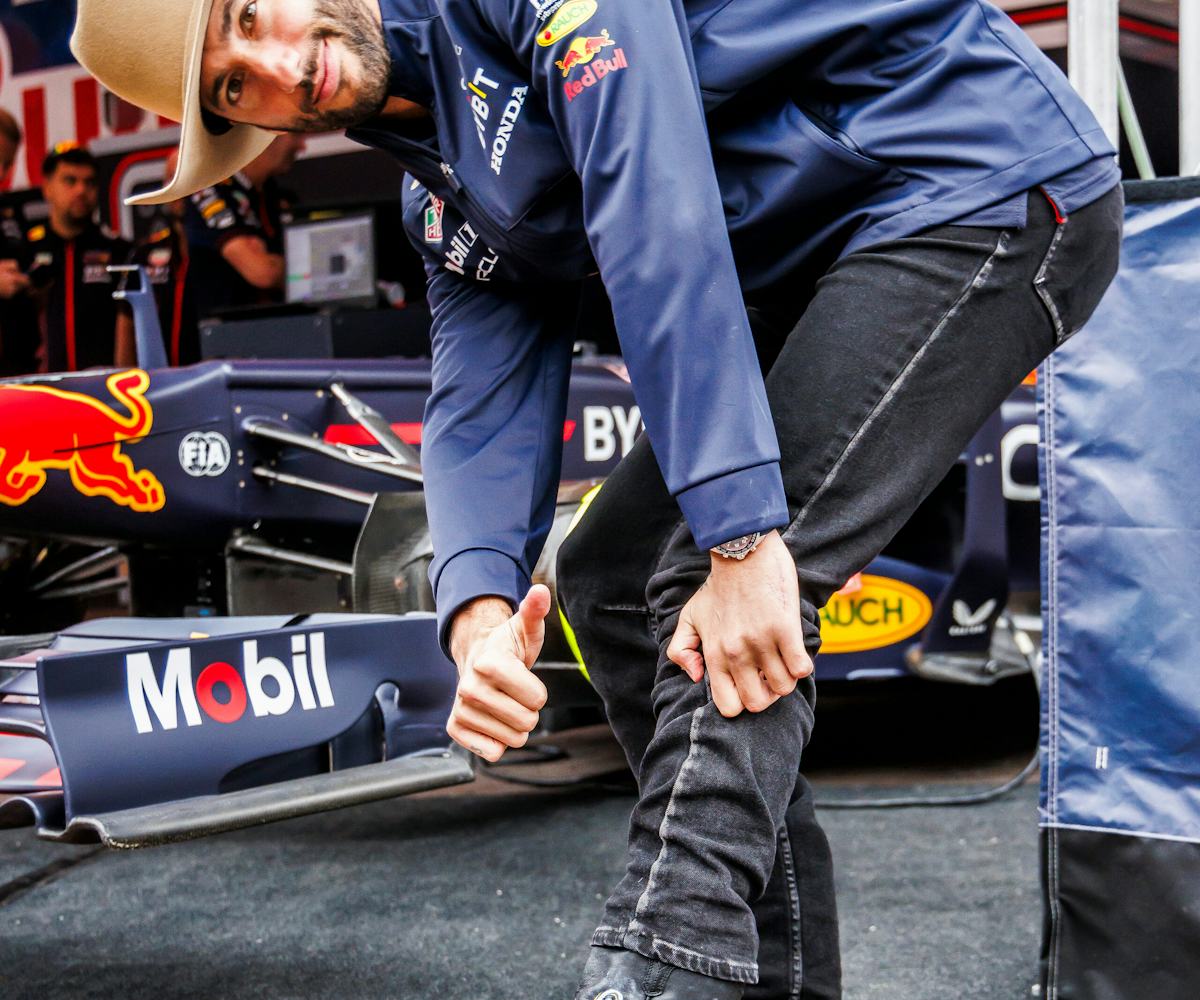 Daniel Ricciardo Unleashes His Inner Cowboy
From a dedicated Honky Tonk to racing down the streets of Nashville, the Formula 1 driver is ready for his return ahead of the Austin Grand Prix.
Stepping onto Nashville's buzzy Broadway street this past weekend, there were few guaranteed spottings: boots, booze, and lots of Red Bull.
From Friday, Oct. 13 to Saturday, Oct. 14, the energy drink brand-slash-motorsport conglomerate brought in a swarm of Formula 1 fans and curious onlookers onto the already bustling downtown scene to catch a glimpse of Daniel Ricciardo, the 34-year-old Australian F1 driver and the latest addition to the Red Bull team at large. While 30,000 guests flooded the sidewalks of Lower Broadway, the eight-time Grand Prix winner was behind the wheel of the Red Bull RB7, the team's 2011 championship-winning car, scorching burnouts alongside Rallycross Champion and former F1 driver Scott Speed, and street freestyle motorcyclist Aaron Colton.
Ricciardo's appearance in Nashville comes at an interesting time for the Perth native. After departing McLaren last year and being MIA from this year's F1 grid for most of the 2023 season, Ricciardo embarked on a behind-the-scenes role for Red Bull — his debut team back in 2011 — before making a sudden return in AlphaTauri, Red Bull's sister team, replacing Nyck De Vries halfway into the season.
With only two races under his belt, the Aussie unexpectedly fractured his wrist at the Dutch Grand Prix, leading to a nearly two-month hiatus to recover. There's lots of expectation surrounding Ricciardo these last few weeks, with the upcoming race Austin the first since his surgery.
Had I not been an avid F1 fan, I wouldn't have guessed the driver was fresh from a near career-breaking injury. Ricciardo was cool, calm, and collected as he made his way to Nashville's Soho House to join a small group of invited guests for a quick photo opp before swiftly exiting to head to his next appearance.
We followed right after, joining hoards of visitors as they poured into Dierks Bentley's Whiskey Row, which fashioned its upstairs floor into Ricciardo's very own Honky-Tonk. For one night, his face was plastered on gigantic posters and reimagined as a Southern music star, and he soon took the stage with Whiskey Jam's Ward Guenther to greet the crowd and sing country jams.
Ahead, Daniel Ricciardo spoke with NYLON about his time in Nashville, prepping for the Austin Grand Prix, and more.
Ricciardo's custom-made cowboy Tecovas boots were hand-painted by Igor Customs.Photo: Courtesy of Red Bull
How are you feeling ahead of the race this weekend in Austin? Did Nashville give you a reassuring boost of confidence?
I'm really excited to be racing again — that's pretty much the bottom line. But I'm doubly excited to get back behind the wheel for the upcoming race to be in Austin, especially after coming off a trip to Nashville. Obviously, the Nashville Showrun is me doing some burnouts and having fun, but it was nice to get in a car again and feel it. I'm looking forward to Austin, and we'll see what happens. I'll take it as it comes but know I'm ready, hungry, and tired of sitting on the sidelines.
Do you have any special getting-ready rituals for the weekend?
The only getting-ready ritual I have for Nashville is my physiotherapy. As you know, my hand is not at 100 percent, so I need to keep on it. I'll do physiotherapy to make sure it's ready to go. That's honestly my ritual before I head to the great state of Texas.
He wears his hand-painted cowboy boots, his Red Bull uniform, and a tan hat from Nashville's locally-owned shop, Boot Barn.
What songs help you channel the Southern spirit?
Right now, I'm listening to a lot of Zack Brian. I've also been getting into more musicians like Dylan Gossett, Wyatt Flores, Sam Barber, and Josh Meloy. There are many other people I'm just loving right now.
What were your thoughts walking into the Honky Tonk?
When you see your face plastered around everywhere, it's pretty funny, but in an awesome way. I loved seeing myself wearing these interesting Western outfits like that.
Did you have any memorable moments from Nashville overall?
Nashville was fun. It was just a cool event. I always enjoy coming to the States, especially cities with a vibrant music culture. I really love it, and it was a good warm-up to Austin. I'm obviously going to enjoy Austin as I always do, but I'm going to be extra focused on the weekend. Of course, I will soak up the city, even more so now since I was out of the car for most of the season. I can't wait to get behind the wheel and put on a good event.
Photo: Courtesy of Red Bull
This interview has been edited and condensed for clarity.