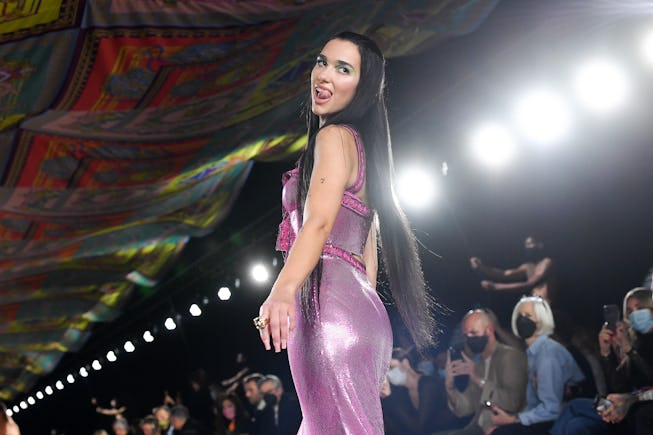 Jacopo Raule/Getty Images Entertainment/Getty Images
Dua Lipa Raided The Versace Vault For Her La Vacanza Runway Collection
A fashion archivist's dream come true.
Dua Lipa is more than an international pop star — she's now officially a designer, after collaborating with Versace on a new collection for summer.
Lipa and Versace's history runs deep; much of the singer's rise to fame is intertwined with the fashion house, who cast her to walk down its runways, dressed her for red carpets, and more. And when Lipa was recently announced as the guest designer for La Vacanza, Versace's luxury beachwear line, it felt like the most natural progression.
The capsule collection, which hit the runway in Cannes on Tuesday, keeps much of Versace's glitzy DNA and is heavy on '90s inspiration. There's backless party dresses that show off a whisper of a thong, vivid prints, sparkling metal details, and of course, lots of pink.
As part of the design process, Lipa was granted access to a fashion archivist's dream trove: the Versace vault. "They gave me the opportunity to go into the archive and pull out Gianni's early prints," she told Dazed. "We were able to bring [those] back a bit, modernize [them] and create a fun summer collection I feel very proud of."
Donatella, the iconic blonde at the helm of Versace, couldn't be more pleased with Lipa's efforts. "It's one of the very rare occasions where I work with someone and it really is exactly how you envision it," said Dua of Donatella. "We text a lot, and she had such incredible input. On some of the dresses I would put a metal buckle and she was like, 'Maybe we should make that buckle pink to modernize it in a different way.' She wants you to feel amazing — and she wants you to be heard."
In addition to her pop star and fashion designer duties, Lipa will also be making a splash (pun intended, sorry) as a Mermaid Barbie in Greta Gerwig's highly anticipated summer blockbuster, Barbie. The film will also get an extra dose of the singer: it includes her single, a shimmering disco track called "Dance The Night," on the soundtrack.